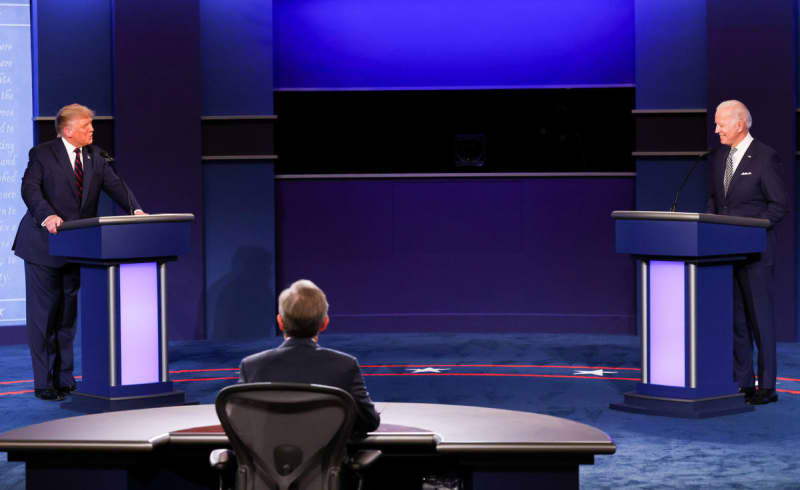 US commentators and newspaper editorials called the first presidential debate between President Donald Trump and Democratic nominee Joe Biden a "train wreck'', a "hot mess'' and "unhinged''.
"World Wrestling Entertainment fans have a new sport,'' read an editorial in The Gazette in Colorado Springs, Colorado. "It's called presidential debate, and they should be sure to catch the next one.''
"The event was a spectacle of insults, interruptions, endless crosstalk, exaggerations and flat-out lies even by the lying standards of current US politics,'' wrote The Wall Street Journal.
During the 98-minute debate on Tuesday night, there were claims and counterclaims, but unlike any of the previous US presidential debates, there were interruptions — a lot of them.
Trump interrupted Biden or debate moderator Chris Wallace at least 128 times, according to one count. The president's interruptions prompted Biden to say, "Will you shut up, man?"
Wallace asked the president at least 25 times to stop interrupting, saying at various times:
"Sir, you're debating him, not me. Let me ask my question." "Please let the vice-president talk." "You've made your point. Please let him answer." "You've agreed to two minutes, please let him have it." "Mr. President, can you let him finish, sir?"
In so-called instant polls taken after the debate of people who agreed to watch it, CNN's poll found that Biden won the debate, 60 percent to 28 percent.
In a CBS News/YouGov poll, 48 percent of viewers said Biden won, while 41 percent said Trump did. (Ten percent said the debate was a tie). In the same survey, 83 percent of viewers said the debate was negative.
Trump tweeted his take Wednesday morning: "Chris had a tough night. Two on one was not surprising, but fun. Many important points made, like throwing Bernie, AOC PLUS 3, and the rest, to the wolves! Radical Left is dumping Sleepy Joe. Zero Democrat enthusiasm, WEAK Leadership!"
Biden, who was campaigning by train in Pennsylvania on Wednesday tweeted: "Last night reinforced why I got into this race: We are in a battle for the soul of this nation — and it's a battle we must win."
"If you're going to say that President Trump was rude, there was only one person who called the other one a clown, a racist, the worst president ever and told [him] to shut up. And that was Joe Biden on Donald Trump," said Brian Kilmeade on Fox & Friends, a show that is supportive of the president.
While the debate generated a heated reaction, it drew a significantly smaller US audience than the first debate between Trump and Hillary Clinton in 2016. According to Nielsen, Tuesday's debate had 73.1 million viewers compared with its counterpart, which drew 84.4 million watchers four years ago.
Reaction abroad to the first of three debates included comments such as "chaotic'', a "brawling encounter'', "spiteful'' and "a joke''.
Some also said the debate raised questions about the state of American democracy.
"The ultimate arbiter will be the American voter," said Ulrich Speck, an analyst with the German Marshall Fund in Berlin. "But there is a consensus in Europe that this is getting out of hand, and this debate is an indicator of the bad shape of the American democracy.''
Nicole Bacharan, a French-American historian and political analyst who lives in France, told The New York Times: "It sent a depressing image of the United States, of the American democracy and its role in the world."
John Sawers, a former British diplomat and head of a risk analysis firm, told the Times: "My own response is that it makes me despondent about America. The country we have looked to for leadership has descended into an ugly brawl."
"The spiteful debate mirrors a country that is no longer even capable of having a dignified discussion," read an editorial published by Switzerland's right-leaning Neue Zürcher Zeitung newspaper Wednesday morning.
Abdulkhaleq Abdulla, a political scientist in the United Arab Emirates, wrote on Twitter that he saw the debate as a "tumultuous verbal battle".
© Copyright 2020 China Daily Information Company. All Rights Reserved.Provided by SyndiGate Media Inc.