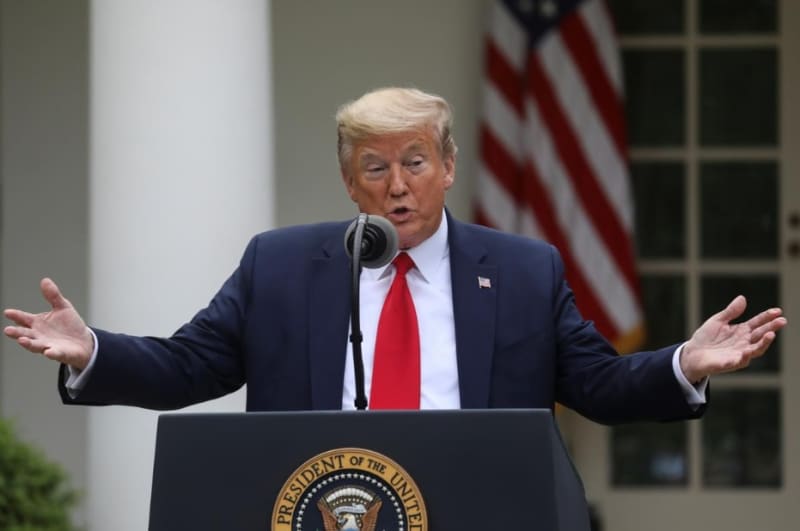 US President Donald Trump and first lady Ivana Trump are quarantined in the White House after testing positive for the coronavirus, and the president is showing "mild" symptoms of the virus, chief of staff Mark Meadows told reporters Friday.
Meadows said Trump was "feeling mild symptoms" but "energetic" hours after the announcement late Thursday night that he and his wife had tested positive.
The White House announcement late Thursday night that the president had tested positive resonated around the world quickly, provoking concern about this health, raising questions about his campaign for re-election just 32 days before the Nov 3 election and causing stock markets around the world to tumble. Because of his age, 74, and obesity, Trump is in two very high-risk groups for developing severe COVID-19 disease.
Vice-President Mike Pence, second lady Karen Pence, Secretary of State Mike Pompeo and Treasury Secretary Steven Mnuchin have all tested negative. Republican National Committee Chairwoman Ronna McDaniel disclosed that she had tested positive.
Trump, who is trailing in the polls, will quarantine in the White House for an unspecified period of time but will be forced to withdraw at least temporarily from the campaign trail with barely a month to go before the election. A fundraiser in Washington and a rally in Florida on Friday night were scrapped.
The second presidential debate, now scheduled for Oct 15, is in doubt. The vice-presidential debate is scheduled for next week.
The White House physician, Sean Conley said in a memo released by the White House Thursday night that Trump and the first lady "are both well at this time, and they plan to remain at home within the White House during their convalescence."
"The White House medical team and I will maintain a vigilant watch, and I appreciate the support provided by some of our country's greatest medical professionals and institutions. Rest assured I expect the President to continue carrying out his duties without disruption while recovering, and I will keep you updated on any future developments," Conley added.
Trump took to Twitter just before 1 am on Friday to confirm that he and his wife had tested positive.
"Tonight, @FLOTUS and I tested positive for COVID-19. We will begin our quarantine and recovery process immediately. We will get through this TOGETHER!'', he tweeted.
Former vice-president Joe Biden and his wife, Jill, have tested negative for the coronavirus, he announced Friday.
Earlier Friday, Biden wrote on Twitter that he and his wife "send our thoughts to President Trump and First Lady Melania Trump for a swift recovery." "We will continue to pray for the health and safety of the president and his family," he added.
Senator Kamala Harris, Biden's running mate, was tested on Thursday for the coronavirus and her test was negative, according to a Harris aide.
That Trump and his wife had tested positive came hours after it was reported that Trump adviser Hope Hicks, with whom Trump had recently traveled, had been infected. Hicks was on Air Force One with Trump in Cleveland for the presidential debate as well as a campaign rally in Minnesota on Wednesday.
Meadows told reporters that the White House learned that Hicks had tested positive for the coronavirus just before Trump's helicopter departed the White House on Thursday for a fundraiser. Despite knowing of her positive case, Trump still traveled to the fundraiser at his golf club in Bedminster, New Jersey, on Thursday afternoon.
According to the New York Times, one attendee at the fundraiser said the president seemed lethargic. A person briefed on the matter said that Trump fell asleep at one point on Air Force One on the way back from a rally in Minnesota on Wednesday night, the newspaper said.
Americans disapprove of Trump's handling of the coronavirus pandemic by a wide margin, according to polls, and Trump has sought to steer the public and media attention from the pandemic, but his testing for COVID-19 puts it in a much bigger spotlight.
During the first presidential debate on Tuesday night, Trump mocked Biden for his mask-wearing, saying, "Every time you see him, he's got a mask." And on Thursday night, Trump told an audience that "the end of the pandemic is in sight",
Trump and his re-election campaign have constantly criticized Biden for decision limiting his own public appearances and choice to cloister for stretches at his home in Delaware, while Trump has appeared at outdoor rallies with crowds of people, many, including himself, not wearing a face mask.
Trump isn't the first world leader to be infected. Prime Minister Boris Johnson of Britain and President Jair Bolsonaro of Brazil both tested positive. Johnson ended up in an intensive-care unit where, he said later, "things could have gone either way".
Expressions of concern and good wishes for Trump's speedy recovery — as well as that of the first lady — poured in from leaders in Russia, India, Britain and other countries.
President Vladimir V. Putin of Russia said he hoped Trump would have a "swift recovery," according to the Interfax news agency. In a telegram to the president, Putin added, "I am certain that your inherent vitality, good spirits and optimism will help you cope with this dangerous virus."
© Copyright 2020 China Daily Information Company. All Rights Reserved.Provided by SyndiGate Media Inc.