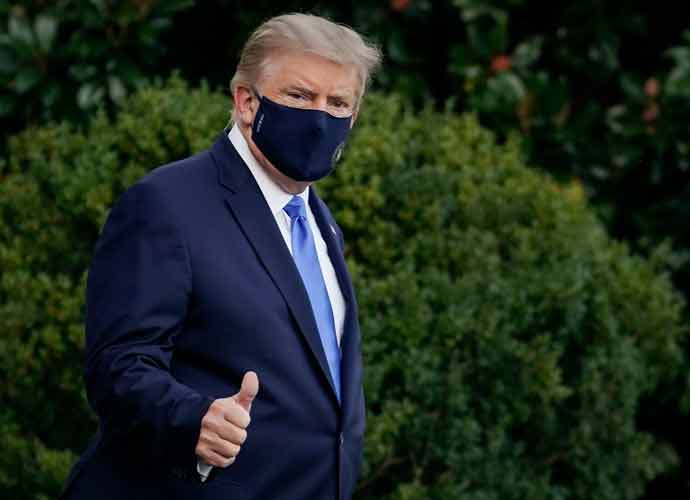 President Donald Trump was diagnosed with COVID-19 on Wednesday of this week, the White House doctor said at press conference on Saturday, but later in the day, the White House walked back the comment and said Trump had be diagnosed on Thursday.
On Friday morning, Trump tweeted, "Tonight, @FLOTUS and I tested positive for COVID-19. We will begin our quarantine and recovery process immediately. We will get through this TOGETHER!" after his senior counselor, Hope Hicks, also tested positive.
President Trump is currently at Walter Reed National Military Medical Center in Bethesda, Maryland where he is receiving care. Trump's medical team said that the president is currently fever-free and they are "extremely happy" with the progress that he had made. Dr. Sean P. Conley, the White House physician, told reporters outside the hospital on Saturday that the president is not currently on supplemental oxygen, although he declined to state whether Trump was on oxygen on Friday after he was having trouble breathing. Dr. Conley only explained that, "He has not needed any this morning, today at all."
Dr. Conley also indicated that Trump may have been diagnosed earlier than was previously admitted. While describing the president's "improving" progress in an update Saturday morning, he stated that Trump was "just 72 hours into the diagnosis now," indicating that he was diagnosed midday on Wednesday, not Thursday. The difference is crucial because Trump attended campaign events on both Wednesday night and Thursday, after the time that he was now supposedly diagnosed. If Trump had knowledge of his diagnosis, he would not have been unintentionally, but rather deliberately, exposing his supporters.
However, Dr. Conley has since corrected the statement that was made during Saturday's press conference. He retracted these remarks and explained in a new statement that he instead meant to say "day three" into the diagnosis, which could potentially mean that he was, in fact, diagnosed Thursday.