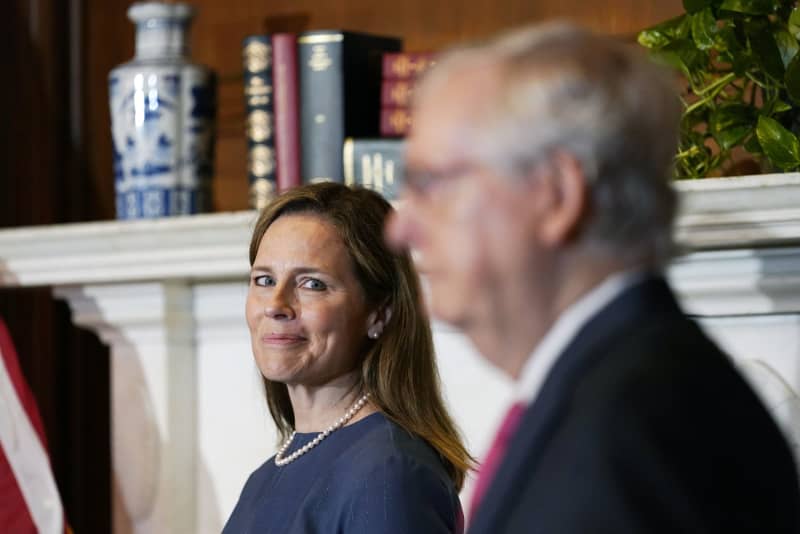 President Donald Trump instructed Republican senators on Tuesday to give up on the idea of another coronavirus stimulus package in favor of dedicating all their time to confirming his Supreme Court pick before November's election.
In a string of tweets, the coronavirus-infected president sought to blame House Speaker Nancy Pelosi, D-Calif., for the failure to deliver more aid to American workers, small businesses and cash-strapped local governments amid the economy-crushing pandemic.
"We made a very generous offer of $1.6 Trillion Dollars and, as usual, she is not negotiating in good faith," Trump posted, referring to a pared-down stimulus proposal floated by his White House negotiators. "I am rejecting their request, and looking to the future of our Country."
The president claimed he will instead pick up the stimulus negotiations "immediately after I win" the Nov. 3 election.
"We will pass a major Stimulus Bill that focuses on hardworking Americans and Small Business," he wrote.
In the meantime, Senate Majority Leader Mitch McConnell, R-Ky., should fast-track his nomination of Judge Amy Coney Barrett to fill the Supreme Court vacancy left by the death of Justice Ruth Bader Ginsburg.
"I have asked Mitch McConnell not to delay, but to instead focus full time on approving my outstanding nominee to the United States Supreme Court, Amy Coney Barrett," Trump wrote.
Trump's final nail in the stimulus coffin immediately prompted a free-fall on the stock market, which had rebounded somewhat in recent days amid signs that Congress was potentially on a path to pumping some more federal aid into the coronavirus-ravaged U.S. economy after months of gridlock.
———
©2020 New York Daily News