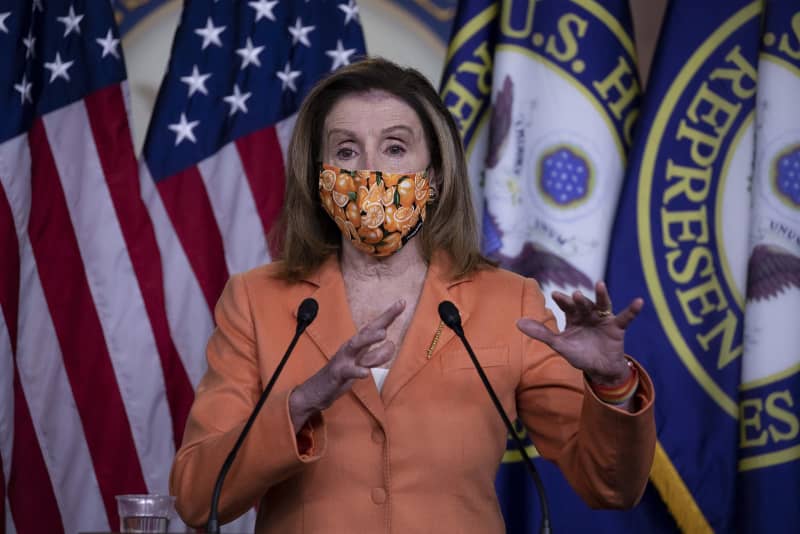 House Speaker Nancy Pelosi Thursday doused hopes that Congress and the White House could reach an agreement on a stand-alone coronavirus stimulus bill to bail out the crippled airline industry.
The California Democrat insisted that she would only consider an airline support bill — estimated at $25 billion — as part of talks for a full-blown stimulus plan that would cost about $2 trillion.
"There is not stand-alone bill without a bigger bill," Pelosi said.
"Tomorrow, by the way, tomorrow, come here tomorrow. We're going to be talking about the 25th Amendment," she said without further comment.
She said she was still "hopeful" President Trump would flip-flop again and said that Democratic negotiators are still talking with Treasury Secretary Steven Mnuchin.
Still, Pelosi blamed Trump for announcing Tuesday that he was pulling the plug on talks for a broader stimulus bill.
""They have walked away from the whole package," she said.
She called on Trump to reverse course and agree to a bigger package before Election Day.
"If he wants to wait till after the election that would be unfortunate," she said. "Every day of delay is a problem."
The remarks by Pelosi appeared to close the door on the chances of a bill to help the airline industry, which furloughed tens of thousands of workers last week after a previous stimulus provision expired.
The CEO of American Airlines pleaded with the White House and congressional leaders to keep working and pass the standalone aid bill, saying it has broad bipartisan support.
Regardless of the support, U.S. Senators aren't scheduled to return to Washington for votes until Oct. 19.
———
©2020 New York Daily News