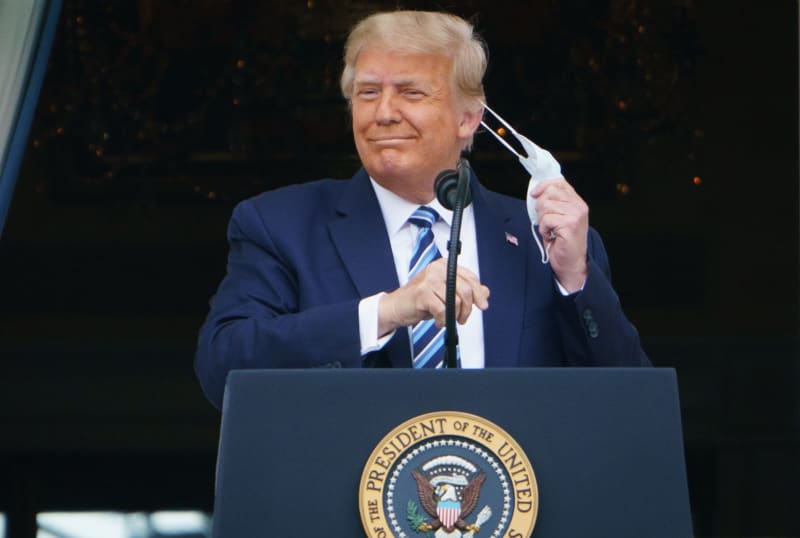 President Trump claimed Sunday he seems to be immune to COVID, the latest in a series of jaw-dropping statements about his recent diagnosis.
"I passed the highest test, the highest standards, and I'm in great shape," he said on Fox News. "It seems like I'm immune, so I can go way out of a basement, which I would have done, anyway."
The interview came after he gave remarks to supporters at the White House on Saturday, his first in-person public appearance since he was hospitalized for COVID just over a week ago.
Trump is "no longer considered a transmission risk to others," White House physician Dr. Sean Conley wrote in a memo released Saturday.
But in keeping with the often confusing nature of statements from Trump's doctors, Conley didn't address whether the president has actually tested negative for the virus.
Trump's own remarks on his condition have bewildered the country.
Since he was released from Walter Reed National Military Medical Center last Monday, he's frequently said he feels in better shape than he has in 20 years. On Thursday, he claimed to feel "perfect."
That's in spite of the fact he's 74 years old and overweight, key risk factors for a COVID patient.
"I don't think he's out of the woods for certain," infectious disease expert Dr. Krutika Kuppali was quoted as saying Saturday by The New York Times. "I would still be careful with someone like him."
While experts recommend isolation for COVID patients to prevent spreading the disease, the president is planning to hold a rally Monday in Stanford, Florida.
———
©2020 New York Daily News