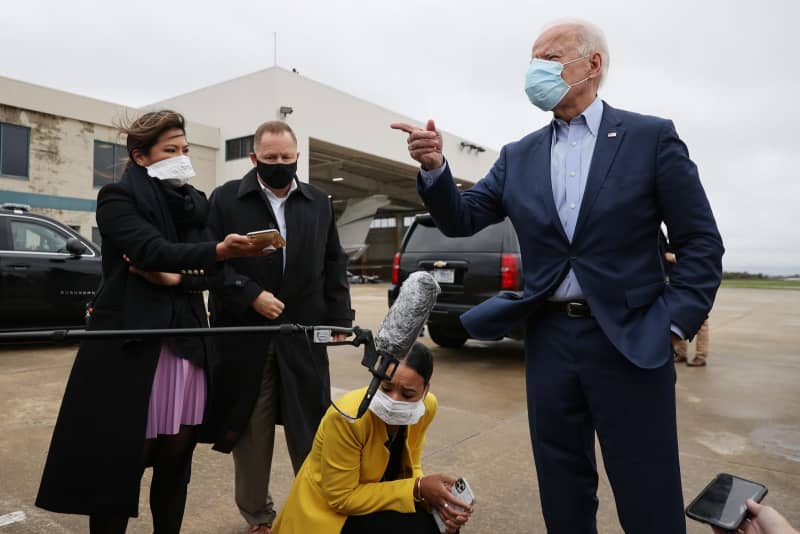 SANFORD, Fla. — Thousands of people cheered and chanted "We love you!" Monday night as President Donald Trump held his first campaign rally outside Washington since his coronavirus diagnosis 11 days ago.
"It's great to be back in my home state of Florida," Trump said.
"We've all endured a lot together, and we are doing better by far than in 2016," Trump said. "We are going to have an even greater victory than we did four years ago."
The mostly maskless crowd was seated closely together in chairs and bleachers when Trump took the podium on the tarmac at Orlando Sanford International Airport with Air Force One parked nearby. Many had waited four or more hours for the event to begin.
Trump declared the election between himself and former Vice President Joe Biden "the most important in American history."
Trump attacked Biden for what he said would be a "draconian, scientific top-down" way of combating COVID-19.
"If you don't feel good about" going out amid the pandemic, then "stay,'" he said. "If you want to get out there, get out there."
Earlier, Florida Gov. Ron DeSantis high-fived spectators as he arrived about an hour before the president began speaking. He wasn't wearing a mask. The governor told the cheering crowd that Republicans "will be storming the polls to reelect Donald Trump."
Biden criticized the event before it began.
"President Trump comes to Sanford today bringing nothing but reckless behavior, divisive rhetoric, and fear-mongering," the former vice president said in a statement. "But, equally dangerous is what he fails to bring: no plan to get this virus that has taken the lives of over 15,000 Floridians under control, no plan to protect Floridians' health care amid his attacks against the ACA, and certainly no plan to mitigate the economic impact the pandemic is having on families across Central Florida."
White House physician Sean Conley on Monday night released a memo that the president had tested negative for the virus on "consecutive days" to support his diagnosis that Trump was no longer ill or contagious.
Other critics were concerned about holding a large rally when coronavirus cases are still relatively high in the state, and as previous Trump rallies have been tied to spikes in COVID-19 cases.
The Centers for Disease Control and Prevention says "large in-person gatherings where it is difficult for individuals to remain spaced at least 6 feet apart and attendees travel from outside the local area" bear the highest risk for spreading the virus.
Hours before the rally began, Mary Hersey, 57, walked in alongside a friend while holding a pink "Women for Trump" flag. She said she was attending "just to let (Trump) know that we support him at this crucial time in our democracy."
"I feel like there's a lot of women out here that don't get him," she said. "They see him as a person that puts women down, or a racist or something like that."
Hersey owns a screen printing and embroidery business, and she said she trusts Trump to help the economy recover from the coronavirus pandemic. For herself and other small business owners, she said an important part of that recovery is keeping tax rates low
Though Hersey was maskless, she held a mask in her hands and she said she planned to wear it inside. Being around a crowd during a pandemic is not a concern for her, she said, adding she was glad Trump was able to hold the rally.
"I think it's great the doctors released him," she said. "I know lots of people that have had COVID for 8-10 days, and they're back out working."
Attorney Daniel Uhlfelder, who gained fame during Florida's pandemic wave this summer by dressing as the Grim Reaper at beaches, filed a lawsuit in Seminole Circuit Court to try to stop the rally. But a judge denied Uhlfelder's motion for an emergency hearing, saying it was up to Seminole County and the airport to enforce social distancing measures.
"Obviously, we know social distancing guidelines will be ignored, which is why we filed suit in the first place," Uhlfelder said. "We hope the people of Seminole County stay safe and healthy because this event will cause spread in the region."
Yolanda Delvalle, a kindergarten teacher from Orlando, said supporting Trump was important enough for her to brave the wait for the rally to start after a full workday.
Surrounded by people wearing red ballcaps and no face coverings, Delvalle stood out by wearing a white cloth mask — a "personal choice," she noted.
"I'm around children every day, and I don't know the exposure that they've had," she said. "… I don't fear getting the virus here today. I choose to wear the mask. My children and husband are choosing not to; it's OK. I think I'm just used to it.
"I feel very patriotic," she added. "It makes me feel a sense of unity with other people who are like-minded. It makes me feel encouraged that there's hope for America."
Trump held a rally at the White House on Saturday that was officially a government event but featured Trump exhorting his supporters to vote from the balcony. Trump spoke for about 18 minutes out of a planned half-hour. ABC News reported that some of the rallygoers may have been paid to attend.
Despite being outdoors, both that event and events with Vice President Mike Pence in Orlando and The Villages on Saturday featured little social distancing and many attendees not wearing or taking off masks.
Critics have attacked Trump for months for holding large rallies amid the pandemic, including an event in Tulsa in June that local health officials said contributed to a spike in coronavirus cases. At least nine cases have been linked to a Minnesota rally from mid-September, according to Minnesota Public Radio, including two hospitalizations.
White House press secretary Kayleigh McEnany, one of the 29 people connected to the White House who tested positive for coronavirus over the past 10 days, said on Fox News that Sanford rallygoers and those at future events will be encouraged to wear masks, but they won't be required.
"We will have the same policies we've had in place," McEnany said.
The Sanford rally had a typical carnival-like mix of vendors, performers and unusual personalities.
Near the entrance, a bearded man wearing a red, trimmed Santa suit held a "Santa for Trump" sign. "Have yourself a COVID little Christmas," he shouted at passersby.
Calling himself "Gary Gonja," he said he attended the rally to lobby for the legalization of marijuana.
"It's my goal to make sure everybody gets the 'green' toys," he said.
———
©2020 The Orlando Sentinel (Orlando, Fla.)