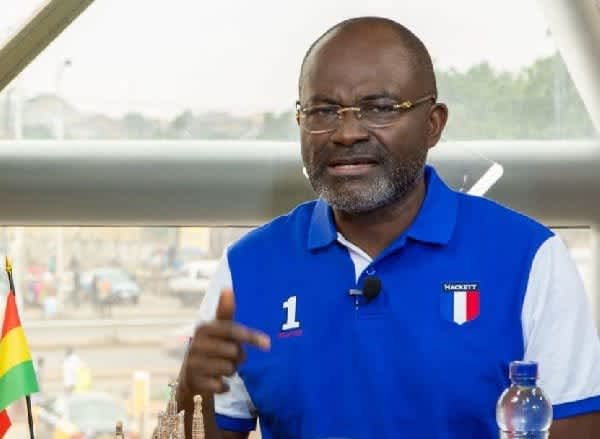 Ken Agyapong
The Attorney General's Department has been directed by the Supreme Court to take over an application for certiorari and prohibition brought against an Accra High Court judge by the New Patriotic Party (NPP) MP for Assin Central, Kennedy Ohene Agyapong.
Lawyers for the MP filed the application seeking to prohibit Justice Amos Wuntah Wuni from hearing a contempt case brought against him for comments he made against the judge.
The case was originally scheduled for yesterday but could not be heard as the processes were not served on the Office of the Attorney General which usually acts as counsel for judges in such matters.
The application was rather served on the Registrar of the Land Division of the Accra High Court, though the Judicial Secretary who was attached as a respondent in the matter.
The matter had to be adjourned to allow the Attorney General's Department to have access to what has been filed by lawyers for Mr. Agyapong as well as the affidavit in opposition filed by the Registrar of the High Court.
Godfred Yeboah Dame, Deputy Attorney General, who was present in court over a different matter; when asked by the panel whether it would be appropriate for him to contest the issues the next day, and he agreed.
The court presided over by Justice Paul Baffoe-Bonnie and assisted by Justices Yaw Appau, Gabriel Pwamang, Tanko Amadu and Yonny Kulendi adjourned the case to today for hearing.
Contempt
Mr. Agyapong was summoned to appear before the court to show course why he should not be 'punished severely if found to be in contempt of court' following certain statements he allegedly made against a judge hearing a civil case brought against him and two others.
The case was scheduled for September 14, 2020 but had to be adjourned because Mr. Agyapong was not served with the order of the court as per testimony of a bailiff of the court and an attempt to serve him through Parliament also failed.
The court subsequently gave an order for substituted service for the order to be posted on the notice board of the Accra High Court and in visible places at 'Net2 TV' and 'Oman FM' at Madina Zongo Junction in Accra.
Before the commencement of the case, lawyers for Mr. Agyapong filed an application at the Supreme Court challenging the jurisdiction of the court to hear the quasi-judicial case and a certiorari to prohibit Justice Amos Wuntah Wuni from hearing the matter.
That notwithstanding, the court went ahead to play the video tape which is the subject matter of the contempt proceedings.
Mr. Agyapong was expected to speak to the content of the tape but the case had to be adjourned for 14 days due to an excuse duty from his doctor as a result of some post Covid-19 complications he suffered.
BY Gibril Abdul Razak