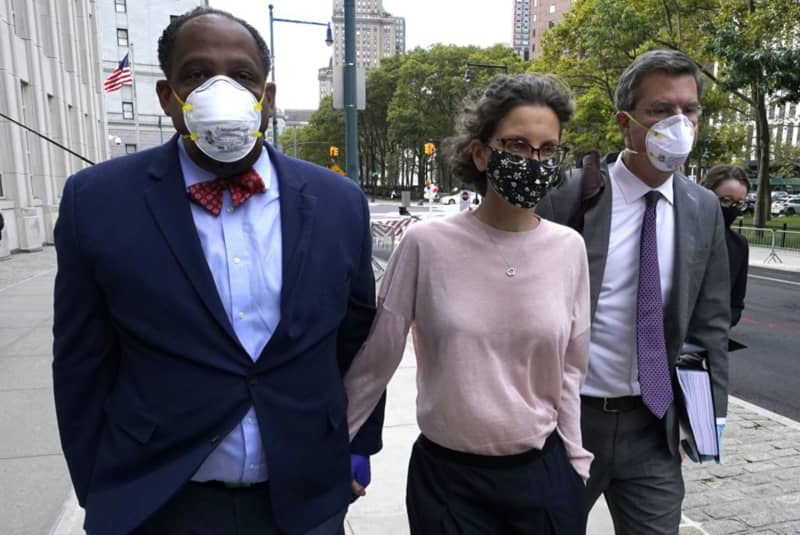 NEW YORK — NXIVM cult funder Clare Bronfman has barely been in jail a week and she's already asking a federal judge to let her out.
The Seagram's heiress, who's being held the Metropolitan Detention Center in Brooklyn, requested Thursday that she be released from custody while she appeals her 81-month sentence.
Her lawyers took issue with the stiff sentence of more than six years, since federal prosecutors only asked for five years.
"Her sentence of eighty one months of imprisonment is disparate with the sentences received by other individuals who pleaded or were found guilty of similar non-violent crimes," wrote Bronfman's lawyer, Ronald Sullivan.
Sullivan also noted a "potentially serious liver disorder" that made Bronfman more likely to contract COVID-19 at the federal jail.
Bronfman pleaded guilty in 2019 to conspiracy to conceal and hide illegal aliens for financial gain, and fraudulent use of identification as part of the Albany-based cult.
Authorities said she brought one Mexican woman to the U.S. in 2015 and promised a $3,600-a-month gig, but blackmailed her and refused to pay — then did the same with numerous other undocumented victims, holding the women's visas over their heads.
Bronfman was on house arrest on $100 million bond until her Sept. 30 sentencing.
Throughout trial, she continued to stand behind convicted NXIVM leader Keith Raniere. He was busted in March 2018 and found guilty a year later on sex trafficking charges. He is expected to be sentenced Oct. 27.
Sullivan said if Bronfman was granted bail pending her sentencing appeal, she would not flee despite her family connections in England, France and Fiji.
———
©2020 New York Daily News