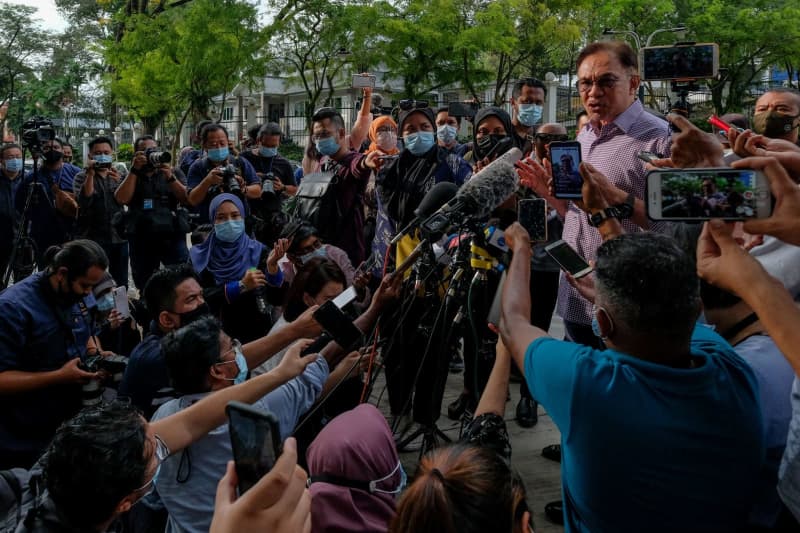 Malaysia's long-time prime ministerial candidate Anwar Ibrahim said he was questioned by police over six allegations including sodomy, on Friday.
He was initially summoned by police over a leaked list of parliamentarians purportedly showing him to have the support needed to take over as premier.
Speaking to media outside the police station, Anwar described being questioned by police about his parliamentary support as "disconcerting and mind boggling," saying the matter is "not their business."
Police said earlier that more than 100 complaints had been filed about the list, which suggested several members of parliament from parties in the current governing coalition had defected.
Some of the lawmakers on the list, which Anwar denied involvement in circulating, have claimed it is fake.
On September 23, Anwar said a "formidable" majority of lawmakers backed him taking over control of the government from incumbent Muhyiddin Yassin.
Malaysia's King Abdullah, whose imprimatur is needed for a government to be formed, said this week that Anwar did not provide documentary proof of his claim to have majority support.
A former deputy prime minister who came close to leading an opposition coalition to an unlikely win in 2013 elections, Anwar has twice been jailed on charges of corruption and sodomy - the latter a crime under laws inherited from British rule.
Anwar was scheduled to take office by 2020 under an agreement with 95-year-old former premier Mahathir Mohamad, who in Anwar's enforced absence led the opposition to a shock win in 2018's election.
Mahathir pardoned Anwar in 2018 but stalled on the handover before resigning in February.
The ensuing power struggle saw former interior minister Muhyiddin Yassin take power, running a new coalition made up of parties that lost the 2018 vote.
Mahathir and Anwar both vowed to topple the Muhyiddin government, describing it as illegitimate.
Mahathir has since set up a new party and on Friday said that though he will table a vote of no confidence in Muhyiddin when parliament reconvenes in November, he will not endorse Anwar's succession.
The most powerful faction backing Muhyiddin is the United Malays National Organisation (UMNO), the party previously led by corruption-tainted former premier Najib Razak.
UMNO on Thursday threatened to withdraw its support for Muhyiddin unless it receives more government ministries.