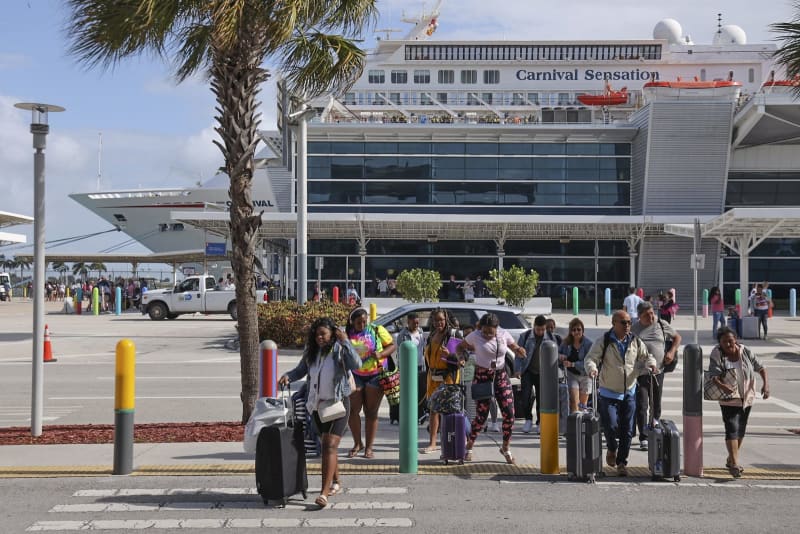 MIAMI — A federal judge said she plans to require Carnival Corp. to certify that each of its cruise ships is compliant with its probation obligations 60 days before those ships reenter U.S. waters to restart cruises.
The forthcoming order from U.S. District Judge for the Southern District of Florida Patricia Seitz could inhibit the company's plans to resume cruise operations in the United States on Dec. 1. Seitz made the announcement at a status conference Friday in the company's ongoing criminal case for environmental crimes.
Seitz said the order will require ships to notify her 60 days in advance of reentering U.S. waters, and each ship will need a certification from CEO Arnold Donald regarding its environmental compliance status.
"I will determine whether the level of compliance … whether it is appropriate that that ship enter and operate in U.S. waters," she said.
Carnival has been on probation since April 2017 after pleading guilty to environmental crimes — dumping oily waste into the ocean for a period of eight years from its Princes Cruises ships — and paying a $40 million fine. In June 2019, the company pleaded guilty again to violating probation, paid a $20 million fine and agreed to more strict oversight during its remaining years on probation. Throughout its probation, the company has continued to violate environmental laws.
Cruise companies shut down operations in mid-March amid COVID-19 outbreaks on several ships. Late last month, the U.S. Centers for Disease Control and Prevention extended its "no-sail" order through Oct. 31.
At the start of Friday's hearing, Seitz said she would sign her order requiring the 60-day notice that evening. Carnival lawyers David Kelly and David Markus begged her to reconsider. Kelly claimed her announcement had already hurt the company financially during the hearing. Markus said the order was "not justified."
"The market has already reacted to this," Kelly said. "This could have a huge negative impact on the company."
Carnival Corp. shares closed up 0.43% Friday at $14.08 and remained relatively flat in immediate after-hours trading.
Carnival pulled all of its ships out of U.S. waters in June right before the CDC began to publish COVID-19 infection levels on cruise ships. Carnival has not been required to report illnesses or submit its ships to inspection by the U.S. Coast Guard since then.
Prior to Friday's hearing, the company proposed notifying the court two weeks before bringing ships back into U.S. waters, according to the court-appointed monitor. At the end of the hearing, Seitz agreed to share the order with the company on Friday evening and give it 24 hours to provide feedback before issuing it.
Before the ships resume operations, Seitz said she is most concerned about them having the right pollution-prevention equipment, critical environmental spare parts, staffing, voyage planning software, and vetting of waste vendors on shore, all things the company has struggled to maintain in compliance during its years on probation. Outdated equipment has caused plastic to go overboard, and faulty voyage planning has caused ships to repeatedly dump sewage and other pollutants into protected marine areas in violation of national and international laws.
"Do I want to get down and look at every single nut and bolt? No," Seitz said. "But the items I have listed … are areas that need to be addressed because they go to the heart of the repetitive issues that this company has had that has led to compliance issues."
In June, the company submitted a plan to the court privately — "marked as confidential business information," according to court documents — of how it planned to tackle some of these issues while cruises remain canceled because of the COVID-19 pandemic.
On Friday, CEO Donald said it was not the company's intention to have all of those items fixed by the time it resumed cruises.
"Obviously we want to honor what we said in the pause priority plan," he said. "The way it was written, it wasn't written to say every single item will be done at the resumption of cruises. There are so many variables here."
Some ships have as many as 700 maintenance items that need to be addressed, the third-party auditor told the court on Friday.
The company is also struggling to shore up its internal investigation department, which has been leaderless since June 1 when the company let go of Sandra Rowlett, who joined in September 2019 from the National Transportation Safety Board. Last month, it appointed Peter Hutchinson, formerly an executive with Carnival UK, to the position.
Prosecutor Richard Udell from the Department of Justice environmental crimes section raised concern about two of the incidents in Hutchinson's queue: an allegation that the company's investigations are influenced by one of its executives, Chief Maritime Officer Bill Burke, and an allegation that Burke continues to perpetuate a blame culture. Both are being handled by an outside lawyer, according to court documents filed by the company.
In addition, Seitz said she is aware of the company's investigation into a "a magic pipe allegation," she said. Magic pipes are ship systems rigged to bypass pollution prevention equipment so that oil and other wastes can be dumped directly into the ocean.
"Given the serious nature I've directed my probation officer to inquire into these allegations," said Seitz. "We'll see what comes from these allegations."
Carnival Corp. spokesperson Roger Frizzell said Burke is among the most respected leaders in the company with a successful track record spanning back to his career in the U.S. Navy.
"As the chief maritime officer for the company, he continues to drive positive change in every element of our operation," said Frizzell. "Our top priorities are compliance, environmental protection and the health, safety and well-being of our guests and crew, as well as the communities we visit. We continue to make important strides across the board in our compliance initiatives, but this is a journey that never ends for all of us."
Carnival has already restarted cruises on its Costa Cruises line in Italy and plans to restart its first cruise on its AIDA line in Italy on Saturday. The company plans to restart U.S. cruises from PortMiami and Port Canaveral on Dec. 1.
The next hearing in the case is scheduled for January.
———
©2020 Miami Herald