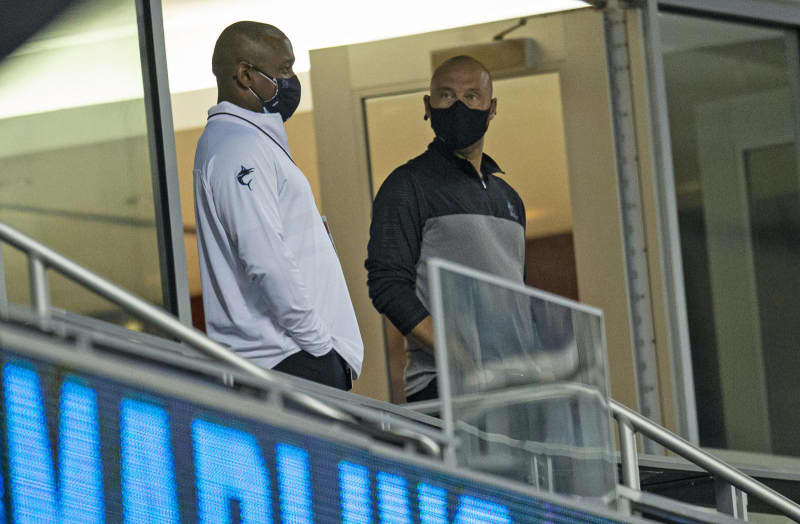 Michael Hill, the Miami Marlins' president of baseball operations for the last eight years, maneuvered through 174 roster roster moves and a COVID-19 outbreak to help the Marlins achieve one of their most successful season in franchise history. They had a winning record and reached the playoffs for the first time since 2003 one season after losing 105 games.
It turned out to be his final act in nearly two decades as part of the Marlins' front office.
The Marlins are not retaining Hill, CEO Derek Jeter announced Sunday. Hill's contract was set to expire, and Jeter's plan was to wait until after the Marlins' playoffs run ended to address his future. The two met over the past week to discuss Hill potentially returning but ultimately Jeter decided the best move was to part ways.
Jeter also announced that director of player personnel Dan Greenlee has been promoted to assistant general manager, joining Brian Chattin in that role.
"I just look back to how the roles and the responsibilities have changed since we've gotten here," Jeter said. "I think we've done a pretty good job of building each department of baseball operations and it really is a collaborative group. I just think roles and responsibilities have changed as well."
A new president of baseball operations or general manager will be hired, whether from within or as an external hire.
However, Jeter also said he likes the current collaborative aspect to making decisions, where he consults a bunch of people on personnel moves, including vice president of player development Gary Denbo, Greenlee and members of the scouting department such as Hadi Raad, Adrian Lorenzo and DJ Svhilik, among a slew of others.
"We have a lot of smart baseball minds in our organization and there's smart baseball minds around the game," Jeter said. "It takes some time to sit down and see what type of person we need in this particular role."
Jeter continued: "We're gonna sit down with any candidate we have. If it's someone internally, then they know exactly how our organization is run right now. If it's someone that's coming externally, then we'll sit down and explain how we operate. … We have a lot of people that are involved in the decision-making process because I always like to have as many opinions as possible before making a decision. So the way our organization is run, of course it's going to take a little bit of time to explain that to anyone that may be coming in externally, but we'll take our time and make sure that we make the right decision here with who we decide to lead baseball operations."
Hill, 49, had been with the Marlins organization since 2002 and was the franchise's president of baseball operations since 2013. He also previously served as general manager for six seasons.
He was retained when the current ownership group led by Bruce Sherman and Jeter took over after the 2017 season and was tasked with trading away a slew of the team's top players, including Giancarlo Stanton, Marcell Ozuna, Christian Yelich and J.T. Realmuto, among others, in order to fortify the club's organizational depth in order to be sustainable in the long run.
This resulted in a massively improved farm system that is now starting to produce at the big-league level. Thirty-three of the Marlins' 40 players either on their playoff roster or postseason taxi squad as well as 24 of the team's top-30 prospects according to MLB Pipeline were brought in under the new ownership group.
In 2020, he oversaw 174 roster moves and 61 players on the roster, including 25 rookies and 18 players who made their MLB debuts. Miami still went 31-29 and advanced to the playoffs for the first time in 17 years.
Hill was also one of only two Black heads of baseball operations in the majors, along with the Chicago White Sox's Ken Williams, and played a key role in all 30 baseball executives holding up "Black Lives Matter United for Change" placards during two-day MLB Draft broadcast. The 30 executives also donated a combined $311,000 to five charities that support and fight racial justice: the NAACP Legal Defense Fund; the Equal Justice Initiative; Color for Change; Campaign Zero; and the Jackie Robinson Foundation. MLB is matching that donation.
"I've worked closely with Mike for three years," Jeter said. "I appreciated everything that Michael did. He did a lot helping me throughout the last three years in getting up to speed on the organization, especially the first year on the players that we had in the organization. … But it's my job to make the best decision for the organization moving forward."
Hill is the latest departure from the Marlins organization over the past month. The Marlins parted with director of player development Dick Scott and minor-league catching coordinator Jamie Quirk in late September.
———
©2020 Miami Herald