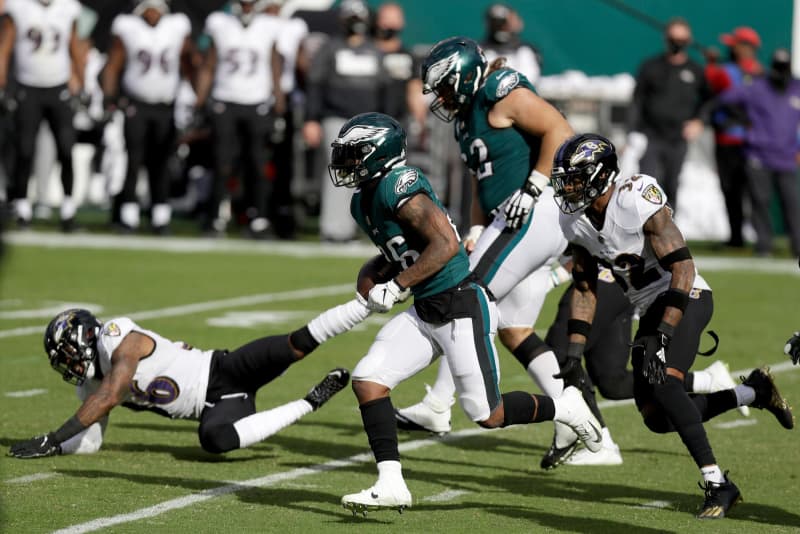 The Eagles allowed about 6,000 fans to watch them play at Lincoln Financial Field. What a show they got.
Question the talent. Question the execution. But never question their heart.
The Birds were 10-point underdogs in a game they should have lost by 30. They played without five of their top six offensive linemen and lost another; without all three top receivers; without ascending tight end Dallas Geodert; and lost Pro Bowl tight end Zach Ertz and top running back Miles Sanders.
Still, they fought. They lost, 30-28, to the Baltimore Ravens. But they had a chance to tie in the last two minutes. How? It's hard to say.
Sparked by handful of appearances by gimmick quarterback Jalen Hurts, and another eye-opening display from unknown receiver Travis Fulgham, and the competitive fire of Carson Wentz, the Eagles clawed back from a 17-0 halftime deficit and an 18-point third-quarter difference.
Wentz shook off six sacks and a fumble to go 21-for-40 for 213 yards, with two touchdown passes and no interceptions, along with five rushes for 49 yards, including the 1-yard TD plunge that cut the Ravens' lead to 30-28.
Eagles quarterback Carson Wentz is stopped by Baltimore Ravens linebacker L.J. Fort and Baltimore Ravens outside linebacker Matt Judon on the two point conversion attempt during the fourth quarter Sunday, October 18, 2020.
The Eagles trailed, 17-0, at the half. Age, injury, and COVID-19 protocols winnowed the Eagles' roster to has-beens and might-never-bes, but much of this group seemed like they'd have rather been anywhere besides the Linc on a lovely, 65-degree fall afternoon. Three hours after kickoff, those 6,000 fans probably would have rather been anywhere else, too.
Even the Eagles' best moment looked awful. Midway through the third quarter Miles Sanders broke a 74-yard run, but then fumbled near the goal line. J.J. Arcega-Whiteside happened to fall on the ball in the end zone. Sanders was injured on the run and left the game. Ertz also left early in the fourth quarter.
Of course they did. The rest of the team compensated. Of course they did.
An undisciplined and uninterested Ravens club undressed Pederson's untenable team most of the game. John Harbaugh, who once coached the Eagles' special teams and defensive backs, shined a glaring light on each of the Eagles' weaknesses, and was a match for what usually are the Eagles' strengths.
The coach. The quarterback. The defense. The offensive line. The receivers. Even the kicker.
It looked like a rout early, the defense flat-footed and flummoxed.
Ravens quarterback Lamar Jackson, the reigning MVP, ripped off a 25-yard run on second-and-17 early in the second half, then popped for a 37-yard touchdown run late in the third quarter, leaving linebackers (and we use that term loosely) Nate Gerry and Alex Singleton in his wake.
Jackson was, generally, scintillating. His teammates, generally, were not. The Ravens committed 12 penalties for 132 yards.
The Eagles were worse.
Rookie speedster John Hightower dropped a bomb on the third play of the game. Sanders dropped a touchdown catch late in the second quarter. Ertz failed to make two of the tough catches that sent him to the last three Pro Bowls.
Pederson wasn't perfect, but he was typically reckless. He went for it on fourth-and-1 when a makeable field goal would have cut the score to 17-3. It failed. Pederson tried a two-point conversion — with backup quarterback Jalen Hurts — when a kick would have cut it to 17-7. It failed. Pederson also called a naked run for Wentz late in the first quarter. Wentz fumbled.
Yes, Wentz should have covered the ball better, but Wentz has a bad knee, a bad back, and mediocre speed. Five years into his career no longer is a threat to run.
Pederson asked Wentz to block for a run by Hurts — downfield, in traffic, just inches from being run over by Hurts and his tacklers.
Pederson then called a questionable option for Wentz on a two-point conversion try with 1 minute, 55 seconds to play, which the Ravens diagnosed and smothered.
Wentz wasn't helped much — he was sacked six times, didn't target Fulgham or No. 1 receiver Greg Ward until the 28th minute, and threw high and wide plenty. But he persevered. By the end, the Eagles and their fans were wondering, "What if?"
For instance:
A horrible roughing-the-passer as the first half ended gave Jake Elliott a chance at a wind-aided, 52-yard field goal. It drifted wide right.
It was that close to being an upset.
———
©2020 The Philadelphia Inquirer