China Daily | Updated: 2020-10-21 07:40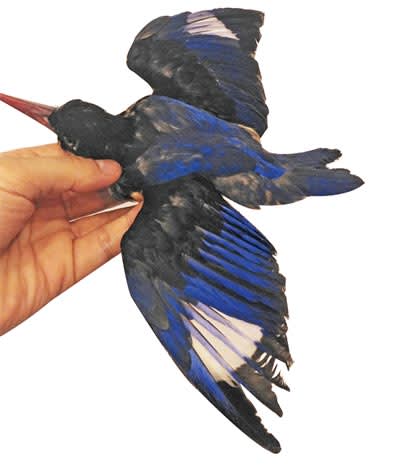 A video showing a workshop in Suzhou, Jiangsu province, using kingfisher feathers to make ornaments has sparked a controversy online.
Bright blue kingfisher feathers are traditionally used in China to decorate gold or silver plates. The finished jewelry product is bright in color and said to "never fade". However, while the craftsmanship is much in demand, animal rights activists are not too pleased. This underlines the need to adopt a more rational stance toward the issue.
We should respect historical traditions while gradually promoting a change in the way human beings treat wildlife. Commercial use of wildlife should be based on State laws or regulations.
Given that animal protection has a short history even in the West, there are no worldwide universal standards on protecting wildlife.
However, wildlife protection is trending and people are paying more attention to animal resources and their welfare.
Regarding kingfisher feather craftsmanship and the wildlife protection dilemma in China, residents often seek an authoritative, scientific and official answer or expect the relevant authorities to act. However, there is no zero-sum game between cultural heritage and animal protection. The law is the bottom line for resolving this dispute, but it is hard to ask law enforcement agencies to intervene when many kingfisher species are not protected under the law.
A healthy modern society should create room for diverse stances and positions, so that not every decision ends up being reduced to a choice between right and wrong. In the case of the kingfisher feather craftsmanship, the position of the craftsmen engaged in the intangible cultural heritage does not necessarily contradict that of wildlife conservationists. In a pluralistic society, there should be multi-dimensional and multi-layer restrictions on certain "non-progressive" human behaviors. It is through dialogue and dynamic actions that progress is often achieved. Both sides in the kingfisher feather craftsmanship dispute should therefore hold dialogue to resolve their differences.
After all, the public seems tolerant about the use of wildlife in traditional Chinese medicines, although it too contradicts wildlife protection ideas.
If the use of wildlife organs for TCM is considered lawful, shouldn't the use of kingfisher feather craftsmanship in jewelry be allowed? Clearly, it is too early to say which party is right in this debate.
© Copyright 2020 China Daily Information Company. All Rights Reserved.Provided by SyndiGate Media Inc.