By Yang Yang | CHINA DAILY | Updated: 2020-10-21 06:49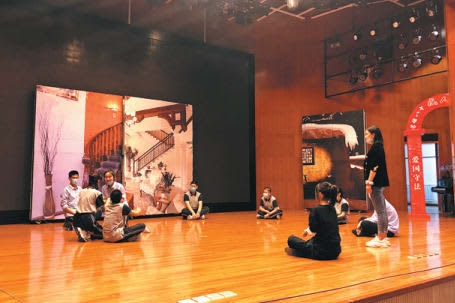 New campus
In 2014, Karamay University Town was completed, covering an area of 5.85 million square meters. Besides China University of Petroleum-Beijing, other educational institutions have opened branches in the city. These include Xinjiang Medical University, Karamay Vocational and Technical College, and Xinjiang Technician College.
Currently, there are 1,309 staff members and 14,000 students.
China University of Petroleum-Beijing at Karamay, founded in 2015, started receiving students in 2016. Now there are 3,800 students from all over the country. The campus will eventually be able to accommodate 20,000 students.
An outstanding advantage is that the campus contains training facilities that allow students to practice skills covering 20 majors related to oil and gas production, the largest of its kind in China.
Recruiting qualified personnel can be a challenge, says Chen Daen, vice-president of China University of Petroleum-Beijing at Karamay. "So the Ministry of Education organized 15 top universities to help us. Each year, tens of teachers will come to our university from the east, meanwhile, our students can go on exchange programs to other universities," he says.
Students of computer science, for example, can go to the University of Electronic Science and Technology of China in Chengdu, Sichuan province, students majoring in English to Shanghai International Studies University, and students of finance to the Central University of Finance and Economics in Beijing. Russian language students can also go to Russia, he says.
Zhang Xing, 36, teaches the most prestigious major at the school-petroleum engineering. This enables students to garner the knowledge and skills regarding the entire process of oil production from detection to extraction.
Wearing an oil worker's signature red uniform and helmet, he introduces the structure and function of the regular pumping unit to his students at a dedicated training center.
Born in Karamay in 1984, he went to China University of Petroleum in Beijing and stayed in the capital for 10 years. When the new campus was completed, he returned to his hometown "to contribute my part to the development of Karamay", he says.
Actually, the new campus has attracted many talented people from not only surrounding cities, such as Kuitun and Ili, but also from other provinces, because "the university has provided great opportunities for talent as a key university", he says, adding that this year, the school will launch eight new majors.
© Copyright 2020 China Daily Information Company. All Rights Reserved.Provided by SyndiGate Media Inc.