By Yang Yang | CHINA DAILY | Updated: 2020-10-21 06:49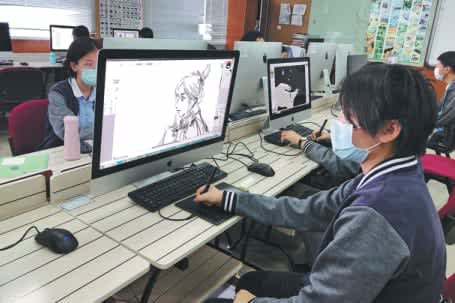 Bigger opportunities
In the last four years, the total enrollment for the petroleum university at Karamay has increased from more than 700 to this year's 1,200. The admission score has also been raised significantly because the environment in Karamay has improved greatly, Zhang Xing says.
But it's more than just the academic environment that has improved. Around Hongshan Lake, more than 100 rare birds have been observed. The lake is home to a vibrant eco-culture. The university hosted its first fishing festival in June. More than 1,000 kilograms of fish were cooked to celebrate the graduation of the first students.
Among the first 435 students that graduated in June, 118 chose to stay in Xinjiang.
"About a quarter of our first graduates chose to stay in Xinjiang, and many of them come from other provinces. After four years' study, they have developed a deep connection with Xinjiang and want to stay here. Besides, they believe that with the Belt and Road Initiative, Xinjiang has bigger opportunities than other places," he says. Among the 1,200 students that the school admitted this year, over 94 percent come from outside Xinjiang.
Zhang Bingxi also plans to stay after graduation, with his father's encouragement. One year before he came to the city, his father made a trip to Xinjiang to investigate the local logistics industry, which is one of the great opportunities brought about by the BRI, Zhang Bingxi says.
"With the initiative, various opportunities in Xinjiang have obviously increased, so for me the autonomous region has big potential for development," he adds.
Wang Lei, 33, is a volunteer Russian language teacher from Beijing Foreign Studies University. Arriving in Karamay in 2019, she planned to stay for just one semester. However, she extended her stay. "They asked me to teach and supervise graduate papers. If I left in the middle, I wouldn't be able to see the results," she explains.
Born and growing up in Urumqi, Wang says she has a deep love for Xinjiang, which was why she volunteered to come to Karamay, despite the fact that her twin daughters are only 1 year old.
In the College of Arts and Sciences where she works, there are a total of 14 volunteers from all over the country.
"The petroleum university's advantage lies in oil and gas exploration, so students of Russian usually also choose courses in this field. With the BRI, if students master both Russian and petroleum industry knowledge, they will be more competitive working for the cooperation with Russia regarding gas and oil trade," she says.
© Copyright 2020 China Daily Information Company. All Rights Reserved.Provided by SyndiGate Media Inc.