By Yang Yang | CHINA DAILY | Updated: 2020-10-21 06:49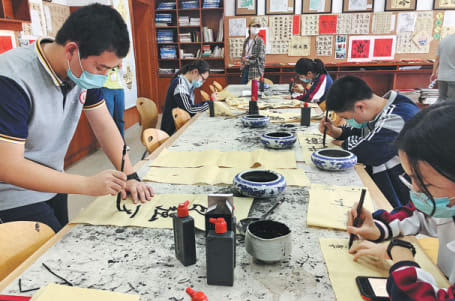 A fresh approach
Besides higher education, advanced ideas introduced in Karamay No 1 Middle School also attract talented people from all over the country. Under the new system, young students can fully explore their interests and satisfy their curiosity for knowledge, rather than simply study.
At the back of a chemistry classroom on the third floor of Karamay No 1 Middle School is the lab where teacher Cai Xia is working on an experiment with several high school students. Unlike many other middle schools in China, teachers of different subjects at the school have their own classrooms which also serve as their offices.
Rather than having a fixed classroom, students have their own lockers and need to go to different classrooms for lessons on different subjects. Each class has a maximum of 24 students and each teacher has 15 students under their supervision.
"In such small classes, teachers can better communicate with each student," says Li Guolian, director of Education Bureau of Karamay.
As well as the major subjects, such as Chinese, math, English, physics and chemistry, each semester students are encouraged to choose one artistic subject, including calligraphy, music, illustration or theater, among others.
Cai used to work in another prefecture in Xinjiang, but when she came back to Karamay to visit her parents, she heard about the new education method being applied at the middle school. In 2014, she became a chemistry teacher and started teaching the best students at the school.
"The students are very curious and ask a lot of questions that go beyond their textbooks, so I need to go back to my study at university. It's a happy process in which both students and teachers can make progress," Cai says.
Li Shuangyang, 29, from Baicheng, Jilin province, graduated from Jilin Animation Institute some 4,000 km away. Li is a teacher of illustration at Karamay No 1 Middle School. The course, in which students learn to create illustrations on computer starting from scratch, is the most popular artistic subject.
"At Jilin Animation Institute, we were trained as professional illustrators. But I decided to come here to become a teacher because few middle schools have a course which allows me to continue my professional practice while teaching students such an artistic form," Li says.
"This kind of education method helps to shape students' future, which is important during a person's life," he says.
Four years ago, he helped one of his students, who loves drawing and animation, to enroll at the prestigious Communication University of China to further study animation.
"At the start, it was only an interest, and now it has become his major and he loves it very much," Li says.
Liu Liyue, a senior high school student, says: "Compared with my friends who study at other schools, studying here is not only for examinations. We know more about what we want and like. It's not only about studying."
Contact the writer at yangyangs@chinadaily.com.cn
© Copyright 2020 China Daily Information Company. All Rights Reserved.Provided by SyndiGate Media Inc.