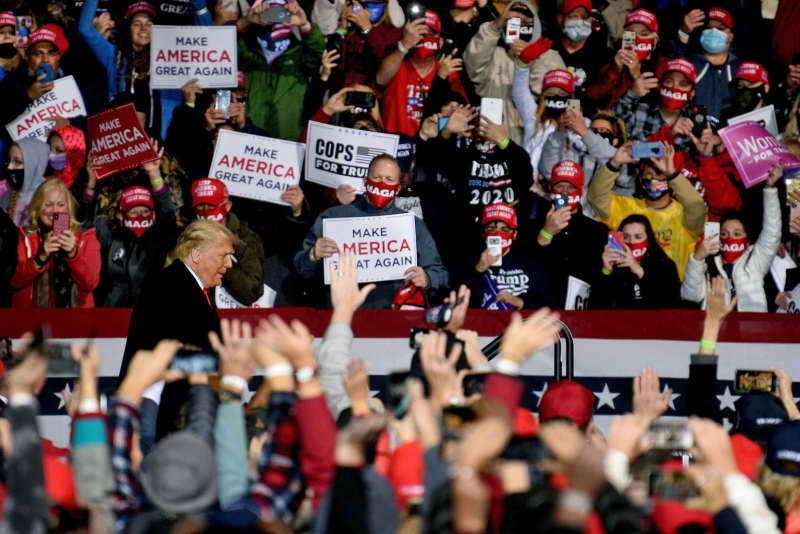 President Donald Trump on Tuesday night once again said the coronavirus pandemic is nearing its end, an assertion he has made for months that is flatly contradicted by rising case counts.
We're "rounding the turn on the pandemic," Trump said as he rallied before cheering supporters in Erie, one of the most hotly contested and symbolically weighted parts of Pennsylvania.
Pennsylvania has averaged 1,460 new cases a day over the past seven days, according to a Philadelphia Inquirer analysis, the highest since mid-April.
"If we win Pennsylvania, we win the whole thing," Trump said, pointing to the state's role as a decisive swing state.
Much of the early portion of Trump's rally repeated familiar themes, including the ones he offered in Johnstown, in Southwest Pennsylvania, last week.
He asserted that Democrat Joe Biden is corrupt, attacked the news media and made false assertions that Biden plans to ban fracking, reinforced with video snippets. (Biden has repeatedly said he would not ban existing fracking operations, but would stop new permits on federal land.)
Erie County, with a proud but diminished manufacturing tradition in the state's northwest corner, has been a nationally watched bellwether ever since it swung sharply in 2016, shifting from its solidly Democratic past to narrowly favor Trump.
The swing from President Barack Obama to Trump — 21,000 votes in all — was one of the biggest in Pennsylvania and crystallized Trump's appeal to white working-class voters who had seen their economic fortunes sag. It helped power Trump to narrow but decisive victories in the industrial Midwest, including a razor-thin 44,000 vote victory in Pennsylvania.
Now, members of both parties are looking to Erie for clues about how strongly Trump has retained his hold on those voters, or if some will slip back to Democrats.
Trump, trailing in the polls, has placed a heavy emphasis on consolidating his blue-collar base.
In Erie, he emphasized his support for police, and said "if Biden wins, China wins, if Biden wins, China will own the USA."
Erie County Democratic leaders said the president failed to deliver the economic rebound he promised, even before the coronavirus pandemic struck. They said Erie has had some of the slowest economic growth in the nation, citing a 2018 study from WalletHub, a personal finance website. And they said that despite Trump touting Opportunity Zones that receive tax credits for development, most in Erie had seen little private investment.
"We have areas of high need, high poverty that are being ignored and the people there are being ignored," said State Rep. Bob Merski, who represents the county. "When you get down to the ground level and you talk to people and folks in our community, this economy's not working for them."
Just last week Wabtec, one of the county's largest employers, announced another 150 layoffs at the locomotive-building facility there. The company blamed the economic effects of the pandemic.
Trump's visit to the critical battleground within the critical swing state came just two days before a scheduled presidential debate widely seen as his last, best chance to change the trajectory of a race he has consistently trailed.
And it came a day before former President Barack Obama was scheduled to campaign in Philadelphia, with a drive-in rally at Citizens Bank Park.
Voting is already well underway in a state both parties see as crucial to the outcome of the election. Just over 1 million Pennsylvanians had returned mail ballots as of Tuesday afternoon, out of 2.8 million mailed to voters so far. Democrats have requested the majority — 64% — of those ballots.
Other indicators point to voters being highly motivated in an election that people in both parties see in almost apocalyptic terms. Pennsylvania surpassed 9 million registered voters, reaching what the Department of State said is a record high. There are now 4.2 million registered Democrats in the state, 3.5 million Republicans, and 1.3 million registered as independent or with third parties.
Republicans have narrowed the registration gap, though it's unclear if that reflects new voters siding with Trump, or existing supporters changing their party affiliation to match their votes.
Leading up to Tuesday, the president had held a series of combative rallies with the kind of scathing remarks that have long fired up his base of support, but left him struggling to expand it.
Trump held rallies in Erie in 2016 and 2018, and is returning Tuesday night as he tries to stage another election rebound, with polls showing him behind Biden.
Biden made his own visit to the county Oct. 10, playing up his roots in blue-collar Scranton.
"The president can only see the world from Park Avenue," Biden said during his stop. "I see it from Scranton. … You all know what I'm talking about. You all see it from Erie."
Trump's rally comes as his campaign has pulled back advertising in some key battlegrounds, including Wisconsin, Minnesota and Ohio, but has kept pouring resources and time in Pennsylvania — which his campaign sees as a key piece of his path to reelection.
Biden has held a steady, roughly 5 to 8 percentage-point lead in public polling in Pennsylvania, one that's narrow enough for even a small shift to make for a tight finish.
———
©2020 The Philadelphia Inquirer