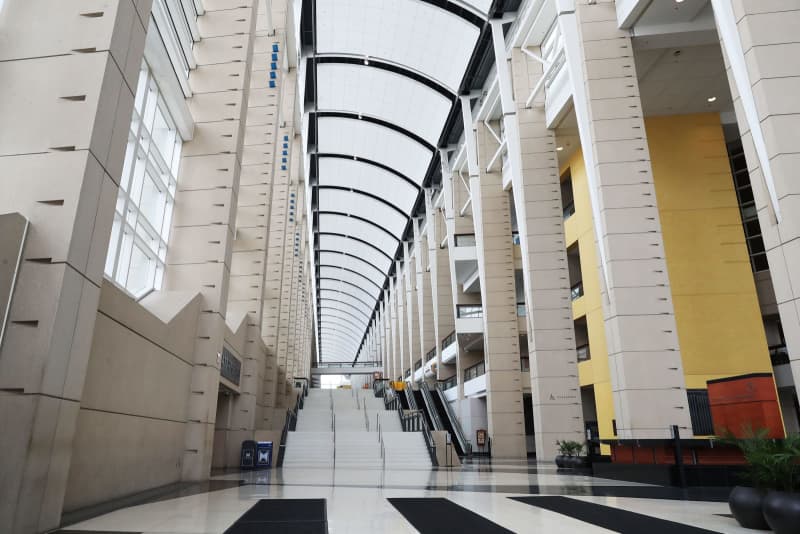 Chicago's convention industry, one of the city's major sources of tax revenue, might not return in any significant fashion until 2022, dealing a prolonged financial blow to the city as it struggles to make up a $1.2 billion budget shortfall.
Mayor Lori Lightfoot is scheduled to present her plan to close the city's budget deficit Wednesday, which might include increases to property and gas taxes, as well as city worker layoffs.
With COVID-19 cases on the rise again and business and international air travel depressed, trade show organizers continue to examine plans for next year. Already, eight shows scheduled at McCormick Place through April have been canceled, and one has been rescheduled for later in 2021.
Since March, 161 McCormick Place trade shows scheduled for this year and early 2021 have been nixed because of the coronavirus pandemic. Those shows were expected to generate more than $2 billion in spending, with an estimated attendance of 1.6 million people, according to spokeswoman Cynthia McCafferty. About 63% expect to return at a later date, she said.
Chicago could lose an estimated $77 million in tax revenue as a result of the cancellations, according to Zafer Sonmez, a postdoctoral research associate at the University of Illinois at Chicago who studies the economic impact of McCormick Square, the sprawling 2.6 million-square-foot campus that includes McCormick Place, Wintrust Arena, Hyatt Regency McCormick Place and Marriott Marquis Chicago.
Industry leaders are hesitant to say when conventions could resume, and with a third wave of COVID-19 infections on the rise nationally, some predict trade shows scheduled for next year will continue to get canceled.
At least two vaccines that had been in late-stage testing have recently been put on hold. Sonmez said even if a vaccine is developed in the coming months, companies and event organizers will be hesitant to send employees to large gatherings until it is widely available.
"I would say definitely not 2021. We will still observe very low numbers for 2021. And starting at the end of 2022, we could see some activity," Sonmez said.
For Chicago, the absence of conventions could spell more trouble for the city's finances. Sonmez said the city generates about $145 million in tax revenue annually from conventions and other events hosted at McCormick Square.
Now, organizers are rethinking plans well into next year.
The International Housewares Association, which pulled the plug on its in-person gathering of The Inspired Home Show in March because of the coronavirus pandemic, rescheduled next year's event, initially set to take place mid-March at McCormick Place, to August 7-10.
In a statement, the association's president, Derek Miller, said, "As the pandemic continued into the summer, we had multiple conversations with our Board of Directors, exhibiting members and retail buyers, all of whom were experiencing apprehension about the ability to safely convene the industry as soon as March of 2021."
The industry is at the mercy of state restrictions that ban gatherings of more than 50 people. Under Gov. J.B. Pritzker's five-phased reopening plan, large crowds can resume once there is a widely available vaccine or an effective treatment for COVID-19.
The uncertainty also affects the suburbs that rely on business meetings each year.
"That's the bread and butter, really, for Chicago and the suburbs," said Gina Speckman, executive director of Chicago's North Shore Convention & Vistors Bureau.
Speckman said Chicago's northern suburbs attract about 3.4 million visitors each year, with business travelers making up about a quarter of visitors. Suburban hotels rely on annual business meetings rather than big conventions, but occupancy rates are down by about 80% this year, Speckman said.
"Hotel tax dollars have always been very important to Chicago and the suburbs because they are paid for by out-of-towners, by nature, because of the hotel tax. And the more tax revenue a municipality has that is paid for by out-of-towners, the less tax burden is shouldered by the local community," Speckman said.
One area most affected by the loss of conventions and other business events is Rosemont. Just east of O'Hare International Airport, the northwest suburb, with a population of about 4,200 people, is a major business meeting hub whose hotels depend heavily on business and international travelers.
But hotel occupancy rates are at an abysmal 4%, said Pam Hogan, executive director of the Rosemont Chamber of Commerce. Hogan said a majority of Rosemont hotels cater to business travelers, wedding receptions and other gatherings that can fit in hotel ballrooms.
"It's so quiet here right now, it's so devastating," Hogan said.
Even as leisure travel picks up, Rosemont needs business travelers, Hogan said.
"We all just have to wait it out," she said.
———
©2020 Chicago Tribune