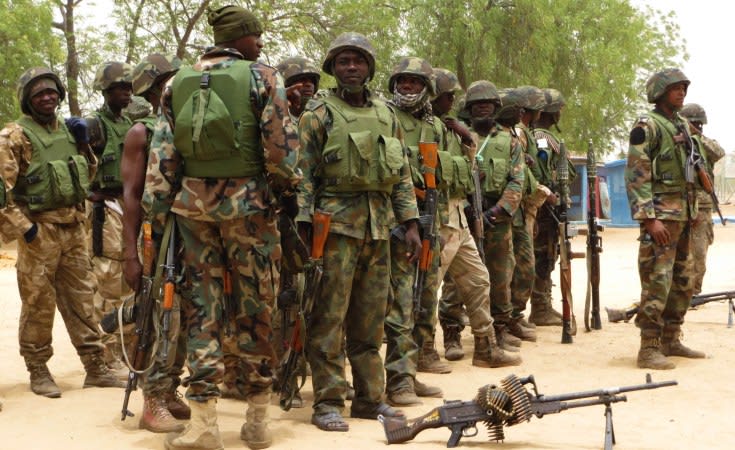 The Nigerian Military on Thursday declined comments on the shootings at #EndSARS protesters at the Lekki Toll Gate allegedly carried out by soldiers, explaining that it's comments on the issue will not be fair to the commission already launched by the state government to investigate the matter.
It however noted that the reports of soldiers shooting and killing peaceful protesters are still mere allegations.
The Lagos state governor, Babajide Sanwolu, has set up a commission of Enquiry to investigate the shootings which took place on 20th October, 2020. The military said it will not speak until the investigations concluded.
John Enenche, Coordinator, Defence Media Operations (DMO), who said this at a news briefing in Abuja, pleaded with Nigerians to be patient with the military.
"The governor of Lagos already set up an enquiry, whatever we say now will not be fair to that panel or Commission. I will not respond now because it is good for us to be patient in situations like this and allow the appropriate segment of the society to handle the issue.
"The issue is not an operation that I can respond to. But I can tell you that it is an allegation for now, so let us not set the cart before the horse. If the matter was still open-ended I would have had I response for you but is is no longer open-ended, because immediately, not even up to five hours, before midnight the Governor of Lagos set up an Inquiry, so whatever we say now will not be fair to the Commission.
Speaking on the intervention of Army for internal security, Enenche said operation MESSA, one of the oldest existing operations of the army could be used for state security.
"Operation Messa is strictly under the policy directive of the various state. In this operation just like the one we have in Abuja, you would see a mix of Army Navy, Air Force, police and Civil defense put together. These operations are still standing and running and I am aware that various state government are using them for internal security
Also responding to concern raised by Journalist on the viral videos seen where men on Army uniforms collaborated with hoodlums Against the protesters, Enenche said there is a need to investigate if they are genuine soldiers.
"This morning, I even called analysts who have analyzed videos that were Photoshoped and put together, if not that I am not permitted, I would have forwarded it to you" he said.
Meanwhile, giving a general update on the activities of the Armed Forces of Nigeria, Enenche said troops of Operation Hadarin Daji
have continued to record significant successes against the armed bandits in the North West zone of the country.
"In one of the feat recorded, troops repelled bandits attack at Rawayu village in Kurfi Local Government Area of Katsina State on 15 October 2020. In the course of the encounter, 4 armed bandits were neutralized while others escaped with gunshot wounds.
"In another encounter security operatives in conjunction with vigilantes neutralized one Abubakar Haruna, a suspected arms trafficker and recovered 600 rounds of 7.62mm live ammunition along Tsakiya Road in Dutsinma Local Government Area of Katsina State" he said.
The Coordinator said in the North East zone of the country, troops of Lafiya Dole have reduced operational capabilities of terrorists in the North East zone.
"Notably, on 16 October 2020, troops of Operation Lafiya Dole while on clearance operations encountered Boko Haram/ ISWAP at Sawa village in Nganzai Local Government Area of Borno State. During the encounter, 4 terrorists were neutralized while 4 AK47 rifles were recovered by the troops", he said.
Enenche further said the Air Task Force of Operation Lafiya Dole conducted series of air operations which led to the neutralization of scores of ISWAP members and destruction of their hideouts in Borno State.
"In another development, sustained air strikes executed on 19 October 2020 by the Air Task Force, decimated several ISWAP training camps and their logistics storage facilities at Tumbun Barorowa, also on the fringes of the Lake Chad in Borno State.
"The downward trend in kinetics from the North East is an indication of own troops superior operational capabilities as well as cooperation from the populace", he said.
In the North Central, Enenche said the troops of operations Whirl Stroke and Safe Haven conducted several clearance operations at identified bandit's camps.
"Notably, troops of Operation Whirl Stroke neutralized 2 armed bandits in Nasarawa State. The Joint Force while on patrol on 18 October 2020 around Kango and Adumata villages came in contact with a group of armed bandits leading to exchange of fire.
"The gallant troops overwhelmed the bandits thereby neutralizing 2 while others escaped with gunshots wounds. Troops also recovered one AK47 rifle, one locally made rifle, 6 AK47 magazines, 110 rounds of 7.62mm Special ammunition and assorted drugs", he said.