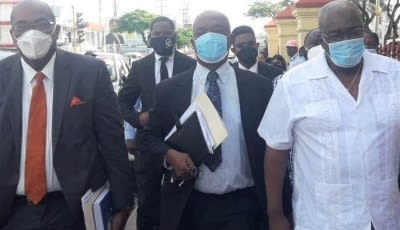 The attorney representing the Chief Elections Officer, Keith Lowenfield,' has criticised the decision by the Director of Public Prosecution (DPP) to hire at least two lawyers to prosecute the charges filed by the police.
Nigel Hughes said that while he welcomed the decision by the DPP, Shalimar Hack, to withdraw the private criminal charges against Lowenfield, he is concerned at the lawyers being hired to argue the case for the state.
Lowenfield has been charged privately with misconduct in public office and fraud. He is on bail pending the hearing and determination of those charges.
Chief Elections Officer, Keith Lowenfield fin white shirt, flanked by his lawyers leaving court (File Photo)
Hughes said the lawyers, Glen Hanoman had instituted the private charges against his client and Sanjeev Datadin is a sitting parliamentarian for the governing People's Progressive Party/Civic (PPP/C).
"We have pointed out to the court that the duty of a prosecutor is to be fair and the provisions of the Legal Practitioners Act oblige prosecutors to be fair. All prosecutors have an obligation to disclose information which may be favourable to a defendant.
"The appointment of a sitting government MP may create the appearance of bias and conflict with the professional obligations imposed on a prosecutors and consequently adversely impact the right to a fair hearing," Hughes told News-Talk Radio Guyana 103.1 FM.
He said that Rule 13 Part v of the Legal Practitioners Act states" when an Attorney-at-Law is engaged as a prosecutor, his prime duty is not to seek to convict , but to place the facts dispassionate before the Court. "
Hughes said his team has submitted that the appointment of Datadin will have the appearance of bias as there is a real danger that he would not be able to place the facts dispassionate before the court
He said the court has invited submissions from both sides on the issue.
A similar decision was taken concerning the prosecution of Deputy Chief Elections Officer Roxanne Myers after objections on the ground of conflict by Datadin.
Last month, a case of fraud against Lowenfield was adjourned to October 26 even as one of his attorneys, Neil Boston, insisted that his client had no case to answer and would be seeking a dismissal when the matter is called
Lowenfield is facing charges of misconduct in public office, conspiracy to commit a felony, and fraud arising from the country's local and general elections that the Guyana Elections Commission (GECOM) said was won by the then main opposition PPP/C after a national recount had been undertaken and supervised by a three-member Caribbean Community observer team.