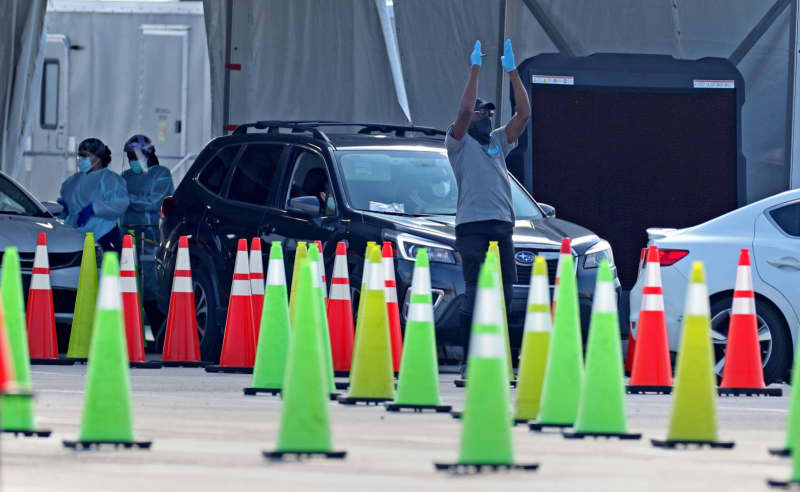 FORT LAUDERDALE, Fla. — Florida reported another 3,377 cases of COVID-19 Monday and 20 additional deaths, as the number of people hospitalized for the disease continued to rise.
The number of new cases is not the highest in the past week, having been exceeded by the counts on three other days. But it still represents a higher number than most days in early October, and it comes as the experts say Florida could be experiencing a resurgence of the disease.
The Florida Department of Health has said it will review death count accuracy, since some doctors are reporting them up to three months after the death. The official state death toll stands at 16,652.
The total state case count now stands at 782,013.
TESTING AND POSITIVITY RATES
The state test positivity rate is above the 5% level by two common measures of assessing the rate. The 5% threshold indicates the point at which public health experts say the virus would be under control.
Florida Department of Health: The state reported a daily positivity rate of 5.94% on Monday, up from 4.71% on Sunday and 3.66% on Saturday. Florida's method of calculating positivity counts new infections only, but also counts repeat negative tests.
Johns Hopkins University: This measure shows Florida's positivity rate at 16.3%. Unlike state data, Johns Hopkins University counts only first-time test takers in its positivity rate.
In recent days, Johns Hopkins posted a new disclaimer for its statewide data, noting "anomalies in testing data" and an ongoing evaluation "to ensure that we can present the most responsible and accurate view of state test positivity data."
HOSPITALIZATIONS
The number of people hospitalized in Florida for COVID-19 continues to climb.
As of 11:20 a.m. Monday, 2,246 people across the state were hospitalized with a primary diagnosis of COVID-19, up from 2,219 on Sunday and 2,163 on Saturday.
In South Florida, Broward County reported 199 patients hospitalized, an increase of 10 from the previous day; Palm Beach County had 131, a decrease of three; and Miami-Dade had the most in the state with 318, an increase of 23.
The online report from the state Agency for Health Care Administration updates several times throughout the day. Hospitalizations hit a peak in late July of about 9,500 patients.
Since the pandemic began, 48,281 residents have been hospitalized for the disease, state health officials say.
DEATHS
Statewide: Sunday's report shows a total of 16,449 Florida resident deaths. In addition, 203 non-resident deaths have been attributed to the virus.
Florida's COVID-19 death rate since the pandemic began is ninth among states, tied with Illinois, at 77 deaths per 100,000 people, according to the Centers for Disease Control and Prevention. That's higher than the national rate of 68 deaths per 100,000.
Long-term-care facilities: At least 6,648 deaths have occurred among residents and staff at nursing homes and assisted-living centers throughout Florida. That's six additional deaths in the past day.
Miami-Dade County has reported the highest number of deaths at long-term-care facilities, with 839. Palm Beach County is second with 713. Broward has reported 442 deaths.
NATIONAL AND GLOBAL VIEW
U.S.: More than 8.6 million people in the country have been infected with the novel coronavirus and 225,330 have died as of 1:40 p.m. Monday, according to Johns Hopkins University's Coronavirus Resource Center.
World: At least 43.2 million people have tested positive for COVID-19 and 1,155,914 people have died from the disease, according to Johns Hopkins. The U.S. has had the most COVID-19 cases and deaths of any country.
The U.S. has 4.3% of the world's population, but 20% of the world's cases and 19.5% of the world's deaths.
Other countries with high COVID-19 death tolls include Brazil with 157,134, India with 119,014, Mexico with 88,924 and the United Kingdom with 44,986.
———
©2020 Sun Sentinel (Fort Lauderdale, Fla.)