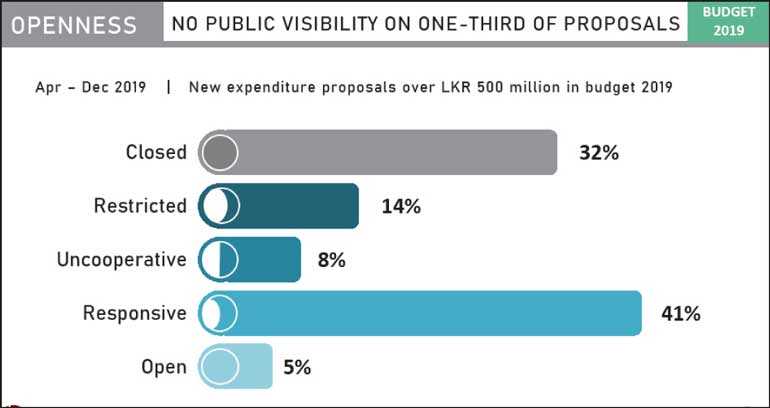 ---
Think tank says 41% of policy proposals in Budget 2019 failed to be implemented
Progress on 32% of proposals unavailable, more than double of 2018
8% of promises broken, 11% poorly implemented, 3% partially done
Ministry change in Nov. worsened oversight of key projects
By Uditha Jayasinghe
Budget 2019 ran into numerous implementation and transparency snags, with 41% of its policy proposals undone and progress of 32% of its proposals worth Rs. 100 billion remaining undisclosed, a new report by think tank Verite Research said yesterday, calling on the Government to fix oversight issues, ahead of Budget 2021 to be presented next month.
Verite Research, releasing its latest edition of how Budget proposals were implemented via BudgetPromises.Org, indicated the last Budget of the Yahapalanaya administration was largely shambolic. The platform, which was launched in 2017, tracks progress and openness of key proposals in the Budget. To evaluate Budget 2019 the platform tracked 37 promises, with a total allocation of Rs. 100,875 million. It also shadowed implementation of policy proposals and openness of ministries.
"Something that is very striking is that for 32% of Budget 2019 proposals, there is no information available in the public domain. We collect information both through Right to Information (RTI) applications and online sources, but we were unable get any details. This is a significant increase when compared with the 13% seen in 2018 and 11% in 2017. There is very little visibility of progress," said Assistant Analyst Lahiri Jayasinghe.
In addition, implementation of 11% of proposals were poor, 3% were partial and 8% were not carried out at all. Only 32% of the proposals were fulfilled and 5% were completed at a substantial level.
"The public expects what is included in a Budget to be implemented and if not, for the Government to disclose why it could not be done. However, what our research has indicated is a consistent failure to deliver on budget promises. A lot of the proposals we tracked had their allocations revised downwards and this has happened previously as well. There is a divergence in what is said in the Budget speech and what is implemented, in both expenditure proposals and policy proposals," she added.
Despite policy proposals not requiring expenditure of public funds, as much as 41% of the policy proposals tracked by the platform were not implemented in 2019. This included crucial legislative changes to amend labour laws to allow for part-time, flexible hours, home-working options and to facilitate more women becoming active participants in Sri Lanka's economy.
Among the slew of proposals was allowing a deduction on corporate tax worth 50% of the salary cost of the mandatory three months maternity leave granted to mothers and removing the minimum employment requirement imposed on companies engaged in IT services, to be eligible for the special additional deduction of 35% on incurred salary expenses.
"If these proposals were implemented it would have assisted Sri Lanka to meet challenges created by COVID-19. This raises the question whether what is being included in a Budget is actually going to happen? Is there Budget credibility?
"What needs to happen is the development of a document supporting information and analysis for each proposal prior to including it in the Budget and there should be timely and consistent disclosure on budget implementation on Ministry websites," Jayasinghe noted.
In 2019, openness on proposals was also hindered by the frequent changes to ministerial portfolios. The budget monitoring process revealed that the fragmentation of ministries, especially after the change of Government in November, had resulted in a breakdown of the lines of responsibility. Even those that were tasked with oversight of the budget were not able to provide clarity on the agencies responsible for implementing specific budget proposals.
Researchers found only five ministries ranked moderately well on transparency, but even they failed to proactively disclose and share information on how public funds were being used. The five top ranked were Finance, Transport, Media, Labour and Skills Development, and Buddha Sasana Ministries.
The worst performers were Justice, Roads and Highways, Industries and Supply Chain Management, Healthcare and Sports and Youth Affairs. The Defence Ministry also failed to impress, ranking 11th, even though it has the largest fund allocation under the Budget.
To improve Budget openness, Verite Research recommended that the Government increase disclosure on proposal progress online, via relevant Ministry and Department websites, as well as ensure that the information released is done in a timely manner. In addition to limiting the fragmentation of ministerial portfolios, it also called for a central point to be established within the Finance Ministry or a Parliamentary Budget Office to improve oversight.
"This year's Budget is crucial from the credibility perspective, because it is a very important signal to markets on the direction the Government is going to take on its fiscal path; so more than other years the credibility of this Budget will be crucial, particularly in terms of expenditure and revenue projections.
"The Government in its policy statements has indicated intent towards more oversight and transparency and if there is more effort at legislative level, then that could improve other forms of oversight as well," Research Director Deshal de Mel said.
Budget 2021 is due to be presented on 16 November by Prime Minister Mahinda Rajapaksa.