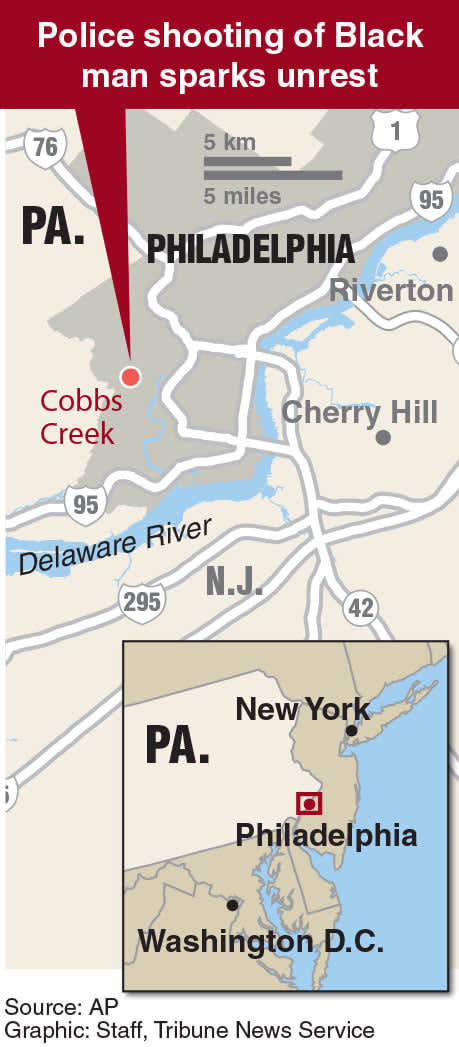 PHILADELPHIA — Police were called dozens of times in recent months about problems at Walter Wallace Jr.'s home, and had responded twice on Monday to reports of disturbances at the West Philadelphia house before two officers answered a third call and shot him as he approached them with a knife, according to law enforcement sources.
What happened during those earlier visits — including which officers responded and how much they knew about Wallace's mental health problems — remained unclear Tuesday. Asked at a news briefing, Commissioner Danielle Outlaw declined to offer details about any prior contact police had with Wallace, saying the incident remained under investigation.
But the confirmation of previous visits, by sources not authorized to publicly discuss them, raised questions about the effectiveness of police responding to what Wallace's relatives have described as a mental health crisis.
A lawyer for Wallace's family, Shaka Johnson, said Tuesday that before the shooting, relatives had called 911 asking for an ambulance — not police officers — to help mitigate the 27-year-old's spiraling condition.
Johnson blasted the Police Department's response, saying Wallace's pregnant wife told officers when they arrived that her husband had bipolar disorder.
"Officers who are properly trained should notice certain things when they arrive at a scene," he said. "Especially when his wife tells you, 'Stand down officers, he's manic bipolar.'"
Outlaw said the department was "still backtracking to find out what the officers knew" when they arrived at Wallace's house on the 6100 block of Locust Street before they shot him, and "how any previous contact with Mr. Wallace factored into what happened." She also said a burgeoning city program to put a behavioral health specialist in the police dispatch center only operates during limited hours, and that the assigned counselor was not in the radio room at the time of the afternoon call regarding a disturbance at Wallace's house.
Law enforcement sources said that before Monday's calls, police had received 31 radio calls since May concerning that address. Some calls were considered low priority, while other included reports of a person with a weapon, threats or assaults, the sources said.
The first two calls to police on Monday were reports of domestic disturbances. Chief Inspector Frank Vanore said at a news conference that the third call was a report of a man with a knife.
Two officers, who still have not been publicly identified, got the scene around 4 p.m. Video of the incident posted on social media showed Wallace holding a knife and walking toward them as they backed away. Wallace's mother and several onlookers pleaded with police not to shoot, according to the video and witness interviews, and the officers urged him to drop the knife.
Wallace was several feet away from the officers when they each fired seven shots, according to Vanore. As he fell to the ground, Wallace's mother rushed toward her son and begin swinging her arms toward the officers, the video shows.
Wallace's parents were too distraught to speak Tuesday morning, but were expected to release a public statement on Tuesday evening.
His cousin, Anthony Fitzhugh, 49, reiterated that a family member had called police Monday because Wallace was having a mental episode.
"I understand he had a knife, and their job is to protect and serve," Fitzhugh said. "By all means do so, but do not let lethal force be the means by which you de-escalate the situation."
In the hours after the shooting, Wallace's family and public officials expressed outrage over the officers' decision to fire, and criticized police for not de-escalating the situation.
Protesters took to the streets as police struggled to respond to vandalism and looting along the central commercial corridor of 52nd Street.
Outlaw said that neither officer who fired Monday was equipped with a Taser — which uses electroshocks to temporarily stun its target. According to a department spokesperson, 2,301 officers, or about a third of the force, have completed the proper training to carry Tasers and are required to carry them while on duty.
The U.S. Department of Justice in 2017 recommended that all Philadelphia officers be issued Tasers to carry at all times, a standard Outlaw said the department still wants to meet.
She said the department had asked for additional money during its last budget request to "continue to outfit our officers with Tasers," but did not provide details about how many might be purchased, or when universal adoption would be complete.
The commissioner was expected to attend a community meeting Tuesday night to hear from residents concerned over the shooting. She also said police were deploying additional units to respond to possible unrest across various parts of the city.
John McNesby, president of the police officers' union, said in a statement that he was confident investigators would "conduct an exhaustive and transparent review of all the facts related to this tragic incident," and he called for the public "to reserve judgment until this investigation is completed."
"The use of lethal force is a very difficult decision and we support our officers as they worked to resolve this incident under a great deal of stress," McNesby said.
District Attorney Larry Krasner, who has twice charged police officers with murder during his first three years in office, said he had been personally reviewing evidence as his prosecutors began investigating the case.
———
©2020 The Philadelphia Inquirer