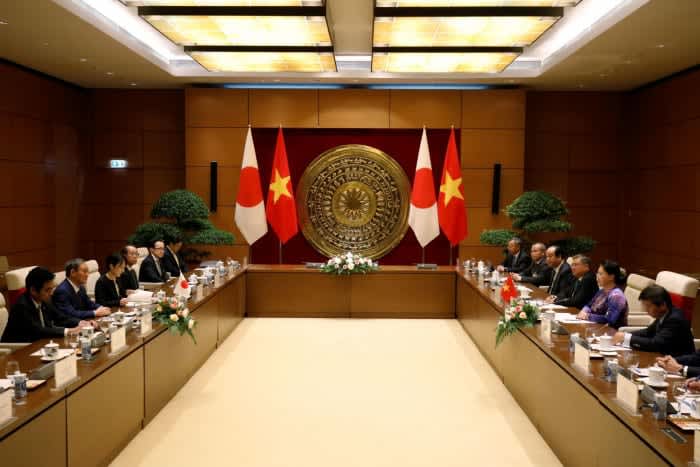 Japan's Prime Minister Yoshihide Suga recently visited Vietnam and Indonesia with a view to pursuing the East Asian powers' "free and open Indo-Pacific" strategy.
Mr Suga made the first stop in Hanoi, Vietnam, on Oct 19, and subsequently Jakarta, Indonesia, on Oct 21. This was his first foreign visit after rising to power, replacing Shinzo Abe who left politics for health reasons in September.
While Southeast Asian countries are key to pursuing Japan's "free and open Indo-Pacific" strategy, Vietnam and Indonesia are strategically significant. Vietnam is currently Asean's chair, while Indonesia is the only member of the Group of 20 major economies from Southeast Asia. Both of them have important roles, regarding historical, economic and political ties.
Katsunobu Kato, a cabinet secretary from Japan, states that Indonesia and Vietnam are partners when it comes to exchanging opinions over how to handle impending regional and global agendas, such as the cooperation needed for realising a free and open Indo-Pacific strategy. This encompasses considering the issue of China's aggression in the South China Sea, the situation with North Korea, and broader Indo-Pacific partnerships.
One of Japan's key strategic objectives is to expand Indo-Pacific partnerships by implementing an internal balancing. This involves efforts to enhance the state's power by increasing one's economic resources and military strength in order to be able to rely on independent capabilities in response to a potential hegemon, in this case China, and to be able to compete more effectively in the international system. Japan seeks to promote coordination between partners like Indonesia and Vietnam and to help both countries strengthen their economic and maritime capabilities in order to build up resilience against Chinese aggression and influence.
Japan's economy has been hit harder by the pandemic compared to the US or EU and saw a 3.4% drop in its gross domestic product (GDP) for the first three months of 2020. The cancellation of the Tokyo 2020 Olympic Games has added to its economic woes.
Vietnam's growth potential and low-cost labour supply continues to curry favour among Japanese companies, which regard the country as the most promising place in Asia to invest in 2020. Previously, Japan gave ¥200 million (59.7 million baht) in aid to help Vietnam fight the pandemic.
Mr Suga also pledged low-interest loans of ¥50 billion to Indonesia to help the country overcome its economic fallout from the coronavirus pandemic. This is a symbol of the strong friendship that ties Indonesia and Japan.
Japan also seeks stronger and more secure partnerships. Vietnam is critical to the balance of power in Asia, and Indonesia has faced off against China in the Natuna Sea. In order to counter what is regarded as Chinese aggression in the South China Sea, Japan seeks to strengthen ties with countries in the region amid growing tensions between the United States and its biggest trading partner, China, over trade and security. Japan hailed an agreement in principle to supply Vietnam and Indonesia with military gear and technology in response to China's assertiveness in the region. China claims some part of Vietnam's exclusive economic zone as well as the Paracel and Spratly Islands, while Indonesia has been angered by Chinese coast guard intrusions into the Natuna Islands.
In this regard, Mr Suga expects that both Vietnam and Indonesia will agree to work together over a range of regional issues, including China's growing maritime presence in the South China Sea.
Japan does not want to see Indonesia and Vietnam rely only on China, with its economic and technological strength. Japan also wants to see Indonesia and Vietnam continue development and growth in the Indo-Pacific region. Indonesia is currently pursuing stronger relations with countries in Africa through the Indonesia-Africa Infrastructure Dialogue. Vietnam has been making great strides in projecting itself as an effective leader, particularly with its proactive governance in handling the Covid-19 pandemic, climate change, and its political stability. It's clear Japan will benefit from a balance of power in the region. Mr Suga is seeking to build partnersships and a network in the Indo-Pacific, not only to strengthen the current alliance system but to defend its own interests.