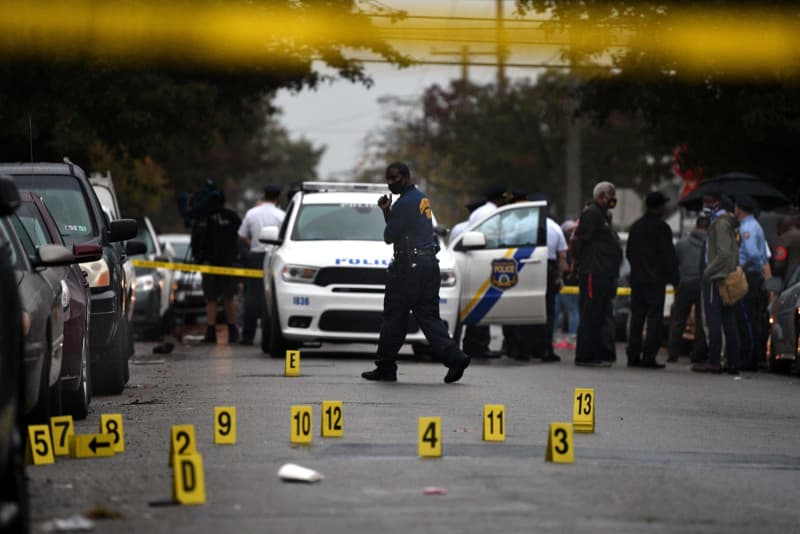 If your Black son is mentally ill and is behaving erratically, think before you call the cops.
If you do, he may wind up shot multiple times like Walter Wallace Jr. was on Monday afternoon in West Philly.
Two cops fatally wounded him in front of his mother as neighbors watched, leaving a community traumatized not just by the shooting but by the rioting and destruction that took place in the streets after.
I viewed the cellphone video of the shooting numerous times and can't get the sound of his mother's wails out of my head. Or the questions we don't yet have answers to: Why didn't the officers use a nonlethal method before shooting him like a dog in the middle of the street in front of his mother and other onlookers? Did they even have Tasers and had they been trained to use them? Would they have even worked on him?
Walter Wallace Sr. told the Inquirer his son had "mental health issues." The details and depth of it, like much about this case, aren't yet clear.
What we know is this: Police arrived on the scene in the 6100 block of Locust and ordered Wallace to drop the knife he was brandishing but he didn't. Instead, the video shows him brushing off his mother's efforts to hold him back and advancing toward the two cops. Then, even though they were multiple feet away they opened fire and Wallace crumpled to the pavement.
He was pronounced dead at Penn Presbyterian and a neighborhood that had been looted and burned during summer protests over the killing of George Floyd was once again vandalized and a cop car burned.
I hate to see that kind of looting and vandalism. At the same time, I understand the frustrations of those who took to the streets in outrage.
Here's another harsh reality: Had the police not arrived on the scene, someone else might have ended up injured or worse.
Darin Toliver, co-founder of the Black Men at Penn School of Social Work, said based on what he had seen of the incident via video that Wallace's shooting seemed preventable. He also cautioned that it's tough to know how the victim's mental illness played into the situation.
"Anyone can say that he shouldn't have pulled a knife," Toliver told me last night. "But there's something underlying."
In the end, he said, "I don't know if the officers used wise judgment."
I don't know either.
It's easy to second-guess. It's a completely different thing when you're an officer and face to face with a man brandishing a weapon and wondering if you're going to make it home that night.
Fraternal Order of Police President John J. McNesby was probably right when he wrote that the officers involved were "traumatized by being involved in a fatal shooting." They would have to have been monsters not to have been impacted by something like that and the ensuing mayhem that left 30 police officers injured.
But so was everyone who witnessed Wallace shot down like an animal in broad daylight. His parents must be wracked with grief and guilt right now second-guessing everything they did or didn't do for their troubled son.
"I've cried with his family outside of their house," said state Rep. Joanna McClinton on Instagram. "We prayed. We embraced each other but we can't really make this make sense … When will Black lives really matter? A husband, father, son — brutally gunned down …
"What would #deescalation have looked like earlier this afternoon in my community? Would Walter Wallace be alive and be getting the help he needed?"
Police arrest armed white homicide suspects such as Kyle Rittenhouse without shooting them. Rittenhouse reportedly was carrying a military-style semiautomatic rifle on the streets of Kenosha, Wisconsin, prior to being taken into custody, yet he was taken in alive. I can name other similar situations.
Had Wallace's skin color been different, would the police response have been the same? It's hard to say but I know this:
Walter Wallace Jr.'s Black life mattered.
———
ABOUT THE WRITER
Jenice Armstrong is a columnist for The Philadelphia Inquirer.
———
©2020 The Philadelphia Inquirer