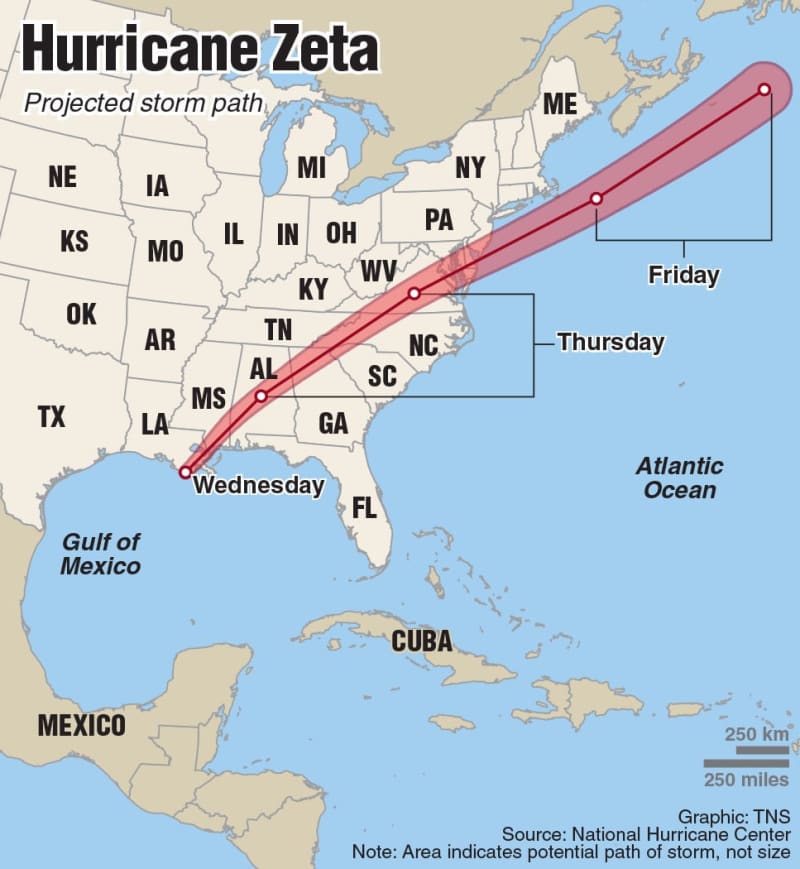 Hurricane Zeta continued to strengthen its blustery winds Wednesday morning as it stewed in the Gulf of Mexico with it forecast to make landfall somewhere along Louisiana's coastline, where four other storms have already made landfall this year.
Zeta's maximum sustained winds increased to 90 mph, according to the National Hurricane Center's 8 a.m. update. The Category 1 hurricane is 265 miles southwest of the mouth of the Mississippi River and is moving north at 17 mph. Its hurricane-force winds extend outward up to 35 miles from its center and tropical-storm-force winds reach up to 150 miles.
Hurricane specialists expect Zeta to begin a faster north-northeastward motion later Wednesday morning making landfall in southeastern Louisiana Wednesday afternoon.
Prior to its possible Louisiana landfall, the warm water of the Gulf is forecast to juice Zeta up to Category 2 strength with maximum sustained winds of 100 mph.
The Pelican State has been hit by four storms already during the 2020 season: Cristobal, Laura, Marco and Delta. Over 3,500 evacuees from Hurricanes Laura and Delta are still being sheltered, according to Louisiana Gov. John Bel Edwards.
"We are already coordinating with our federal partners to respond to Zeta, as we have been since the start of the COVID pandemic and throughout the recovery from Hurricanes Laura and Delta," Edwards said.
President Donald Trump approved the governor's request for a federal emergency declaration in preparation for Zeta.
Once Zeta makes landfall, the storm is projected to move close to the Mississippi coast Wednesday evening. It's then forecast to lose power and move across the southeastern and eastern portion of the country Thursday.
A hurricane warning is in effect from Morgan City, Louisiana, to the Mississippi/Alabama border, and for Lake Pontchartrain, Lake Maurepas, and metropolitan New Orleans.
Florida falls under a tropical storm warning, which extends from the Mississippi/Alabama border to Okaloosa/Walton County line Florida. A storm surge warning is also in effect from the mouth of the Atchafalaya River, Louisiana to Navarre, Florida — including Pensacola Bay, where waters are expected to rise between 2 to 4 feet. Other portions of the Gulf Coast, such as the Mouth of the Pearl River to Dauphin Island, could see a surge as high as 6 to 9 feet.
The 27th named storm of the year has broken multiple records including the earliest 27th named storm on record, and is forecast to become the sixth hurricane of the 2020 season to make landfall in the United States, tying it with 1886 and 1985 for most continental US landfalling hurricanes in a single Atlantic season on record, said Colorado State University meteorologist Philip Klotzbach.
"Zeta forecast to make landfall as hurricane later today in southeast Louisiana. If it makes landfall as a hurricane, it would be latest calendar year hurricane to hit continental US since Kate," Klotzbach also pointed out in a tweet.
———
©2020 The Orlando Sentinel (Orlando, Fla.)