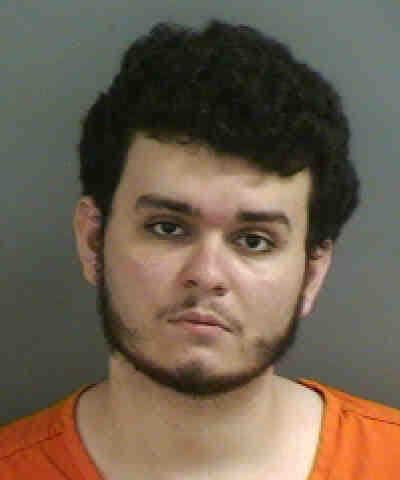 MIAMI — A Naples, Florida, man used a computer to alter Gov. Ron DeSantis' voting registration and attempted to get into the voting registrations of U.S. Sen. Rick Scott, retired basketball legend Michael Jordan and current basketball icon LeBron James, the Florida Department of Law Enforcement said.
The FDLE arrested 20-year-old Anthony Guevara on Tuesday night on one count of unauthorized access of a computer and one count of altering a voter registration without consent. Guevara is being held in Collier County jail on $5,000 bond.
According to an arrest report, when DeSantis went to vote Monday afternoon in Tallahassee, he learned he was no longer listed as a Leon County resident. Instead, his address was that of a one-floor condominium on Pretty Lane in an unincorporated area of Palm Beach County.
A witness who watched the exchange said that the clerk did not recognize the governor at first and told him that their records showed he had changed his address the previous week. The governor responded that he moved to Leon County two years ago and had voted there in the last two elections.
The clerk quipped, "Do you happen to have any friends in Russia?" The governor looked befuddled, the witness who asked not to be identified said. He then provided proof of his current address, which lists the governor's mansion.
His office has confirmed that he was given a change of address form and then filled out his ballot.
State investigators were notified and they backtracked through the Leon County Elections Office and concluded the governor's address was modified using a computer web browser. They requested the web logs for the Supervisor of Elections office to determine when DeSantis' information was requested and said they found the change was made via computer through a Comcast Cable internet provider.
A subpoena to Comcast for subscriber information gave agents the address of a Naples home in the 4400 block of 19th Avenue. They arrived at that address with a search warrant Tuesday evening and found, the report says, Guevara, his mother and father.
They searched Guevara's home and his notebook PC and found evidence that he had searched for "Florida Governor" "Florida my vote" and accessed the website dos.myflorida.com and also accessed DeSantis' Wikipedia page.
"Agents believe Guevara also accessed the voter registrations of U.S. Sen Rick Scott and sports celebrities Michael Jordan and LeBron James, but made no changes," the FDLE announcement via email stated.
Jordan long has owned a home in Palm Beach County. James, who just led the Los Angeles Lakers to the NBA title over the Miami Heat, starred with the Heat from 2010-14.
———
©2020 Miami Herald