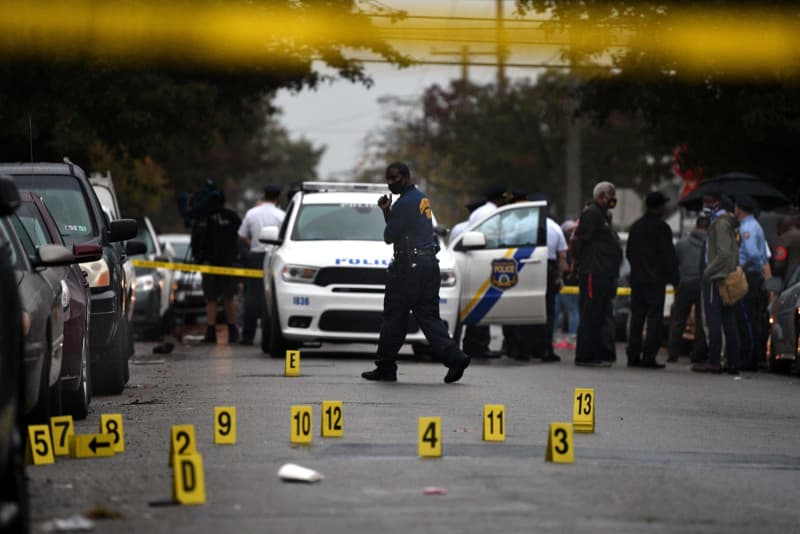 PHILADELPHIA — Relatives of Walter Wallace Jr., who was fatally shot this week by police officers while wielding a knife and struggling with his mental health outside his West Philadelphia home, met with Police Commissioner Danielle Outlaw and other city officials Thursday to view body-worn camera footage of his killing, according to the family's attorney.
Speaking at a news conference outside City Hall in the afternoon, the Wallace family's lawyer, Shaka Johnson, said the footage of the shooting was brief. But according to Johnson, it showed Wallace "in obvious mental health crisis," with officers telling him to drop the knife, people on the street trying to signal he was in mental distress by yelling "He's mental," and one of the officers, seconds before firing, saying: "Shoot him."
"It's a lot of commotion and chaos," Johnson said, adding that Wallace, before he was shot, appeared to be walking around "in a cloud … like a person who didn't understand the gravity of the situation."
Outlaw has pledged to publicly release the police videos of the killing, as well as audio of the 911 calls, after the family had reviewed them. Neither the Police Department nor the Mayor's Office would say Thursday when the materials would be released.
The department did not identify the two officers who shot at Wallace, and did not say why officials were not adhering to a department directive that says officers who shoot people will be publicly identified within 72 hours.
Johnson said the family met with city officials at 8:30 a.m. to try to give the city time to release the footage and other information before a 4 p.m. news conference.
"I wish that you all had had the opportunity to view the video prior to this exact moment," he said.
The family's meeting with the Police Department came during a week marked by ongoing tension over the shooting and its fallout. Demonstrations that coursed through the city on Monday and Tuesday night — some of which police said coincided with looting and clashes with officers — were much quieter Wednesday night. Mayor Jim Kenney had imposed a 9 p.m. curfew; he chose not to renew it Thursday, which was a rainy and cold day.
Still, officials were preparing for the possibility of additional unrest over the weekend, including at protests expected Saturday. National Guardsmen were expected to arrive in the city by Friday, and officials have said they might remain in place until after Tuesday's election, which has its own possibility of leading to turmoil.
Wallace's shooting has become a political issue throughout the week, with President Donald Trump, Democratic challenger Joe Biden, and a host of elected officials addressing the case. Thursday, city councilmembers passed a bill that was not sparked by Wallace's killing but was nonetheless relevant due to the ongoing demonstrations: They banned the use of tear gas, rubber bullets and pepper spray against demonstrators exercising their First Amendment rights.
The bill now heads to Kenney's desk to await a potential signature.
Councilmembers also said they would hold a hearing on how the city can better respond to mental health issues and how the police interact with individuals having mental health crises.
"As we are all aware at this point, the tragic death of Walter Wallace Jr. on Monday night shouldn't have happened," said Councilmember Cindy Bass, who sponsored the resolution calling for a hearing. "Walter was experiencing a mental health emergency and his family requested help for that emergency. Walter deserved help and should have been here with us today."
———
©2020 The Philadelphia Inquirer