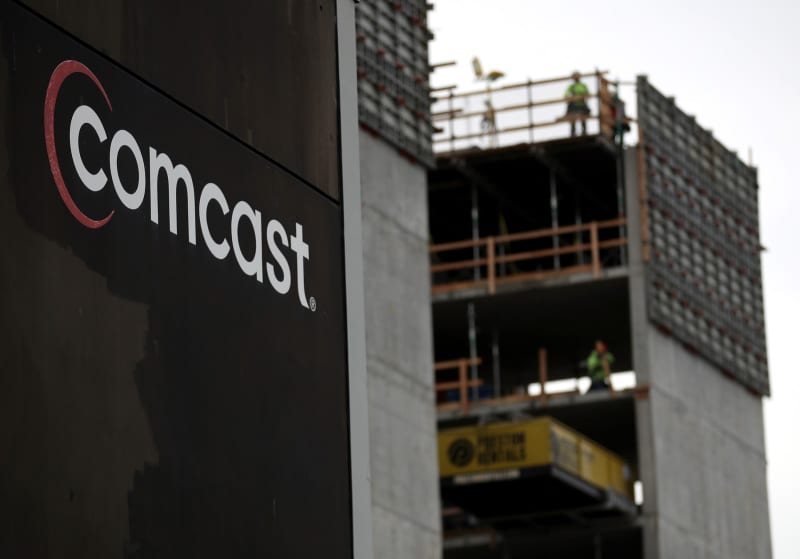 PHILADELPHIA — The coronavirus battered Comcast Corp.'s theme parks and film studios, driving down revenue 4.8% in the third quarter even as the company signed up a record number of broadband customers.
The Philadelphia cable giant said Thursday that revenue dropped 4.8% from $26.8 billion to $25.5 billion for the quarter ending Sept. 30. Net profit was $2 billion, or 44 cents per share, a 37.2% decline from the $3.2 billion last year.
Still, Comcast's earnings beat Wall Street expectations. The company's shares were up 1.6% to $42.66 in pre-market trading as of 8 a.m.
Comcast's entertainment units were hit hardest by the pandemic, as NBCUniversal revenue was down 18.9% to $6.7 billion. The Universal Studios theme parks in Orlando and Osaka, Japan are operating at limited capacity. Its theme park in Los Angeles has been kept closed by California Gov. Gavin Newsom, who on Tuesday refused to reopen theme parks. Comcast's theme parks revenue plunged 80.9% to $311 million during the quarter.
The company's film studios saw revenue fall by a quarter, to nearly $1.3 billion, amid declining ticket sales and movie theaters closures across the country. The dire box office has forced Universal to postpone some of its blockbusters, including Fast and Furious 9, which was pushed to May 2021.
Comcast's broadband business is still booming. The cable division added 633,000 high-speed internet customers — a quarterly record — and saw its revenue rise 2.9% to $15 billion.
As consumers continue to flee pay-TV in large numbers — another 273,000 cut video plans during the quarter — the cable giant has embraced cheaper online streaming. Comcast's fledgling Peacock streaming service has signed up 22 million customers since launching in April, and Comcast recently reached a deal to put Peacock on Roku's streaming devices.
"We are nearly eight months into this pandemic – and despite many harsh realities, I couldn't be more pleased and proud of how our team has worked together across the company to find safe and creative solutions to successfully operate in this environment," Comcast Chairman and CEO Brian Roberts said in a statement.
Over in Europe, Comcast's Sky — whose largest pay-TV markets are the United Kingdom, Germany, and Italy — saw revenue jump 5.2% to nearly $4.8 billion.
———
©2020 The Philadelphia Inquirer