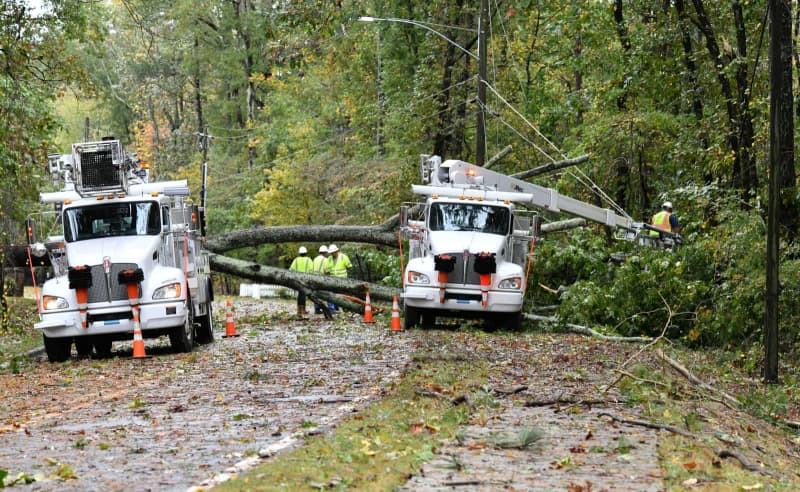 ORLANDO, Fla. – Tropical Storm Zeta cut powerlines throughout the southeast United States and leaving millions in the dark Thursday morning, while the National Hurricane Center identified a new system in the south Atlantic.
First, about 2.2 million customers in eight states are in the dark due to Zeta, according to Poweroutage.US.
The tropical storm had its maximum sustained winds drop 60 mph hours after making landfall in Louisiana Wednesday afternoon, according to the NHC's 8 a.m. update. Zeta is 50 miles west of Ashville, North Carolina and is moving at a fast pace of 39 mph. Its tropical-storm-force winds reach up to 175 miles away from its center. Zeta is forecast to lose some strength while cutting into Virginia later Thursday with winds dropping to 50 mph, but should regain strength Friday morning as the storm enters the Atlantic and has high chances of becoming extratropical.
On Wednesday evening, Zeta intensified into a Category 2 storm with winds of 110 mph shortly before making landfall in Louisiana, the NHC said. But the storm lost power cutting into southern Mississippi and degenerated into a Category 1 hurricane with winds of 80 mph.
Zeta is the 27th named storm of the record breaking 2020 hurricane season, which has the most storms recorded behind the 2005 season's record 29. Zeta was not only the earliest 27th named storm on record, but also the 11th named storm to make landfall in the U.S. in a single season — the most ever recorded.
The storm brought dangerous winds and storm surge throughout the Gulf Coast Wednesday night.
A 91 mph wind gust blew through Mobile, Alabama, Tuesday and a NOAA gauge reported a 10-foot storm surge in Waveland, Mississippi, the Associated Press reported.
Streams of rainfall ran off roofs in New Orleans' famed French Quarter, signs outside bars and restaurants swayed back and forth in the wind and palm trees along Canal Street whipped furiously. Officials said a person was hospitalized with minor injuries after a structure collapsed, but further details weren't available.
With much of the city in the dark and more than 200 trees reported down, New Orleans Mayor LaToya Cantrell implored residents to stay home and let city officials assess the damage instead of going out and doing it themselves.
As much as 5 feet of Gulf water surrounded a casino in Biloxi, Mississippi, and deputies in Harrison County, Mississippi, received multiple calls from people who had remained in mobile homes that were threatened by winds.
The storm killed at least one person, a 55-year-old man who a Louisiana coroner said was electrocuted by a downed power line in New Orleans, and officials said life-threatening conditions would last into Thursday in a region already pounded by multiple storms this year, AP reported.
As of 8 a.m. there are over 500,000 Louisiana customers without power. However, its Georgia that has the most customers in the dark with 810,000 people, according to Poweroutage.US.
Crews from Orlando Utilities Commission (OUC) and Duke Energy were deployed to affected states Wednesday to help restore power, according to a report by FOX 35.
Meanwhile a second system in the south Atlantic was identified with low to high odds of becoming the next tropical depression or tropical storm.
The large area of disturbed weather is moving west into the Caribbean and toward the Lesser Antilles with a pair of tropical waves. Upper level winds should relent a bit creating an ideal environment for development over the weekend.
The system has a 20% chance of development in the next 48 hours and a 60% chance of doing so over the next five days.
If the system does develop into a tropical storm it will be the 28th named storm of the season, receiving the Greek letter Eta as its designation. It would also be the first time "Eta" was ever used to name a storm.
———
©2020 The Orlando Sentinel (Orlando, Fla.)