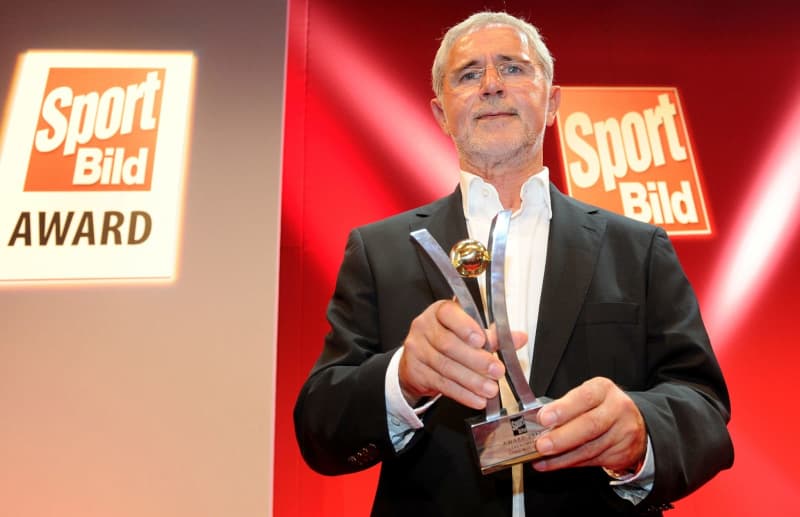 Gerd Mueller was only 1.76 metres tall when an active player, but he was the king inside the box. If the ball landed at his feet near the goal, it would usually end up hitting the net.
No other German striker before or after the "Bomber of the nation", as Mueller is tenderly called, could match him.
No other scored so many goals, which he did in almost every game and in every way: quickly after a turn, falling and sitting down, with right and left foot, with his head. The penalty box was his kingdom, and on Tuesday the king turns 75.
"Gerd Mueller was the greatest striker we ever had in Germany," national team coach Joachim Loew said on the occasion of Mueller's 70th birthday. The statement is still true five years later.
The special day, however, will be celebrated without any big festivities. The world and European champion (1974 and 1972 respectively) and most successful Bundesliga scorer (365 goals in 427 games) suffers from Alzheimer's.
For years now he has lived in a nursing home fighting the disease that's been taking away his memory.
"Last time I saw him, he recognized me. I enjoyed that. I told him the players sent him greetings, especially Thomas Mueller, Bastian Schweinsteiger and David Alaba. And then tears. He cried," Bayern's assistant coach Hermann Gerland said back in 2015 when Mueller's disease was disclosed to the public.
Gerland and Mueller worked together at Bayern for years, becoming close and long-term friends. And the club have profited from both of them.
While then youth coach Gerland was the one to spot and develop the likes of Thomas Mueller, Philipp Lahm, Schweinsteiger and Alaba when they were still young talents, Bayern would not be the top club it is today without the Bomber.
"Without his goals, his consistency, his shrewdness in the box, maybe Bayern wouldn't exist," Thomas Mueller said this week. The younger Mueller has "sadly never seen playing live," his elder namesake but "learned a lot" with him when they worked together at Bayern under-23s.
Despite the efforts of Franz Beckenbauer, Uli Hoeness and Paul Breitner, Bayern has a lot to be thankful for via Mueller's goals as they transformed themselves in the mid-1970s with multiple domestic trophies and three European Cups 1974-76.
"How Bayern present themselves today with a palace at Saebener Strasse in Munich - that would still be the old wooden cabin of that time," Beckenbauer said.
"From my point of view he's the most important player in Bayern's history."
But without Bayern, Mueller could also have lost everything.
After he ended his career in 1982 he suffered from alcoholism. His former team-mates at Bayern were the ones to convince him to go through rehab. Once recovered, Bayern gave him a coaching position at their U23 team.
The victory over alcoholism was probably the most important in his life. "After four weeks I was cured. To do that in such a short time it was quite an achievement," he said in 2007 when he was Gerland's assistant.
His goal for eternity was scored at the end of his international career, which ended prematurely. At the Olympic stadium in Munich he scored the winning goal against the Netherlands to gift Germany the World Cup title in 1974.
"I've scored nicer goals, but the most important one was this world cup winner," he said.
Mueller was a superstar, but not one for glamour and red carpets. Reporters would not get a headline from his interviews. He never envied Beckenbauer for his place in the spotlight as the former defender continued to travel around the world after his playing career.
"I'm not the type who likes to be away from home," Mueller said before his illness took hold. A small group will honour him on Tuesday at Bayern's museum in the Allianz Arena, but the Bomber himself "unfortunetly won't be present", the club said.