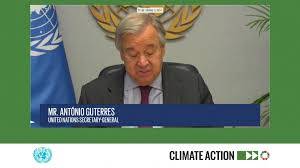 The UN Secretary-General recently called for every government, business, civil and international organization in the world to develop a transition plan to net-zero emissions, and boost ambition in finance and adaption as an equal priority to cutting emissions, and the only way to reach the 1.5C temperature goal.
Global leaders today presented bold climate ambition and urgent demands at the Climate Ambition Roundtable convened by Secretary-General Antonio Guterres, capping a week of major announcements – including from China, the EU and many global businesses – that signal the tide is turning for climate action.
"All actors – governments, cities and companies, NGOs and international organizations need to have their own transition plans to net-zero before 2050," said the Secretary-General.
To harness the growing momentum, the Roundtable also included the announcement of a virtual Climate Ambition Summit on the 5th Anniversary of the Paris Agreement on 12 December.
"The fifth anniversary of the Paris Agreement on 12 December 2020, which will gather leaders from governments, business and civil society, will be an important moment to continue raising climate ambition. I look forward to working closely on this event with the leaders of Chile, the United Kingdom, France and others to deliver increased ambition," the Secretary-General said.