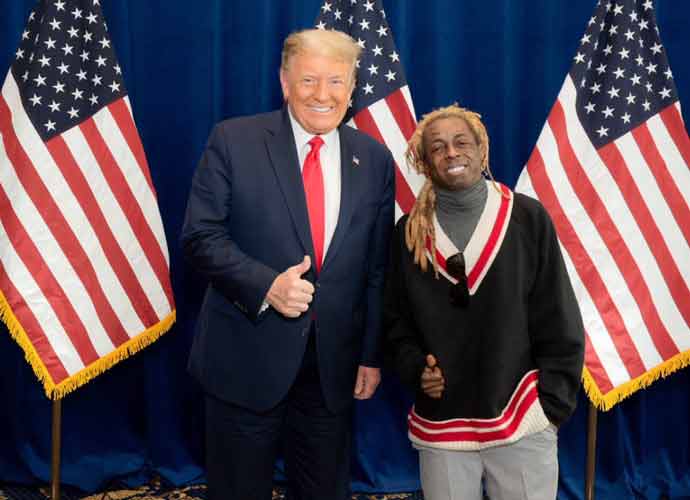 Lil Wayne is the latest rapper to speak out in support of Donald Trump and his Platinum Plan, in which he promises to make Juneteenth a national holiday and officially designate the KKK as a terrorist organization. The endorsement, though unofficial, follows endorsements by Ice Cube, also for the Platinum Plan, and 50 Cent, for Trump's tax plan.
Wayne posted a picture of himself and the presidential candidate on Twitter yesterday, following a meeting between the two of them in Miami. In the photo, neither man is wearing a mask.
"Besides what he's done so far with criminal reform, the platinum plan is going to give the community real ownership," the caption reads. "He listened to what we had to say today and assured he will and can get it done."
The post was met with some support, but mostly Twitter outrage. 50 Cent previously made it clear that his support for Trump was mostly based on his own high income, which he didn't want taxed, and many users seemed to think that Wayne was following in his footsteps.
Others dismissed Wayne's political ideologies altogether because of statements he made in the past.
Most popularly, however, many Twitter users made memes of the situation to express their confusion at and lack of support of the tweet.