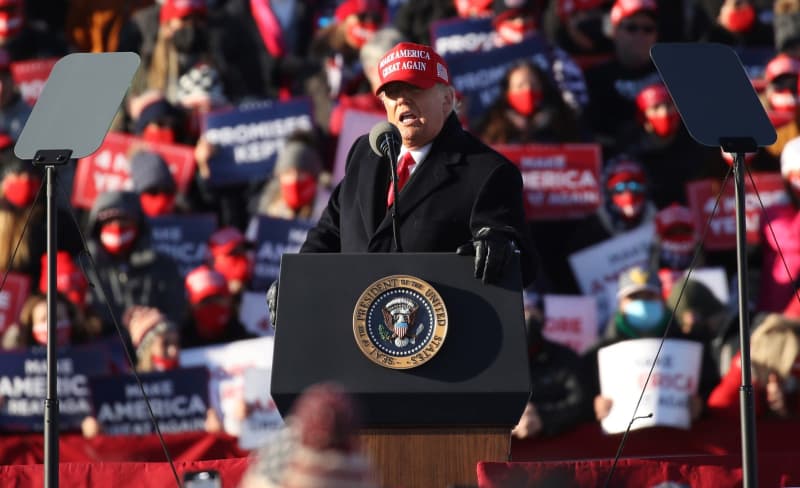 PHILADELPHIA — President Donald Trump and Joe Biden barreled toward a historic Election Day ending the campaign much the way it started: dashing across Pennsylvania as they tried to seal the deal on the state most likely to determine the winner.
Trump, speaking in Northeastern Pennsylvania, continued his brazen effort to tar the integrity of the election, while Biden, campaigning on the other side of the state, made a plea for national unity.
Vice President Mike Pence and vice presidential nominee Kamala Harris also campaigned in the state on the final day before polls open. The election-eve action in all four corners of the state underscored Pennsylvania's critical importance as the so-called "tipping-point" most likely to deliver the decisive Electoral College votes and determine who wins the White House.
Appearing at a Monday afternoon airport rally in Luzerne County — not far from Biden's childhood hometown of Scranton — Trump dismissed polls that have consistently showed him trailing Biden.
"It's not gonna happen — we're gonna win," Trump said. "We have some big surprises."
He repeated his baseless suggestion that Gov. Tom Wolf, a Democrat, would somehow "cheat" and steal the election from him. (County elections officials conduct the counting of votes, not the Wolf administration.)
"We're all watching you, governor," Trump said. "We have a lot of eyes on the governor and his friends. A couple of other governors out there, too."
And he repeated a familiar litany of false claims, including that Pennsylvania remains shut down because of the coronavirus (it's not) and that Biden has pledged to ban fracking (he hasn't.)
In Philadelphia — a frequent subject of Trump's election-related ire — local elected officials vowed to fight voter suppression, and a group of people dressed up as drop boxes danced outside City Hall, urging voters to cast their mail ballots.
Biden campaigned in Beaver County in the afternoon with union members, rallied Black voters in Pittsburgh in the evening, and was set to end the day at Heinz Field, the Steelers' football stadium. He planned to hold a drive-in rally there with his wife, Jill Biden, and the musician and actress Lady Gaga.
On the other side of the state, Harris started the day in Luzerne County before she traveled south through the Lehigh Valley to drum up turnout among Latino voters. She was set to end her day at the Phillies' Citizens Bank Park, with a drive-in rally with her husband, Doug Emhoff, and the musician John Legend.
At a small rally in the parking lot of a Beaver County community college, Biden told cheering steamfitters, ironworkers and firefighters, "The only way we can deal with corporate greed in America is union power. You're the only ones who can keep the barbarians on the other side of the gate."
"From the very beginning of my career, I found myself in a situation where I relied on labor," Biden added. "And I hope I've demonstrated that labor can rely on me."
And the Biden campaign announced that the former vice president would work to turn out voters in Pennsylvania on Tuesday, ending a historic election with appearances in Scranton and Philadelphia.
Four years after Trump's razor-thin victory in Pennsylvania helped him win the presidency, the state is being closely watched in the final hours. A smaller proportion of voters have cast ballots early than in other battleground states, making Election Day here particularly high stakes.
Still, more than 2 million Pennsylvanians have already returned mail ballots. Democrats, who are voting by mail in disproportionately greater numbers, have returned 66% of those ballots, compared to 23% for Republicans.
It's widely expected that counting votes and determining a winner will take longer than usual, perhaps several days, because of the large number of voters using mail ballots. Mail ballots take longer to process — that's normal, not a sign of fraud. What's unusual is the sheer volume of them being used.
Over the weekend, while Biden implored Pennsylvanians to show up in record numbers, Trump cast baseless doubts on the integrity of the election. He even signaled he would try to discredit legitimate votes before they are counted.
"We should know the result of the election on Nov. 3. The evening of Nov. 3," Trump said at a rally Sunday in Iowa. "That's the way it's been and that's the way it should be."
Later, in North Carolina, he said, "As soon as the election is over, we're going in with our lawyers."
Pennsylvania's top elections official said Monday that the state "will do everything in our power" to fight any false claims of victory or other misinformation and disinformation.
"We're constantly dealing with this, right? The misinformation," Secretary of State Kathy Boockvar told reporters. "That would be so unsubstantiated in every way, shape or form, where somebody would declare victory when a fraction of the vote is counted."
During a Monday afternoon rally in Erie, Pence encouraged voters to return their mail ballots to drop boxes — even though the Trump campaign has sued to prohibit their use.
"After we get done here, I'm told you can drop off your absentee ballot," Pence said. "I guess there's a drop box or something."
Earlier, at a late-morning airport rally in Latrobe, in Westmoreland County, Pence urged supporters to show the world that Southwestern Pennsylvania is "Trump country."
"It's on, Pennsylvania," Pence said, "and the road to victory goes straight through the Keystone State."
Biden entered the final hours of the campaign holding a consistent but not insurmountable lead in polls of Pennsylvania and other battleground states. Surveys released over the weekend and Monday showed him with an advantage over Trump in the mid- to high-single digits.
At Wilkes-Barre Scranton International Airport, thousands waited in the sunny cold for Trump's arrival. Attendees bundled against the strong wind in Make America Great Again knitted hats, scarves and face masks.
Melissa Finken, of Pen Argyl in Northampton County, said she voted for Trump four years ago because she appreciates his willingness to call out corruption in politics.
"I like his realness," said Finken, 54, who was wrapped in a Trump flag. "Sometimes he talks a little stupid, but he's real like us. Sure he's rich, but he can be down to Earth too."
In Beaver County, union supporters carried Biden-Harris signs and cheered loudly when Biden took the stage. Claire Cawley, a representative of the International Union Painters and Allied Trades, said she was glad Election Day is almost here.
"I feel uncertain and anxious, but I'm trying to stay positive," Cawley said. "With COVID and mail ballots, it's hard to predict anything. But I know we've done all we can to encourage our members to vote their union values."
Larry Nelson, president of the Beaver County Building Trades, said he expects more of his members to turn out Tuesday for Biden than did for Hillary Clinton in 2016, when she lost the state by less than 1% of the votes cast.
"Not everyone in our union is 100% for Democrats, but I've had a lot of people tell me they didn't realize what Biden was for until we explained it to them," Nelson said.
———
(Staff writers Jonathan Lai and Rob Tornoe contributed to this article.)
———
©2020 The Philadelphia Inquirer