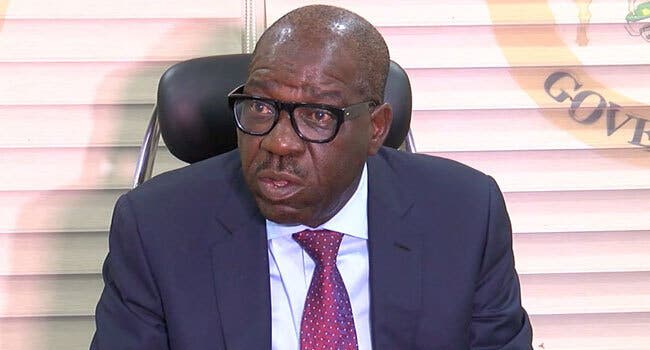 Edo State governor, Godwin Obaseki on Monday pleaded with the police to return to the streets and help in battling the epidemic of crime which has gripped the state following the withdrawal of policemen from the streets.
Obaseki who spoke during a solidarity visit to the state police headquarters in Benin in the company of deputy governor, Phillip Shaibu and secretary to the state government, Mr Osarodion Ogie blamed miscreants for hijacking the #EndSARS protest which was hailed as peaceful until the thugs stepped in.
He vowed that all the inmates who ran away during the breaching of the two correctional centres in Benin on October 19 will be re-arrested and brought to justice while those who voluntarily returned will be shown mercy.
Unnerved by the action of the hoodlums who also set the inmates at the two correctional centres in Benin (Sapele Road "White House" and Oko) free, policemen seem to be on "strike" as they have since vanished from the streets.
As a result of their absence from the streets, Governor Obaseki said that Edo people are beginning to believe that the police have given up but quickly added that the people love the police and want them back to tackle the rising crime wave.
The governor said: "I will look at the cases of those who didn't run away. They will be given a reprieve. We will arrest all those who ran away. We will go after each and every one of them. I have ordered for patrol vans and they will be delivered in the next few weeks. We will rebuild your destroyed properties.
The state police commissioner, Mr Johnson Kokumon, said eleven officers and men of the force were injured while over seven police stations were burnt during the protest.
He said the command arrested 126 criminal suspects, noting that out of the numbers 10 of the were the inmates who escaped from the two Correctional Centres in Benin.