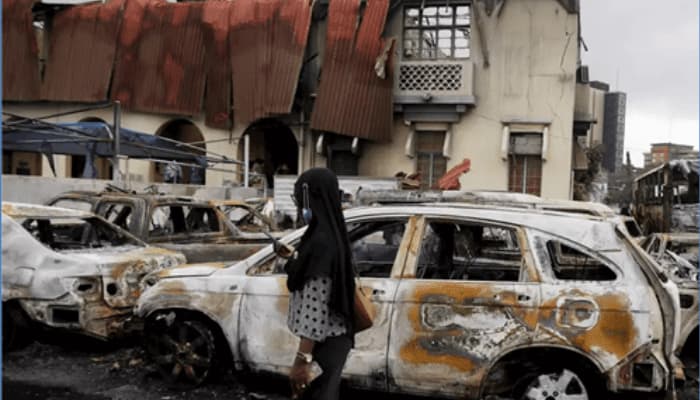 In the last couple of weeks, Nigerians have witnessed wanton destruction of properties, looting of businesses, arsons, and in some cases, loss of lives, as peaceful protests snowballed into devastating civil unrest across the country.
Globally, affected business-owners or families of those who lost their lives would turn to insurers for restitution as they seek closure to such heart-wrenching events. However, with low insurance penetration and a dearth of knowledge about this proactive risk-management tool, many Nigerians are at a loss as to how insurance can be give succour at these times. Without a doubt, Nigeria still lags in embracing insurance as a risk management solution.
With these intertwined factors at play, there are prevailing queries about how well insurance policyholders are covered in the event of such devastation, riots or civil commotions. Have theseis kinds of risks been appropriately priced into existing premiums covering the standard insurance policies for businesses, vehicles or life?
Read Also: An appeal to nullify the ongoing open-hearing on the proposed amendments of Nigeria Aviation Bills
Do individuals and businesses that have been affected by these unfortunate events need to have prior fit-for-purpose Strike Riot, and Civil Commotion (SRCC) extension in their cover to be eligible to lodge claims in this current situation? These Frequently Asked Questions (FAQs) may shed some light on some if not all of these queries:
Does the Comprehensive Motor Insurance for my vehicle include cover for damage during a riot? If no, what are additional cover do I need in a situation like this?
Your comprehensive insurance ordinarily, provides a standard cover for vehicles for accidental damage, fire combustion, theft and third-party liability. It does not cover damage as a result of strikes, riots or civil commotion. You will need an extension cover for special perils like riots, strike and civil commotion or flood. These however come at an additional premium.
Do existing clients have an SRCC extension? How do I ensure I get one?
Existing clients who requested for an SRCC extension would have included it in their coverage. For those who do not, they should request it at the point of negotiation during the renewal of their policies.
How do I know what cover has SRCC has a standard policy?
Leadway's Fire and Special Perils insurance has strike, riot and civil commotion covered. However, other insurance products like our Personal accident or Group personal accident, Burglary, Motor etc do not have SRCC as a standard cover. You have to ask for an extension of SRCC.
As Wwe sympathisesympathize wholeheartedly with all businesses that have been affected by the wanton vandaliszation, looting and arson, . This event has reminded us that insurance education and penetration is imperative to the growth and stability of the Nation. A lot of businesses and individuals who are victims of these disasters, unfortunately, do not have insurance cover. With an the proper insurance cover in place, you will not only be safeguarding what is dear to you but in turn, create wealth to leave ive a lasting legacy.
We also must take care to understand be clear on the terms of the contract in our policy document at the point of negotiation. The customers' satisfaction is very critical to our existence , and we can confidently tell you that having an SRCC extension is a smart move that we highly recommend.
If you are one of our policyholders and have been affected by this civil unrest, we enjoin you to reach out to our customer service executives via our virtual communication channels; telephone – 012800700, our social media handles @LeadwayAssurance on Facebook & Instagram and @Leadwayinsure on Twitter or send an email to Lcs@leadway.com. You can also request a call back from any of our experienced insurance advisors by visiting www.leadway.com/call-me. We are with you through life, through times….insuring happiness since 1970.