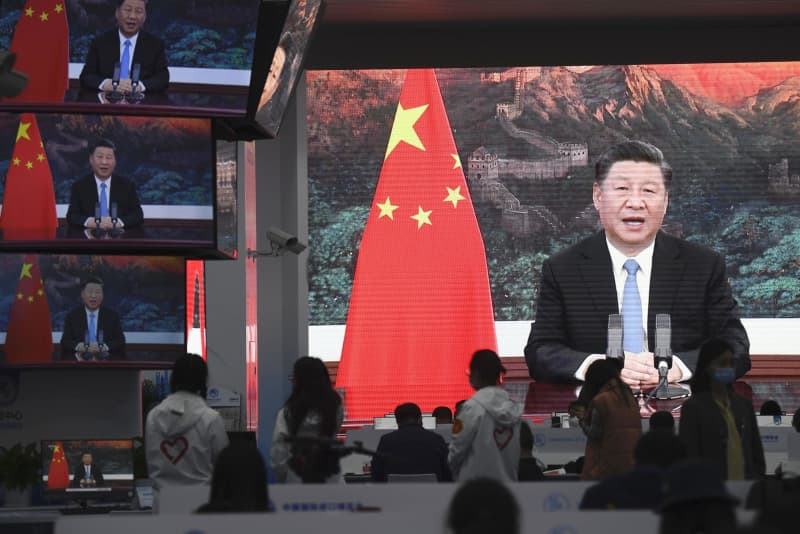 Chinese President Xi Jinping pledged Wednesday to open the country's market further, apparently criticizing the United States for sticking to unilateralism and protectionism on trade.
"We should not be self-centered. We oppose unilateralism and protectionism," Xi said in a video speech at the opening ceremony of the third annual China International Import Expo in Shanghai.
Xi also emphasized that China will speed up negotiations on a free trade agreement with neighbors Japan and South Korea, and work for an early signing of the 16-member Regional Comprehensive Economic Partnership framework.
At its key meeting late last month, China's ruling Communist Party committed to upholding a "dual circulation" strategy to bolster domestic demand while trying to boost exports, as it has claimed the United States has promoted a "decoupling" in global markets.
With Sino-U.S. tensions escalating over several economic and security issues as well as the spread of the novel coronavirus weighing on both external and domestic demand, China's economy faced a severe downturn in the first quarter of this year.
The economy has recently been on a recovery track on the back of a rebound in investment and industrial production, although consumer sentiment has remained lackluster as the employment situation has been worsening at home following the pandemic.
The world's second-biggest economy expanded 4.9 percent from a year earlier in the July-September period, after plunging 6.8 percent in the first quarter in the aftermath of the virus outbreak and picking up 3.2 percent in the three months from April.