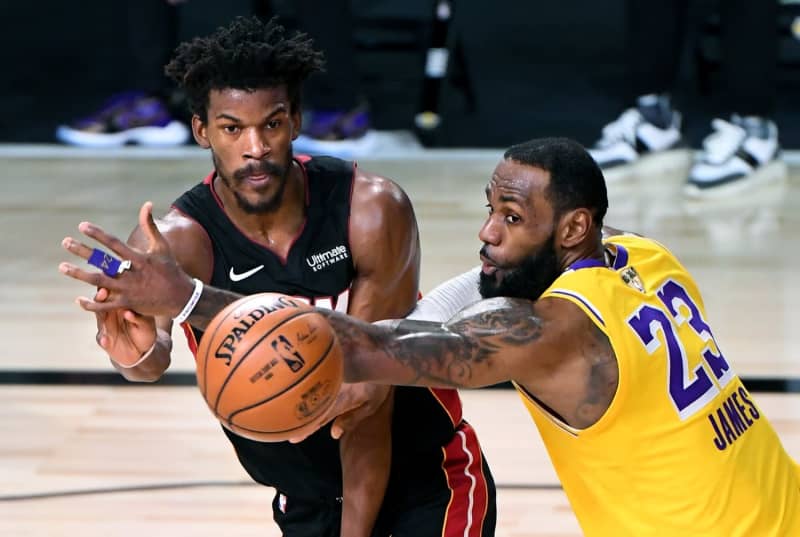 NEW YORK — Basketball is coming back for the holidays.
The NBA Players Association voted to approve the league's proposal for a Dec. 22 start to the 2020-21 regular season. The upcoming season will be 72 games, starting three days prior to Christmas, with free agency projected to begin after the Nov. 18 NBA draft.
"Additional details remain to be negotiated," the union said in a statement, "and the NBPA is confident that the parties will reach agreement on these remaining issues relevant to the upcoming season."
But it's not the safest return to play, in the middle of a global pandemic and so soon after the conclusion of the 2019-20 season, which crowned the Los Angeles Lakers NBA champions. Even though everyone wins from basketball's return, some win more than others. And a small pocket loses.
———
WINNER: FANS
Live NBA basketball will be back and possibly returning to an arena nearest you.
The league is aiming to have arena suites open to fans at 25-50% capacity for the season opener, according to The Athletic. Of course, there will be protocols: masks, social distancing and coronavirus testing.
The virtual noise in-arena in lieu of actual cheering fans was cool, but players could tell the difference in the Orlando bubble. They appreciated the gesture of attempting to replicate fan noise, but nothing can compare to rabid hometown fans cheering you on — or booing you off the court.
The NBA is a fan-driven league, and it's set to open its doors back up to the public. For those that don't want to make the trip, well, the league will be back on TV in a little under a month and a half.
———
LOSER: PUBLIC HEALTH
The coronavirus pandemic has reared its face once again.
Presidential election season has allowed the virus to permeate throughout several states. The U.S. reached a new high in single-day new coronavirus cases, tallying 93,000 new cases on Nov. 3, then back-to-back days eclipsing 100,000 new cases on Nov. 4 and 5.
The NFL has struggled to manage the coronavirus. Sixteen teams reported at least one coronavirus case as of Friday morning with the San Francisco 49ers reporting four confirmed positive cases.
The NBA never reported a single coronavirus case in the Orlando bubble due to its strict COVID-19 protocol and the nature of the bubble: secluded from outsiders, prohibited from exiting and frequently tested.
Without the bubble, and with winter drawing nearer, another wave of the virus is imminent. More pressure will now fall on both the league and each individual franchise not only to protect their players and employees, but also to protect fans who come to games.
———
WINNER: ARENA WORKERS
The COVID-19 pandemic created uncertainty for economies across the globe. In the United States, as well as many other countries, large gatherings — like crowds for sporting events — were capped at a low number decided by each individual state.
Since the NBA won't be returning to the Orlando bubble this season, however, arena and gameday staff become essential once again. These are workers whose jobs were put at risk back in March when the season suspended due to the initial COVID-19 outbreak here in the United States. Many of those workers were displaced because of jobs that did not return since large gatherings inside arenas were limited.
———
LOSER: LEBRON JAMES, JIMMY BUTLER AND REST OF LAKERS AND HEAT
Jimmy Butler willed the Heat to a win after playing 47 of a possible 48 minutes in Game 5 of the NBA Finals. He quite literally had nothing left to give after the Heat lost to the Lakers
Now, you're asking Butler, LeBron James, and the other NBA veterans who competed in the Finals, to return to play just over two months after playing for a championship.
Lakers wing Danny Green said it plain and simple: Not gonna be able to do it.
In an appearance on The Ringer's NBA Show, Green laughed at the idea of returning to play before Christmas:
"Yeah I'm not there. I think most guys, if they say we start in December, are gonna be like 'I'm not gonna be there,' " he said. "LeBron's gone to the Finals 10 years out of his 17 years, which is unbelievable mentally. It's training to do that. And to have that quick of a restart, I wouldn't expect to see him there. I wouldn't expect to see him probably for the first month of the season.
"I just don't expect guys to want to be there or show up willingly. It might be different in about two weeks."
It's almost been two weeks since Green said those words.
Green makes a good point. The turnaround is incredible for teams that just made deep postseason runs, especially a team like the Lakers with just four young players on their roster.
Looks like for now, they're just going to have to deal with it.
———
WINNER: DELETE 8
That's the name our own Stefan Bondy gave the eight teams that did not qualify for the Orlando bubble — the Knicks, Hawks, Warriors, Hornets, Bulls, Cavs, Timberwolves and Pistons.
Those teams haven't played real games since at least March 11, when Rudy Gobert became the first NBA player to test positive for the coronavirus.
I mean, come on. Talk about fresh legs.
Even though those eight teams did not play in their own NIT style tournament, they were allowed to reopen team facilities and hold practice in their home markets.
Those teams have to be itching to get back on the court, having watched their peers compete for an NBA championship. Now, they finally get to take the floor.
———
LOSER: TORONTO
It is increasingly unlikely the Toronto Raptors are going to be able to play games at home in the Air Canada Centre. Not in the middle of a global pandemic when all 29 other NBA teams are in the United States.
The Raptors are going to have to relocate, at least for a season, and it's looking like they may move to the Nets' old stomping grounds: The Prudential Center.
That dynamic adds more non-basketball related activities to everyone's plate, from the players who'll have to move and find new places to live, to management and the front office that has to negotiate deals with different parties to make it all happen.
New Jersey Raptors, anyone?
———
©2020 New York Daily News