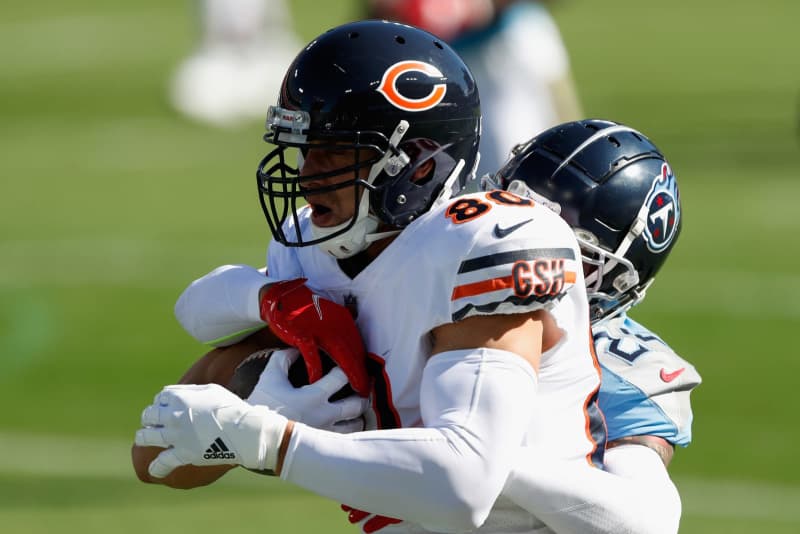 The Chicago Bears entered Sunday's game against the Tennessee Titans with an offensive line decimated by injuries and illness, and their issues showed in mistake-filled 24-17 loss in Nashville.
Bears tight end Jimmy Graham caught an 8-yard touchdown pass from quarterback Nick Foles with 1:04 to play in the fourth quarter to make it a one-touchdown game. But the Bears failed to recover the onside kick and dropped to 5-4 as the clock ran out.
The Bears' 17-point fourth quarter didn't make up for earlier miscues.
Foles was sacked three times. The Bears rushed for 56 yards. And the offensive line was responsible for three of the Bears' five penalties within three drives at the end of the second quarter and beginning of the third quarter.
And the issues went beyond that. Bears running back David Montgomery and wide receiver Anthony Miller both lost fumbles. Titans cornerback Desmond King returned Montgomery's fumble 63 yards for a touchdown as part of a disastrous third quarter for the Bears in which they fell behind 17-0.
The Bears netted 105 yards of offense in the first half, and they didn't have a third-down conversion until their second drive of the third quarter. The were 2-for-15 on third-down conversions.
They were saved from a shutout by Cairo Santos' 22-yard field goal in the fourth quarter and also got into the end zone on Ryan Nall's 6-yard touchdown catch. Nall was in the game because Montgomery was being evaluated for a concussion.
———
©2020 Chicago Tribune