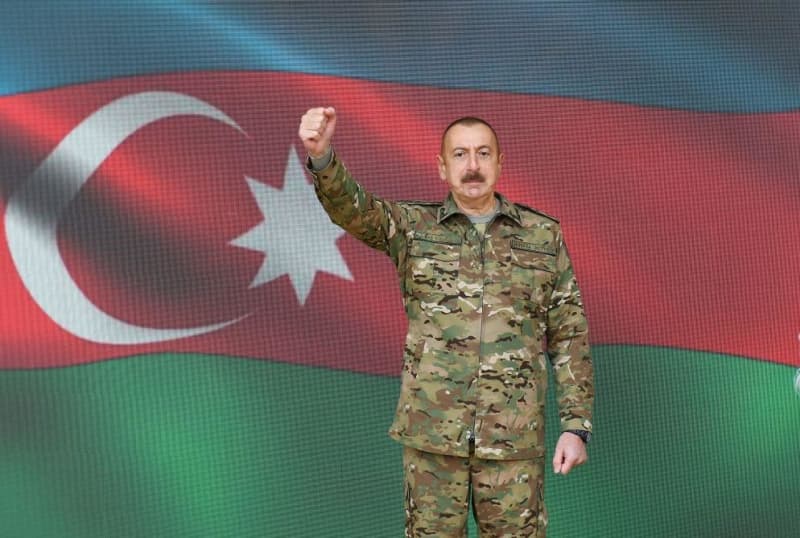 By Vafa Ismayilova
President Ilham Aliyev has highlighted Azerbaijan's progress in military, economic and diplomatic spheres as a key factor contributing to its victory in recent counter-offensive operations to liberate Nagorno-Karabakh and seven adjacent districts that have been under the Armenian occupation for nearly three decades.
President Aliyev made the remarks in his address to the nation at the Alley of Martyrs in the capital Baku to announce the liberation of Azerbaijan's Shusha city after 28 years of the Armenian occupation.
"It is with great pride that I declare that the city of Shusha has been liberated from occupation! Shusha is ours! Karabakh is ours! I cordially congratulate all the people of Azerbaijan on this occasion! I cordially congratulate all the people of Shusha!" he said.
Economic factor
Aliyev noted that Azerbaijan had strengthened its economy in the past 30 years.
"We are building up economic power. If we did not have economic power, it would not be possible to achieve this victory. First of all, economic independence had to be secured and was secured. Today, Azerbaijan is not economically dependent on anyone, on any country or international financial institution. This independence has allowed us the opportunity to develop our country and strengthen our army at the same time," Aliyev said.
He stressed that energy and transport projects implemented on Azerbaijan's initiative meet the interests of not only Azerbaijan, but also regional countries.
"All this has greatly strengthened Azerbaijan's international authority. Without these achievements, the problem could remain frozen," the head of state said.
Military factor
The president said that Azerbaijan buys all military equipment and weapons from foreign markets, however, simultaneously produces more than 1,000 types of military products, including the most modern ones. He also described increasing combat capability as a key factor in army building.
"We use modern weapons, we use technology and we destroy enemy equipment, but it is Azerbaijani soldiers who liberate our lands, it is Azerbaijani officers who liberate them. They are the ones who chase the enemy with a flag and a weapon in their hands, soldiers who destroy the enemy. Long live our soldiers!" the president said.
National unity
He also attributed Azerbaijan's success in liberating its territories to the unity of the Azerbaijani people.
"Our internal solidarity, national unity and common cause gave us additional strength, did not allow some hated foreign circles to implement their ugly plans in respect of Azerbaijan. However, there were such plans, there were such attempts. We have repulsed these attempts by showing political resolve and unity, we have defended our pride as a people, as a nation, we have defended our independent choice, and we have proved that no-one can or will interfere in our work. Without this unity and national solidarity, we would never have been able to liberate our lands from occupiers," Aliyev said.
He said that the campaign of libel and defamation against Azerbaijan over the past years was aimed at distancing the country from its main task of liberating occupied lands.
The head of state stressed that despite repeated signals sent to Baku from various power centers to put up with the status quo, showing determination, courage and political will Azerbaijan did not join any agreement against the nation's interests.
"I have repeatedly stated from all international forums that the restoration of our lands and territorial integrity is our main task, and we are fulfilling this task. Negotiations did not yield any results," Aliyev said.
Diplomatic factor
The president described Azerbaijan's success at international level as one of key factors in its victory. He added that along with material resources, diplomatic and political efforts were needed to buy weapons.
"We have proved to the whole world that Karabakh has always been the land of Azerbaijan. We have proved that the Azerbaijani people have lived in these lands for centuries. We have proved that the Armenian population was settled to these lands only 200 years ago, how it was resettled and for what purpose. We presented it all to the world community, with evidence and facts," he said.
He noted that four UN Security Council resolutions, resolutions of the UN General Assembly, the Non-Aligned Movement, the Organization of Islamic Cooperation, the European Parliament and other international organizations unequivocally recognized Nagorno-Karabakh as an integral part of Azerbaijan.
"This gave us additional strength. If we had not done that, the processes surrounding the conflict today could cause us great problems," he said.
The president said that over the years, Azerbaijan had been able to establish relations with many countries on the basis of sincere, businesslike, mutual respect and mutual trust, which in turn also contributed to its victory.
Aliyev touched on international criticism over the military solution to the conflict.
"Every country has the right to self-defence. This right is given to us by the UN Charter. I said that if I see that the talks are completely ineffective, we will be left with no other option. Let everyone know this – the enemy, its supporters and the mediators involved in this matter. I have always kept my word. I did what I told the Azerbaijani people. I kept my word on this issue and we are already celebrating the Victory," he said.
Shusha victory to remain in history
He said that November 8 will forever remain in the history of Azerbaijan.
"This history will live forever. This is the day of our glorious victory! We have won this victory on the battlefield, not at the negotiating table," Aliyev said.
The head of state said: "Giving this good news to the people of Azerbaijan on this historic day is perhaps one of the happiest days of my life. Dear Shusha, you are liberated! Dear Shusha, we are back! Dear Shusha we will revive you! Shusha is ours! Karabakh is ours! Karabakh is Azerbaijan!"
The president said that over 200 villages, cities, settlements have been liberated from the Armenian occupation since September 28. Aliyev noted that the liberated lands had been completely destroyed under the Armenian occupation.
The president said that "Shusha is a pearl not only of Azerbaijan but also of the entire Caucasus". He pledged to restore cultural heritage, mosques and historical sites destroyed by Armenia's occupying forces.
"Adhan [a call to prayer] will be heard in Shusha again after 28 years," Aliyev said.
Victory march underway
The head of state said that Azerbaijan's victory march continues.
"There are still occupied lands and the fighting still continues. If the Armenian leadership does not respond to my demand, we will go to the end. No-one can stop us. There is no force in the world that can stop us!" Aliyev said.
The president said that the blood of victims of Armenian atrocities in Khojaly did not go in vain.
"Today I declare that the blood of our martyrs does not remain unavenged. The blood of the victims of Armenian atrocities, the victims of Khojaly, does not remain unavenged. We took our revenge on the battlefield. We have never fought against civilians, we didn't do it this time either," Aliyev said.
Armenian forces took the Azerbaijani town of Khojaly on February 26, 1992, killing 613 people, including 106 women, 63 children and 70 elderly. Khojaly, was previously inhabited by 7,000 people. Some 487 people, including 76 children, were critically injured, while 150 of 1,275 Azerbaijanis that the Armenians captured during the massacre still remain missing.
Aliyev expressed his pride that he managed to fulfill his fater National Ledare Heydar Aliyev's will to liberate Shusha and thanked all Azerbaijanis for great support they expressed by sending him thousands of letters.
—
Follow us on Twitter @AzerNewsAz