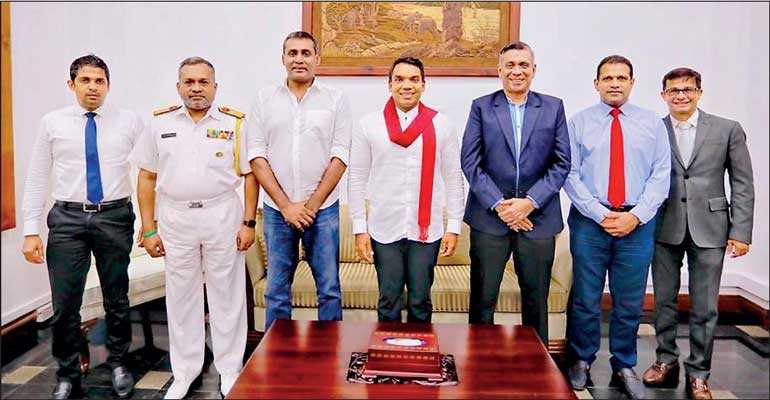 Sri Lanka Rugby officials with Minster of Sports Namal Rajapakse
---
SLR officials meet Minister of Sports Namal Rajapaksa
By Shamseer Jaleel
Sri Lanka Rugby (SLR) headed by Rizly Illyas met Minister of Youth Affairs and Sport Namal Rajapaksa, who assured rugby will commence with big plans for the future. A highlight of the meeting was the Honorable Ministers selfless long-term vision to create a structure for all sports to flourish under any political administration.
SLR President Rizly Illyas said "We can confidently announce that Rugby fans and players can be excited and look forward to many innovative initiatives on the future of Sri Lanka Rugby".
Rajapaksa gave the green light to start the domestic season with the shorter version of the game to commence from January 2021 and provided guidance and support, keeping in mind the safety of fans, players and the community. Players and officials should be quarantined for 7 days or home quarantined following important guidelines.
The Sevens event will be held in Galle or Kandy. Minister Namal Rajapaka has been committed in raising the bar of Sri Lanka Rugby in order to be a rugby powerhouse in Asia. At the request of SLR President, the Minister offered the Nawalapitiya grounds as a high performance center for men and women with all the facilities to be managed and run by SLR. This facility will uplift the national pool players to rise to international standards.
He was also keen on SLR taking a scientific approach and embracing innovations in technology to measure and manage player performance. Also discussed at the meeting was the importance of the high performance squad for the Sevens National side and the Under-23 high performance squad, who the Minister said, should be contracted directly with SLR. Foreign players will be allowed to be fielded by each of the eight teams at the sevens event.