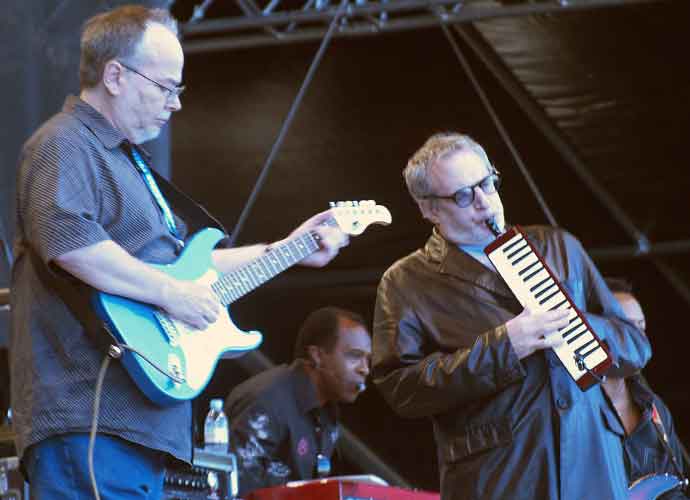 American rock band Steely Dan has rescheduled its 2020 Earth After Hours Tour to summer 2021 as the coronavirus pandemic continues to keep concert venues closed.
The tour is set to begin in Portland, Oregon on June 2 and travel throughout the United States through June and July before ending in Wantagh, New York on July 11. The band is bringing along rock and blues icon Steve Winwood. Check out the list below to see if the duo is coming to your area. According to the Steely Dan's website, if you had purchased tickets for the original dates, they will still be valid for the rescheduled dates. If you cannot make the new dates the band says you will be able to request a refund.
GET DEALS ON STEELY DAN & STEVE WINWOOD TICKETS HERE!
In May, when the news was announced that they would not be able to tour this year, Winwood made a video with his band performing "Gimme Some Lovin'," and told fans: "Looking forward to touring with this band and to seeing you all soon."
JUN 2, 2021
Portland, OR, US
$65
Steely Dan with Steve Winwood Tickets (Rescheduled from June 2, 2020)
JUN 3, 2021
Auburn, WA, US
$75
Steely Dan Tickets (Rescheduled from June 4, 2020)
JUN 3, 2021
Auburn, WA, US
$229
Steely Dan with Steve Winwood Tickets (Rescheduled from June 4, 2020)
JUN 5, 2021
Concord, CA, US
$42
Steely Dan with Steve Winwood Tickets (Rescheduled from June 6, 2020)
JUN 6, 2021
Chula Vista, CA, US
$49
Steely Dan with Steve Winwood Tickets (Rescheduled from June 9, 2020)
JUN 8, 2021
Hollywood, CA, US
$64
Steely Dan Tickets (Rescheduled from June 8, 2020)
JUN 10, 2021Phoenix, AZ, US
$43
Steely Dan with Steve Winwood Tickets (Rescheduled from June 11, 2020)
JUN 13, 2021
Austin, TX, US
$150
Steely Dan Tickets (Rescheduled from December 29, 2019 and May 26, 2020)
JUN 14, 2021Austin, TX, US
$125
Steely Dan Tickets (Rescheduled from December 30, 2019 and May 27, 2020)
JUN 16, 2021
Fort Worth, TX, US
$65
Steely Dan with Steve Winwood Tickets (Rescheduled from June 13, 2020)
JUN 17, 2021
The Woodlands, TX, US
$41
Steely Dan with Steve Winwood Tickets (Rescheduled from June 14, 2020)
JUN 20, 2021
Rogers, AR, US
$54
Steely Dan with Steve Winwood Tickets (Rescheduled from June 17, 2020)
JUN 23, 2021
Cincinnati, OH, US
$38
Steely Dan Tickets (Rescheduled from June 28, 2020)
JUN 25, 2021
Tinley Park, IL, US
$42
Steely Dan with Steve Winwood Tickets (Rescheduled from June 26, 2020)
JUN 26, 2021
Clarkston, MI, US
$25
Steely Dan Tickets (Rescheduled from June 24, 2020)
JUN 28, 2021
Syracuse, NY, US
$41
Steely Dan with Steve Winwood Tickets (Rescheduled from July 3, 2020)
JUN 30, 2021
Mansfield, MA, US
$39
Steely Dan with Steve Winwood Tickets (Rescheduled from July 1, 2020)
JUL 1, 2021
Saratoga Springs, NY, US
$34
Steely Dan with Steve Winwood Tickets (Rescheduled from June 30, 2020)
JUL 3, 2021
Holmdel, NJ, US
$36
Steely Dan with Steve Winwood Tickets (Rescheduled from July 10, 2020)
JUL 4, 2021
Bethel, NY, US
$40
Steely Dan Tickets (Rescheduled from July 11, 2020)
JUL 6, 2021
Vienna, Virginia, US
$63
Steely Dan Tickets (Rescheduled from July 7, 2020)
JUL 7, 2021
Vienna, Virginia, US
$65
Steely Dan Tickets (Rescheduled from July 8, 2020)
JUL 9, 2021
Atlanta, GA, US
$75
Steely Dan Tickets (Rescheduled from June 19, 2020)
JUL 11, 2021
Wantagh, NY, US
$46
Steely Dan Tickets (Rescheduled from July 5, 2020)