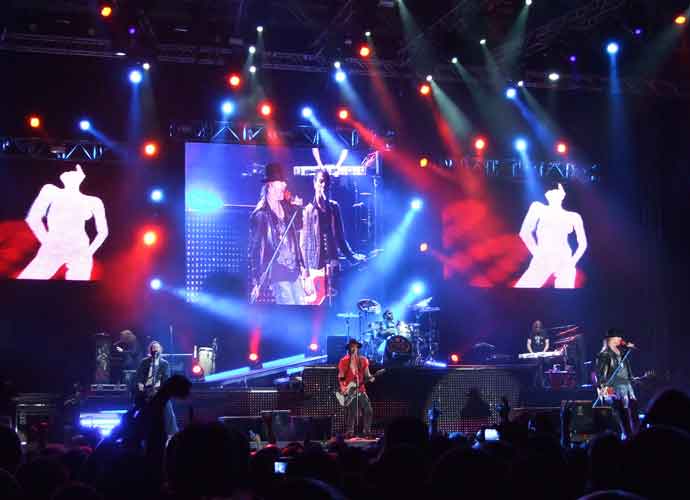 Guns N' Roses rescheduled their Not in This Lifetime tour to summer 2021.
The classic rock band has stops scheduled throughout Europe in June, starting with a show in Lisbon on June 2. In July and August, the tour moves to the United States, beginning in Milwaukee on July 10.
GET GUNS 'N ROSES CONCERT TICKETS HERE!
"Hey Gunners, our 2020 North American tour dates are being rescheduled to Summer 2021," the band said in a statement. "The trek begins July 10th, 2021 in Milwaukee, WI at Summerfest and will make stops throughout the US and Canada all summer, before wrapping in Los Angeles, California on August 19, 2021.  Among these stops many of our existing 2020 shows will move to a new date at the same venue, while unfortunately a select few will need to be canceled due to routing and venue availability issues that developed during the postponement process."
"We thank everyone for their patience during this difficult time and look forward to performing for you all next year," they said.
On November 2, Guns N' Roses shared a photo of lead singer Axl Rose at a piano on stage with the caption "Stay ready," leading fans to speculate what the band was up to. Although the tour may still be a while away, maybe fans have something in their near future to look forward to.
Check out the list of dates below to see if Guns N' Roses are coming to your area.
Get ticket information here!
JUN 2, 2021
Oeiras, Lisboa, PT
€130
Guns N Roses Lisbon
JUN 5, 2021
Sevilla, AND, ES
€35
Guns N Roses Sevilla
JUN 18, 2021
London, England, GB
£125
Guns N Roses London
JUN 19, 2021
London, England, GB
£124
Guns N Roses London
JUN 22, 2021
Dublin, IE
€125
Guns N' Roses Dublin
JUN 24, 2021
Glasgow, GLG, GB
£129
Guns N Roses Glasgow
JUN 30, 2021
München, BV, DE
€169
Guns N Roses München
JUL 10, 2021
Milwaukee, WI, US
$98
Guns N Roses Tickets (Rescheduled from July 4, 2020)
JUL 13, 2021
Washington, DC, US
$80
Guns N Roses Tickets (Rescheduled from July 16, 2020)
JUL 16, 2021
Minneapolis, MN, US
$94
Guns N Roses Tickets (Rescheduled from July 24, 2020)
JUL 18, 2021
Indianapolis, IN, US
$79
Guns N Roses Tickets (Rescheduled from August 21, 2020)
JUL 21, 2021
Chicago, IL, US
$75
Guns N Roses Tickets (Rescheduled from July 26, 2020)
JUL 24, 2021
Detroit, MI, US
$75
Guns N Roses Tickets (Rescheduled from July 11, 2020)
JUL 26, 2021
Toronto, ON, CA
CA$123
Guns N Roses Tickets (Rescheduled from July 13, 2020)
AUG 3, 2021
Boston, MA, US
$120
Guns N Roses Tickets (Rescheduled from July 21, 2020)
AUG 5, 2021
East Rutherford, NJ, US
$84
Guns N Roses Tickets (Rescheduled from July 18, 2020)
AUG 11, 2021
Fargo, ND, US
$90
Guns N Roses Tickets (Rescheduled from August 23, 2020)
AUG 13, 2021
Missoula, MT, US
$110
Guns N Roses Tickets (Rescheduled from August 26, 2020)
AUG 16, 2021
Commerce City, CO, US
$99
Guns N Roses Tickets (Rescheduled from July 29, 2020)
AUG 19, 2021
Los Angeles, CA, US
$86