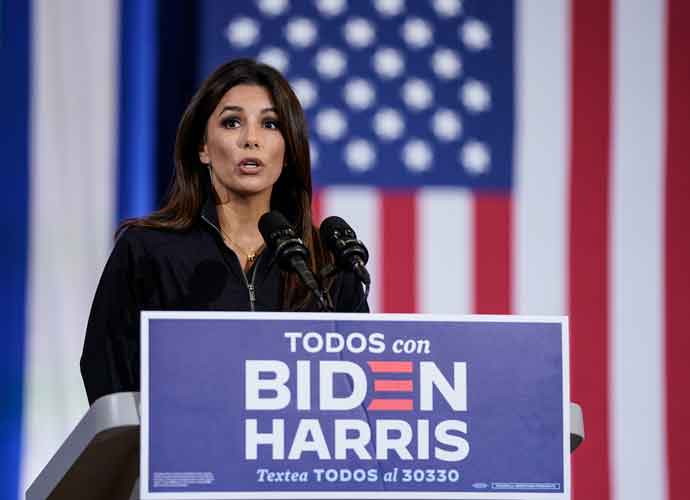 Eva Longoria took to Twitter Sunday night to apologize for downplaying black womens' role in Biden's win of the 2020 election. The comment, made in an interview on MSNBC, acknowledged the strength of women of color, but dismissed black women's massive impact on Georgia by calling Latina women the "real heroes."
Longoria posted a screenshot of her notes app to apologize for her statements towards both black women. She clarified that she intended the statement to mean that Latino women were community heroes over Latino men, not black women.
"I'm so sorry and sad to hear that my comments on MSNBC could be perceived as taking credit from Black women," Longoria wrote. "When I said that Latinas were heroines in this election, I simply meant that they turned out in greater numbers and voted more progressively than LATINO MEN. My wording was not clear and I deeply regret that. There is such a history in our community of anti-Blackness in our community and I would never want to contribute to that, so let me be very clear: Black women have long been the backbone of the Democratic Party, something we have seen played out in this election as well as previous ones. Finally, Black women don't have to do it alone any longer. Latinas (many who identify as Afro-Latina), indigenous women, AAPI women and other women of color are standing with them so we can grow our collective voice and power. Together, we are unstoppable! Nothing but love and support for Black women everywhere! You deserve a standing ovation!!!!"
Longoria also apologized in an interview with The Reid Out.
"In my effort to celebrate Latina turnout, I diminished the importance of the Black women's vote in this election," she said in the interview, "and what I said was wrong. It is a fact that African American women showed up in record numbers and brought us to victory. They saved this country."
Longoria's apologizes have been met with extremely mixed reception, most of it negative.
Most of the few Twitter users who accepted Longoria's statement as a mistake said so after watching her ReidOut interview, not in response to her notes app screenshot.
"I'm not the type to give out cookies, but Eva Longoria's full throated/unequivocal taking responsibility for the impact (irrespective of intent) of her words is a model response," one user tweeted. "Hopefully folks recognize it's both ok to correct people & accept being corrected to do better. "
Furthermore, Twitter users pointed out that the majority of people accepting Longoria's apology were not black women themselves.
"Too many of y'all non-blacks out here trying to accept an "apology" meant for BLACK WOMEN!" one Twitter user responded.
Many of Twitter users, both black and nonblack, who read Longoria's written apology found that it was a weak response to her original statement.
"What you did @EvaLongoria is what so many people always do. And it was/is very anti black. Your weak, watered down posts won't take away from the TIRED interview you gave on MSNBC! And to be clear they should have been interviewing a BLACK WOMAN ANY DAMN WAY!"
"91% of Black Women voted for Joe Biden.
70% of Latino women voted for Joe Biden.
What Eva Longoria did is what all non Black women do, loving the essence of Black women while erasing fabric of Black women. She meant what she said, I don't care for an apology or clarification."
"Latinas defending Eva Longoria… We have to face the anti-blackness & erasure of Afro-Latinas in our culture. We don't have to diminish the accomplishments of Black women to elevate ourselves. It's another form of white supremacy.
"Longoria could have chosen to celebrate the 2 groups but she chose not to. Stop pretending like you don't understand why this is fucked up. Also, a lot of Latinx people voted for Trump & we have to reckon with that."