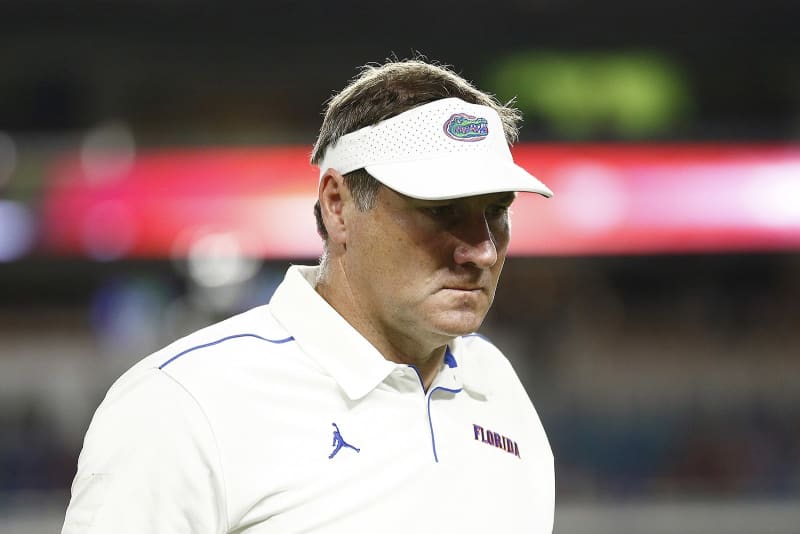 GAINESVILLE, Fla. — Feleipe Franks' chance for revenge became yet another chance for Kyle Trask to show that Florida has the right quarterback.
Florida might just have the best quarterback in college football.
Franks returned Saturday night to the Swamp with Arkansas to face the No. 6 Gators, his former team led by Trask, Franks' longtime teammate, friend and one-time backup.
Trask got the better of Franks and the Razorbacks, 63-35, throwing five first-half touchdowns, and six overall, to effectively end any dreams Franks might have had of an upset.
The two teams and quarterbacks went toe-to-toe early in the game to stir some drama in front of an announced crowd of 16,116.
A methodical 14-play opening TD drive by the Gators (5-1) ended with a 9-yard touchdown on a screen pass from Trask to Trevon Grimes. Arkansas (3-4) answered five plays later on a 47-touchdown pass by Franks, who pointed at the Florida sideline as he ran down the field to greet receiver Mike Woods.
The throw would pretty much be the highlight of the night for Franks, who finished 15-of-19 passing for 250 yards and two scores. Meanwhile, Trask was just getting started on his way to a 356-yard night on 23-of-29 passing.
Trask's 23-yard touchdown pass to a wide-open Grimes, who finished with a season-high 109 yards on six catches, and a 21-yard hook-up in tight coverage with Justin Shorter pushed the Gators' advantage to 21-7. A 5-yard touch pass in the back of the end zone to reserve tight end Keon Zipperer with 17 seconds left in the half gave the Gators a commanding 35-14 lead and Trask five touchdowns, marking the sixth consecutive game with at least four touchdown throws for the redshirt senior.
Trask found Zipperer again for his sixth touchdown pass and the second for the sophomore tight end who seized his opportunity while All-SEC tight end Kyle Pitts is sidelined with a concussion sustained a week earlier against Georgia. The pass to Zipperer gave Trask six touchdown passes for the second time in 2020, a first for a Florida quarterback during a single season.
Franks and the Razorbacks, who played without coach Sam Pittman on the sideline after he tested positive for COVID-19, could not keep up with the Gators' offensive assault.
Florida's struggles on defense helped Arkansas stay within striking distance for awhile and raised concerns about the Gators' propensity to yield the big play.
Razorbacks tailback Trelon Smith was untouched during an 83-yard touchdown run on first down to cut UF's lead to 21-14. Arkansas opened the second half by driving 75 yards in nine plays to trim the Gators' advantage to 35-21.
The Razorbacks finished the game with three touchdowns of 45 yards or longer.
UF coach Dan Mullen's offense ultimately would not be denied on its way to a 593-yard night.
Leading 35-21, Mullen even took the game out of Trask's hands for a series with the game still in doubt. The Gators ran the ball seven times during an eight-play scoring drive that ended with a 1-yard touchdown run by backup quarterback Emory Jones.
———
©2020 The Orlando Sentinel (Orlando, Fla.)