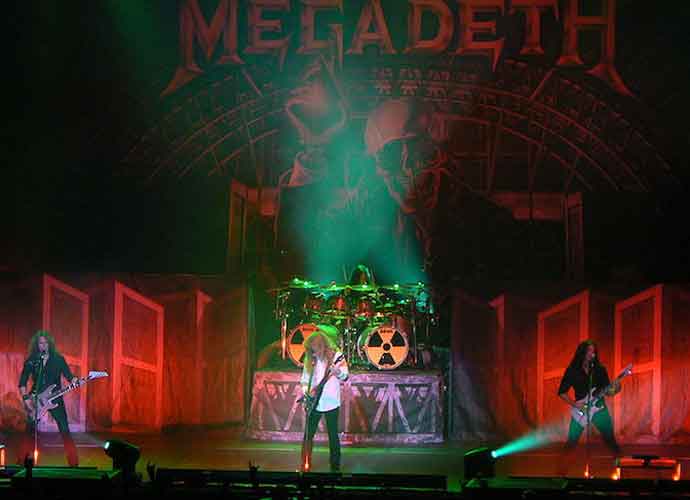 Heavy metal band Megadeth has rescheduled the summer leg of its North American tour with Lamb of God to 2021 as the coronavirus pandemic continues to keep concert venues closed.
GET MEGADETH CONCERT TICKETS HERE!
The tour is set to begin in Clarkston, Michigan on July 9, and travel through Canada and the United States until the final stop in Las Vegas on September 10. The tour is set to not only feature Megadeth and Lamb of God, but the heavy metal legends are also bringing along Trivium and In Flames.
In a joint message to fans, the bands said "We look forward to returning to the stage."
The original 2020 fall leg of the tour hasn't been rescheduled yet, but the band promised to keep fans updated on their website. Tickets purchased for the original dates will be honored, or fans can get refunds through their point of purchase.
Check out the list of shows below to see if the bands are coming to your area.
Get ticket information here!
JUL 9, 2021
Clarkston, MI, US
$24
Megadeth and Lamb of God Tickets (Rescheduled from July 1, 2020)
JUL 11, 2021
Toronto, ON, CA
CA$52
Megadeth and Lamb of God
JUL 13, 2021
Burgettstown, PA, US
$29
Megadeth and Lamb of God Tickets (Rescheduled from June 28, 2020)
JUL 14, 2021
Cincinnati, OH, US
$63
Megadeth and Lamb of God Tickets (Rescheduled from July 7, 2020)
JUL 16, 2021
Bristow, VA, US
$30
Megadeth and Lamb of God Tickets (Rescheduled from June 12, 2020)
JUL 17, 2021
Charlotte, NC, US
$30
Megadeth and Lamb of God Tickets (Rescheduled from June 13, 2020)
JUL 18, 2021
Raleigh, NC, US
$42
Megadeth and Lamb of God Tickets (Rescheduled from June 14, 2020)
JUL 20, 2021
Boston, MA, US
$67
Megadeth and Lamb of God Tickets (Rescheduled from June 21, 2020)
JUL 21, 2021
Wantagh, NY, US
$50
Megadeth and Lamb of God Tickets (Rescheduled from June 17, 2020)
JUL 23, 2021
Darien Center, NY, US
$33
Megadeth and Lamb of God Tickets (Rescheduled from June 26, 2020)
JUL 24, 2021
Holmdel, NJ, US
$30
Megadeth and Lamb of God Tickets (Rescheduled from June 20, 2020)
JUL 26, 2021
Camden, NJ, US
$30
Megadeth and Lamb of God Tickets (Rescheduled from June 18, 2020)
JUL 27, 2021
Cleveland, OH, US
$45
Megadeth and Lamb of God Tickets (Rescheduled from July 8, 2020)
JUL 28, 2021
Noblesville, IN, US
$28
Megadeth and Lamb of God Tickets (Rescheduled from July 3, 2020)
JUL 30, 2021
Laval, QC, CA
CA$101
Megadeth and Lamb of God
JUL 31, 2021
Québec, QC, CA
CA$107
Megadeth and Lamb of God
AUG 3, 2021
Green Bay, WI, US
$53
Megadeth and Lamb of God Tickets (Rescheduled from October 31, 2020)
AUG 4, 2021
Minneapolis, MN, US
$81
Megadeth and Lamb of God Tickets (Rescheduled from October 30, 2020)
AUG 6, 2021
Tinley Park, IL, US
$28
Megadeth and Lamb of God Tickets (Rescheduled from July 10, 2020)
AUG 7, 2021
Kansas City, MO, US
$44
Megadeth and Lamb of God Tickets (Rescheduled from October 16, 2020)
AUG 8, 2021
Rogers, AR, US
$55
Megadeth and Lamb of God Tickets (Rescheduled from July 14, 2020)
AUG 10, 2021
Maryland Heights, MO, US
$30
Megadeth and Lamb of God Tickets (Rescheduled from July 11, 2020)
AUG 11, 2021
Nashville, TN, US
$74
Megadeth and Lamb of God Tickets (Rescheduled from July 12, 2020)
AUG 12, 2021
Alpharetta, GA, US
$33
Megadeth and Lamb of God Tickets (Rescheduled from July 5, 2020)
AUG 14, 2021
West Palm Beach, FL, US
$27
Megadeth and Lamb of God Tickets (Rescheduled from October 2, 2020)
AUG 18, 2021
Corpus Christi, TX, US
$44
Megadeth and Lamb of God Tickets (Rescheduled from October 9, 2020)
AUG 20, 2021
Austin, TX, US
$41
Megadeth with Lamb of God and more Tickets (Rescheduled from July 16, 2020)
AUG 21, 2021
Irving, TX, US
$38
Megadeth with Lamb of God, Trivium and In Flames Tickets (Rescheduled from July 18, 2020)
AUG 22, 2021
The Woodlands, TX, US
$65
Megadeth Tickets (Rescheduled from July 17, 2020)
AUG 24, 2021
El Paso, TX, US
$45
Megadeth with Lamb of God, Trivium and In Flames Tickets (Rescheduled from October 11, 2020)
AUG 25, 2021
Albuquerque, NM, US
$34
Megadeth and Lamb of God Tickets (Rescheduled from July 20, 2020)
AUG 27, 2021
Denver, CO, US
$71
Megadeth and Lamb of God Tickets (Rescheduled from November 5, 2020)
AUG 29, 2021
Phoenix, AZ, US
$55
Megadeth and Lamb of God Tickets (Rescheduled from July 21, 2020)
AUG 31, 2021
Reno, NV, US
$44
Megadeth and Lamb of God Tickets (Rescheduled from November 13, 2020)
SEP 1, 2021
Irvine, CA, US
$48
Megadeth and Lamb of God Tickets (Rescheduled from July 23, 2020)
SEP 2, 2021
Concord, CA, US
$30
Megadeth and Lamb of God Tickets (Rescheduled from August 1, 2020)
SEP 4, 2021
Portland, OR, US
$62
Megadeth and Lamb of God Tickets (Rescheduled from June 26, 2020)
SEP 5, 2021
Auburn, WA, US
$33
Megadeth with Lamb of God, Trivium and In Flames Tickets (Rescheduled from July 25, 2020)
SEP 7, 2021
Pocatello, ID, US
$59
Megadeth and Lamb of God Tickets (Rescheduled from July 30, 2020)
SEP 8, 2021
West Valley City, UT, US
$35
Megadeth and Lamb of God Tickets (Rescheduled from July 29, 2020)
SEP 10, 2021
Las Vegas, NV, US
$49
Megadeth and Lamb of God Tickets (Rescheduled from October 7, 2020)