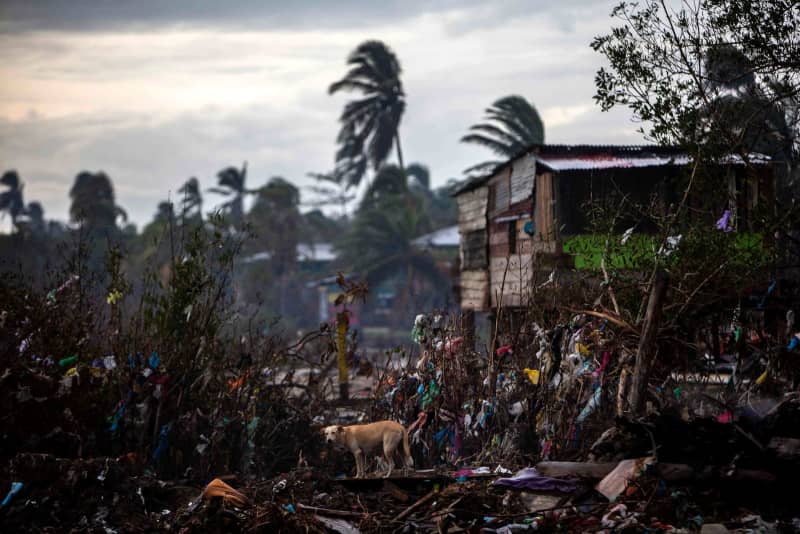 Hurricane Iota shot up to a Category 5 dangerous storm Monday morning shortly before its expected to bring catastrophic winds to Central America.
The 30th named storm of the 2020 season was about 40 miles west of Isla de Providencia, Columbia and moving at 9 mph with maximum sustained winds of 160 mph, according to the National Hurricane Center's 7 a.m. update. The region is still recovering after Hurricane Eta hit earlier this month as a Category 4 hurricane.
Iota's hurricane-force winds extend outward up to 35 miles from the center, while tropical-storm-force winds extend up to 150 miles from the center. The storm poses no threat to Florida.
Iota was the 13th hurricane of the season, and is the sixth major hurricane, or a storm with wind strength of Category 3 or greater.
Iota is the latest Category 5 hurricane to ever appear in the calendar year, according to Colorado State University meteorologist researcher Phil Klotzbach. Klotzbach also noted Iota would also be the second major hurricane to form in November after Eta. This would mark the first hurricane season on record with two major hurricane formations in November.
Iota is so powerful that its central pressure, 918 mb, is lower than 2005's Hurricane Katrina was at its most powerful before making landfall — the lower the pressure is within the storm, the more powerful the storm will be, Klotzbach said.
A Hurricane Warning is in effect for the island of Providencia; the coast of Nicaragua, from its border with Honduras to Sandy Bay Sirpi; and the coast of northeastern Honduras from Punta Patuca to its border with Nicaragua. A Hurricane Watch is in effect for the island of San Andrés.
A Tropical Storm Warning is in effect for San Andrés; the coast of Nicaragua, from south of Sandy Bay Sirpi to Bluefields; and the northern coast of Honduras from west of Punta Castilla to the Guatemala/Honduras border, including the Bay Islands
Forecasters are predicting Iota to bring life-threatening storm surge of as much as 12 to 18 feet above normal tide levels to the impact area where it is also thought to incur between 8 to 16 inches of rain with isolated totals of 20 to 30 inches being possible from northeast Nicaragua into northern Honduras.
———
©2020 The Orlando Sentinel (Orlando, Fla.)