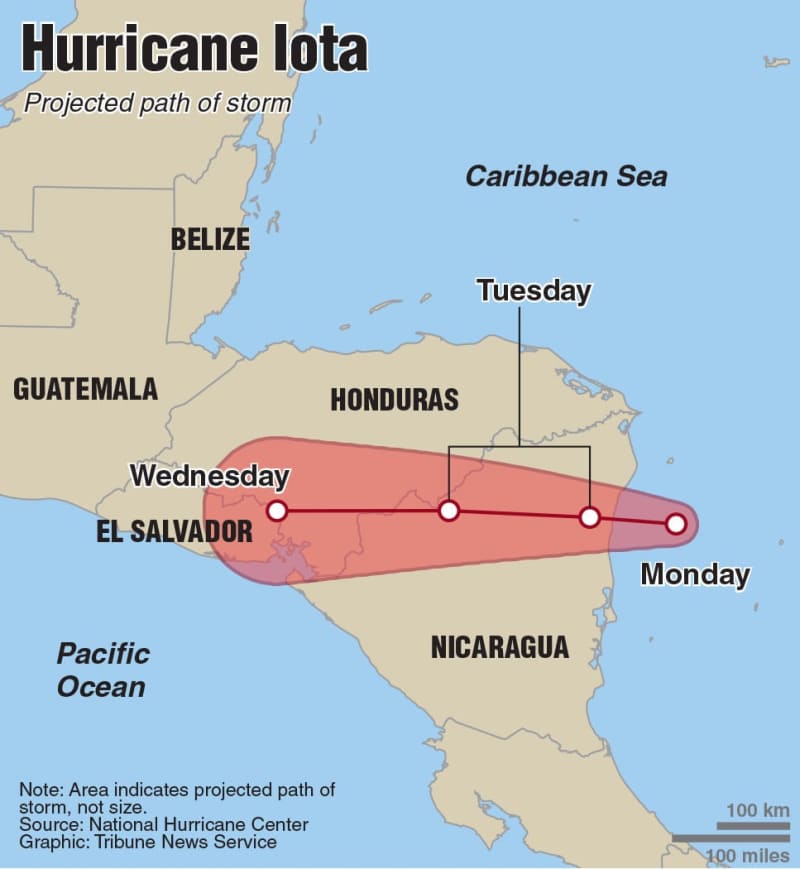 Central America braced for its second major hurricane in as many weeks as Hurricane Iota, now a record-setting Category 5 storm, roared ashore in Nicaragua Monday night.
The storm made landfall in nearly exactly the same place as Eta, a Category 4 hurricane that battered the area two weeks ago. Iota is forecast to bring catastrophic winds, life-threatening storm surge as high as 20 feet, and nearly two feet of rain to Central America.
Eta's death toll is 150 and still rising, including a Guatemalan village with dozens of residents that was wiped off the map by a devastating mudslide.
Iota was moving west at 9 mph on Monday and was about 35 miles east-southeast of Puerto Cabezas, Nicaragua, according to the National Hurricane Center's 7 p.m. update. It held onto its 160 mph winds, which officially made Iota the latest Category 5 to form in the Atlantic Basin.
"Strong winds are expected near the core and in coastal areas of Honduras for about a day after landfall, along with torrential rainfall," forecasters wrote.
A hurricane warning is in effect for the coast of Nicaragua from the Honduras-Nicaragua border to Sandy Bay Sirpi and the coast of northeastern Honduras from Punta Patuca to the Honduras-Nicaragua border. A hurricane watch and a tropical storm warning are in effect for San Andrés.
A tropical storm warning is also in effect for the coast of Nicaragua from south of Sandy Bay Sirpi to Bluefields and for the northern coast of Honduras from west of Punta Castilla to the Guatemala/Honduras border, including the Bay Islands.
Iota is expected to weaken after landfall and should be a tropical storm by the time it moves over Honduras and a tropical depression by the time it nears El Salvador and Guatemala, according to the hurricane center.
"Through Thursday, heavy rainfall from Iota will likely lead to life-threatening flash flooding and river flooding across portions of Central America. Flooding and mudslides in Honduras and Nicaragua could be exacerbated by Hurricane Eta's recent effects there, resulting in significant to potentially catastrophic impacts," forecasters wrote.
Forecasters predict 10 to 20 inches of rain will be possible through Thursday in Honduras, northern Nicaragua, Guatemala and southern Belize. Some isolated areas will possibly see up to a total of 30 inches, especially from northeast Nicaragua into northern Honduras, according to the hurricane center.
The hurricane center also expects the coast of Nicaragua and Honduras will see a life-threatening storm surge as much as 15 to 20 feet above normal tide levels, with large and dangerous waves near the coast.
El Salvador and Panama are forecast to see 4 to 8 inches of rain, with isolated areas possibly seeing up to 12 inches. Costa Rica and southern Nicaragua should expect 3 to 5 inches, with isolated areas possibly seeing up to 10 inches.
———
©2020 Miami Herald