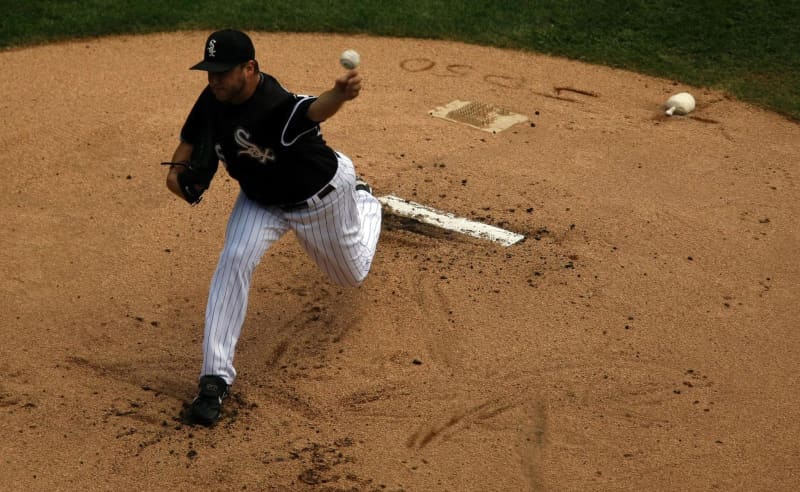 The Hall of Fame ballot goes out to Baseball Writers' Association of America voters this week, starting the annual debate over which former players are worthy of attaining baseball immortality.
Two prominent Chicago players, White Sox left-hander Mark Buehrle and Cubs third baseman Aramis Ramirez, are making their first appearance, though both are considered long shots to make it to Cooperstown, N.Y.
Buehrle has a better chance down the road than Ramirez, but his path might depend on whether voters value his consistency over the long haul above sheer dominance.
The usual polarizing suspects also are on the 2021 ballot, including Barry Bonds, Roger Clemens and Curt Schilling, who has a shot after being selected on 70% of the ballots last year, close to the 75% necessary for election.
No matter who's in, everyone hopes baseball will be able to hold its Hall of Fame ceremonies in 2021 after canceling this year's because of the pandemic, prolonging the wait for Derek Jeter, Larry Walker and Ted Simmons. All three players, and the late players union leader Marvin Miller, are scheduled to be inducted next July in Cooperstown with whoever gets in on the 2021 ballot.
Buehrle finished with only two fewer career wins (214) than Schilling, so he should be rooting for Schilling to get in. But when asked about his Hall of Fame chances a couple of years ago, Buehrle called it "crazy" talk and said he never thought about it as a player.
"People say it, mention it to you," he said. "It would be pretty crazy if something like that would happen. But I'm not expecting it and I'm not thinking that it would happen."
Maybe not, but who knows?
Buehrle's career trajectory is a reminder that it's not where you start, it's where you finish. He was a 38th-round draft pick out of a junior college in 1998 and received a $150,000 signing bonus from the Sox. When he was called up from Double-A Birmingham in the summer of 2000 after only 30 starts in the minors, the news of his promotion was a mere blip outside the Buehrle household.
But he won 214 games over a 16-year career, threw two no-hitters — including a perfect game — made five All-Star teams, won four Gold Glove awards and pitched 200 or more innings in 14 consecutive seasons with the Sox, Miami Marlins and Toronto Blue Jays.
Oh, and he appeared on the front of a Wheaties box after helping the Sox sweep the Houston Astros in the 2005 World Series.
My favorite memory from early in his career was after his final start of 2001 in Minneapolis. Buehrle broke down and cried after completing a 16-8 season, telling the Sox beat reporters he had dedicated the season to his late grandfather, Paul Deidiker.
"I put my rookie baseball card in his casket before they shut it and asked him to watch out for me," Buehrle said. "I know that he was watching over me all year long."
Buehrle was always the kind of player who put the team ahead of himself, and that selfless attitude made him a favorite among writers and fans alike. He should've remained a Sox player for life, but when the Marlins offered him $58 million over four years after the 2011 season, the Sox let him go without much of a fight.
"At this stage of his career to get $58 million for four more years, it's a fabulous thing for him," Sox Chairman Jerry Reinsdorf told ESPN.com after Buehrle left. "It just didn't make any sense for us. … I hate to use this expression, but we went all-in last year and it didn't work. It just doesn't make sense for us to make a four-year commitment to a pitcher of his age (32)."
Buehrle went on to win 51 more games with a 3.77 ERA the next four seasons in Miami and Toronto before retiring at 36 after a 15-8 season with the Blue Jays in 2015. He finished with 60 wins above replacement (WAR), according to Baseball Reference, tied for 65th among pitchers with Hall of Famer Hal Newhouser and just behind Hall of Famer Jim Bunning (60.4).
While Buehrle probably could've hung around a couple more years and padded his win total to increase his chances of making it to Cooperstown, that wasn't his style. He left at the right time and never looked back.
Ramirez was one of the most productive third basemen of his era with consistently strong power numbers. He hit 347 home runs while playing third, seventh at the hot corner behind Mike Schmidt (509), Eddie Mathews (486), Adrian Beltre (441), Chipper Jones (389), Graig Nettles (368) and Matt Williams (359). He also ranked sixth among third basemen with 1,417 RBIs.
Overall, however, Ramirez was not considered a dominant player, and he made only three All-Star teams in 18 seasons. He's tied for 280th in offensive WAR (41.9) with Mark Teixeira and Shin-Soo Choo, and he performed in the shadows of Sammy Sosa, Moises Alou and Derrek Lee during his prime years with the Cubs. He was a great player but never the best player on his team.
The other newcomers on the 2021 ballot include Torii Hunter, Tim Hudson and Barry Zito, none of whom is likely to garner enough consideration to make the Hall.
Former Cubs pitchers LaTroy Hawkins and Dan Haren and former Sox outfielder Alex Rios also are among the first-timers on the ballot. A player must be named on 5% of the ballots to retain eligibility, so they're all likely one-and-done.
For most it's an honor just to be on the ballot, whether they get a vote or not.
There will be no crying when it's over.
———
©2020 Chicago Tribune